"Of Course I Still Have Burner Accounts": Kevin Durant Unabashedly Admits To Having Fake Accounts On Twitter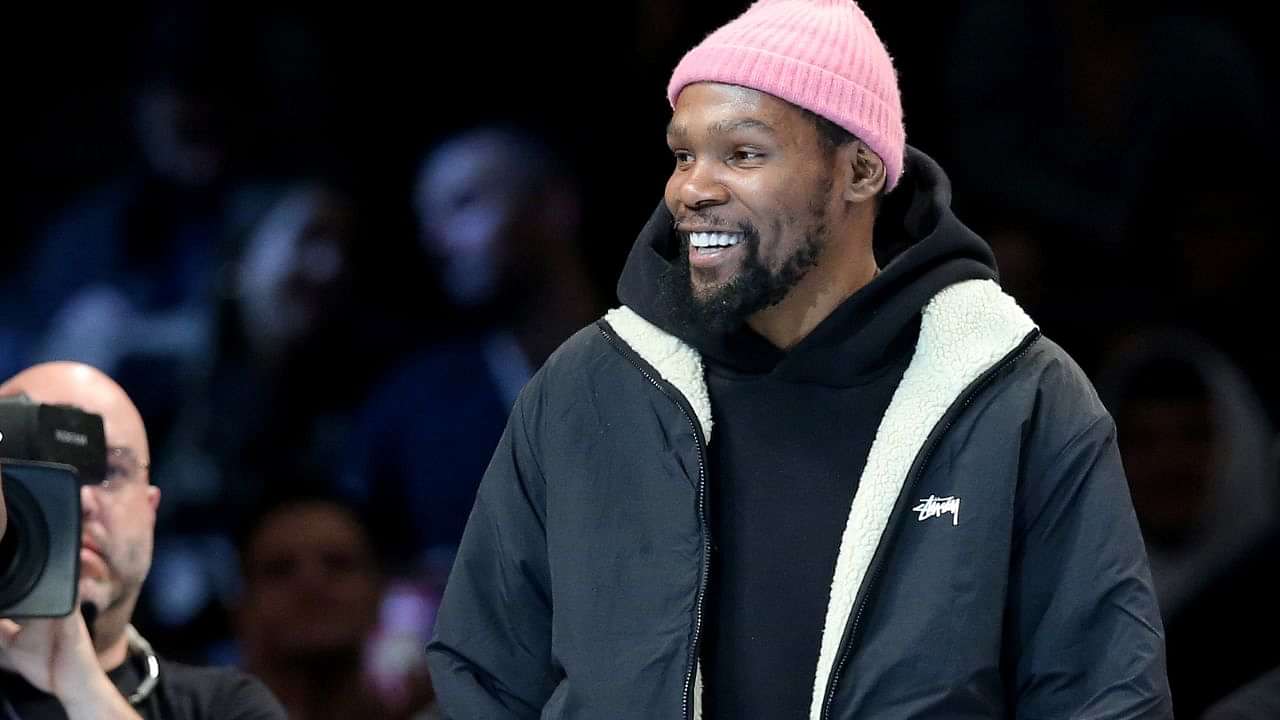 Kevin Durant is quite the opinionated man. If he wasn't, he wouldn't have founded his very own podcast called 'The Etcs'. Given just how great of a basketball player KD is, it's safe to say that having his opinions out in the open for NBA fans to listen to and critique isn't a bad idea in the slightest. 
It's much better to have one of the greatest players in the history of the NBA spew his thoughts and opinions on social media than random people from across the world who understand a sliver of NBA basketball in comparison to him. 
However, Durant, while being opinionated, also feels a certain type of way when others post their opinions on him. Well, that was in the past at the very least as he was exposed for having fake burner accounts on Twitter that he would use to defend himself while posing as a regular fan.
Also read: "Dang, LeBron James Is in Year 20, 38 Y/O!": Kevin Durant Couldn't Help but Praise Lakers Superstar for His Continued Brilliance
Kevin Durant was asked about his burner accounts 
Kevin Durant did a Q&A with Boardroom, the media company that he started with Rich Kleiman, and was asked if he still had his burner accounts intact. He would very openly admit to still having burner accounts on Twitter. He has admitted this in the past as well, most famously on Alex Rodriguez's podcast two years ago.
Loading embed tweet https://twitter.com/boardroom/status/1621225260128272386?ref_src=twsrc%5Etfw
This makes sense as going through social media on your regular account 24/7 would be a hassle with just how much interaction they would receive every second of the day. With millions of followers, KD surely gets non-stop notifications on his main account, further dampening his experience. 
So, scrolling through his feed but through the guise of a burner would be more efficient as nobody knows it's him and so doesn't get bombarded with messages and notifications as he tries to catch up on his daily news. 
Kevin Durant was publicly caught for using a burner account 
Kevin Durant has over 20 million followers on Twitter and has tweeted over 25,000 times in his lifetime. However, this wasn't enough for the 'Slim Reaper' as in 2017, he was exposed for having burner accounts on the app so he could tweet out defenses for himself. 
This was during his first year with the Golden State Warriors, a year that resulted in him receiving an inordinate amount of hate from fans online for joining a 73-9 team. The existence of burner accounts from his side only piled onto this hate.
Loading embed tweet https://twitter.com/harrisonmc15/status/909634206355066880?ref_src=twsrc%5Etfw
Also read: "Damn, I Really Played Against LeBron James and Kevin Durant": Jayson Tatum On His Competition In 6 Years
---