"Dang, LeBron James Is in Year 20, 38 Y/O!": Kevin Durant Couldn't Help but Praise Lakers Superstar for His Continued Brilliance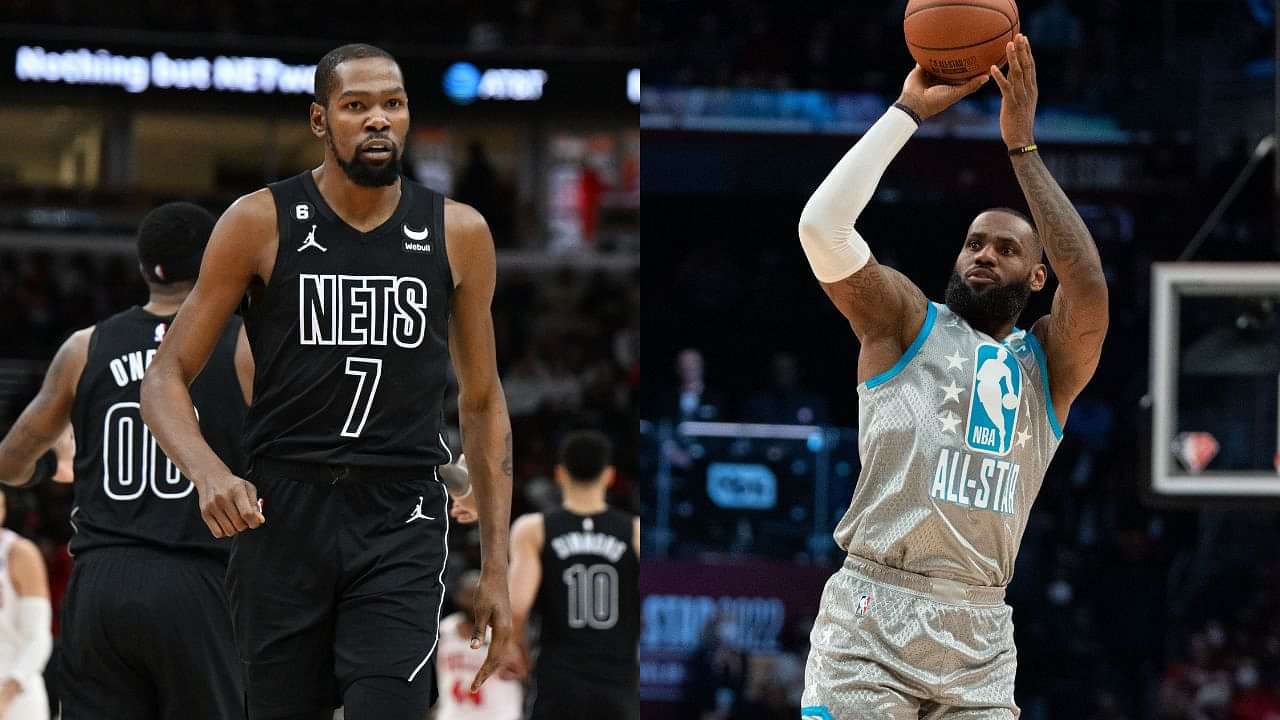 Kevin Durant has come to the defense of LeBron James, with the latter not receiving commendation for his incredible basketball skills. As he approaches his record-breaking night, many myths surrounding LeBron James and his career will be put to rest.
In his 20th campaign, James is en route to breaking the long-standing record of the all-time scorer in the history of the NBA. The record currently belongs to six-time NBA champion Kareem Abdul-Jabbar.
The King has been abundantly credited for his longevity, durability, and, most notably, his athleticism, especially in the recent past. Yet, the four-time NBA champion has sparsely been credited for his incredibly extensive skillset, enabling him to score 38,299 points so far.
Loading embed instagram https://www.instagram.com/p/CoKatZ2OIV0/?utm_source=ig_embed&utm_campaign=loading
However, Durant spoke to James' vast and incredibly rich skillset that guided him in flourishing in the game.
Also Read: Is Anthony Davis Playing Tonight vs Pacers? Lakers Release Injury Update For 6ft 10" Star
Kevin Durant hails LeBron James and his all-around skillset.
Although James' three-point percentage has hit a career-low this year, the four-time NBA MVP has maintained his efficiency from the floor. He has showcased his creativity and shot-making ability as a three-level scorer at 38 years of age.
However, the Los Angeles Lakers' turmoil of a campaign has overshadowed his brilliance, from being highlighted. Durant, however, spoke about James' incredible ability and attributes this season.
The Slim Reaper said:
"A lot of people felt like Bron's skills wasn't equal to his athleticism, and he hit nine threes the other night, and he still got that youthful energy. He popping around everywhere, diving around the f**king front row like still taking off on people, like it's inspiring to see. As a competitor, it's like 'Man f**k that, I can do that sh*t too. But then it's like dang, he in year 20, 38 years old."
Loading embed instagram https://www.instagram.com/reel/CoGGBMbhPkP/?utm_source=ig_embed&utm_campaign=loading
For someone of the caliber and credibility of Durant to say this about James speaks to the significance of his current achievement. It's a staggering sight to behold.
Also Read: Is Zion Williamson Playing Tonight vs Mavericks? Pelicans Release Injury Update for 6ft 6" Star Forward
Will James and Durant meet again?
It's been over four years since Kevin Durant, and LeBron Kames shared the floor together. The last time the pair played against each other, James donned the colors of the Cleveland Cavaliers, while Durant was sporting the blue and yellow stripes of the Golden State Warriors.
This was in 2018. Since then, injuries and circumstances have deprived us of multiple fixtures between the pair. The 2022/2023 campaign has also witnessed both franchises play their games against each other without the presence of James or Durant.
Perhaps, this year's NBA Finals might provide us with that highly anticipated matchup after all.
Also Read: Is Giannis Antetokounmpo Playing Tonight vs Clippers? Bucks Starting Lineup Looks Promising
---