"Patrick Beverley, You the Doctor": Devin Booker Considers Lakers Guard a 'Basketball Psychiatrist' to His Teams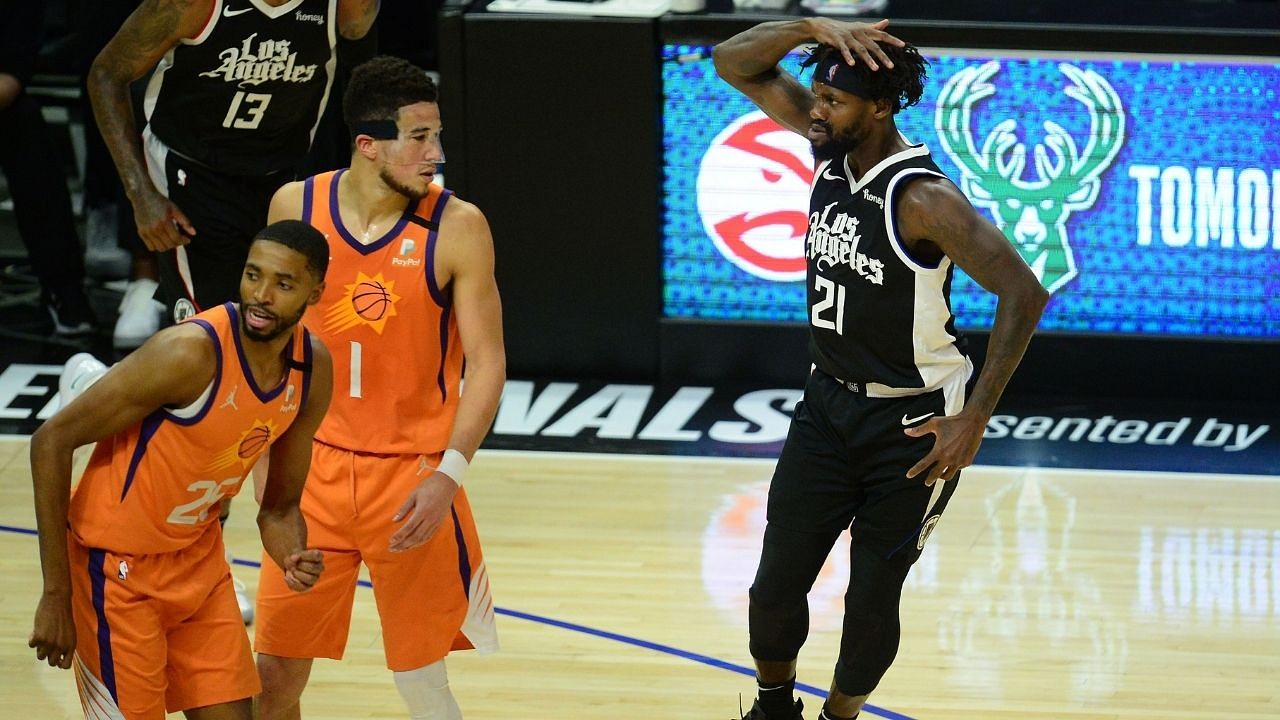 Patrick Beverley is one of the most interesting players in today's NBA. While he isn't a bonafide superstar, his personality and mentality sure are.
It is safe to say that Pat Bev has a bit of a mouth on him, and has many a time been quoted saying things that are out of this world. That being said, he isn't all bark and no bite. What he lacks in offense, he makes up with his dog-like mentality and defense.
With such an attitude, personality, and mentality, one would think had would have a "nickname" related to the same. Unfortunately, despite playing nine seasons in the NBA, he doesn't. But, Devin Booker may have just given him one.
Also Read: "I Can Tell Russell Westbrook Sh*t That No One Else Can": Patrick Beverley Claims to Have a Solid Relationship With Former Rival
Devin Booker has dubbed Patrick Beverley the "Basketball Psychiatrist" of the NBA
Patrick Beverley is easily one of the most intriguing players in the NBA today. The 6'2″ guard has quite a mouth on him and is known for his strong mentality, trash-talking, and mind games.
It is with this in mind, that Suns superstar Devin Booker has given Pat Bev his new nickname. Beverley revealed on his podcast that D-Book dubbed him the "Basketball Psychiatrist" one night in Las Vegas.
"We in Vegas. We at the free-throw line and Devin Booker called me a basketball psychiatrist to teams. Like two days ago. He's like, 'You're just a psychiatrist to every team. It doesn't surprise me why you make the playoffs every year. You're the psychiatrist. You the doctor.'"
The "Basketball Psychiatrist". Pat Bev's new NBA nickname, and a great one at that. However, it isn't the first of his career.
Pat Bev is also referred to as Mr. 94 Feet by his peers
Devin Booker has certainly given Patrick Beverley a fun nickname. Although, it isn't the first of his career. Beverley is also known as Mr. 94 Feet, because of his defense and ball-hawking abilities. But it's not as famous as say .. the Point God.
OFFICIAL: Mr. 94 Feet is a Laker pic.twitter.com/5czUqBy6YO

— Los Angeles Lakers (@Lakers) August 25, 2022
Beverley will certainly be happy with his two names. After all, they describe his style of play and personality to a tee.
Also Read: "I'll Hound Chris Paul Until My F*cking Bones Pop": Patrick Beverley Promises 'Point God' of Not Backing Off Until One Of Them Retires
---
Share this article