"I Can Tell Russell Westbrook Sh*t That No One Else Can": Patrick Beverley Claims to Have a Solid Relationship With Former Rival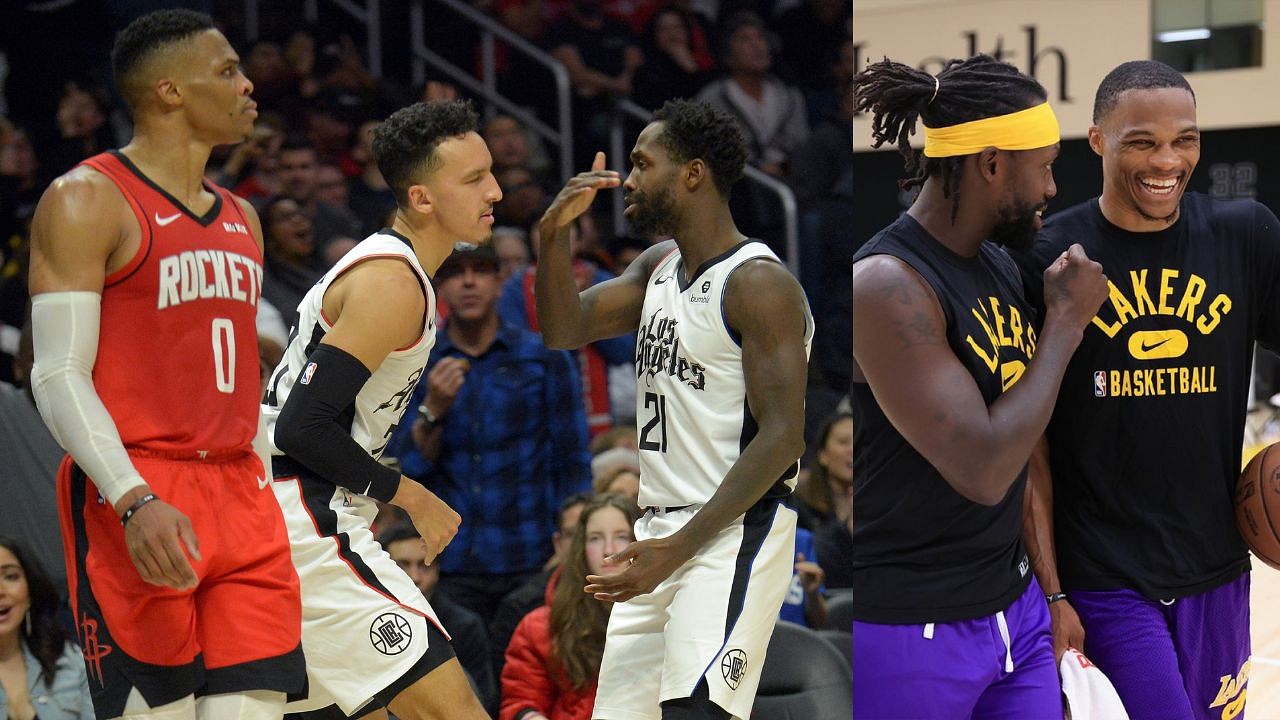 Patrick Beverley and Russell Westbrook had one of the biggest modern-day rivalries before the former landed in Los Angeles at the beginning of this season to team up with Brodie.
Although Pat Bev is nowhere close to the player Russ is or has been in his 14 years in the NBA, most of the former Clippers guard's game rests upon instigating his opponents, and that's how his back-and-forth with 2017 started.
Over the years they went all out against each other both on the court and in the media. Neither of them hesitated to ridicule the other whenever they got the opportunity.
Also read: $200 Million Worth Russell Westbrook Once Admitted Aspiring to Attend 'Stanford for Academics' over Playing in the NBA
However, since they became teammates, the pair somehow looks to have become best friends. In fact, Beverley claims he "can tell Russell Westbrook sh*t that no one else can."
Patrick Beverley can tell Russell Westbrook sh*t that no one else can
Although he plays off the bench now, the 9x All-Star's high-energy presence on the court is enough to tell us he is still not the man with whom teammates or management would dare to deal in any different way.
However, it seems the Purple and Gold superstar does allow somebody to speak to him differently, and it's none other than his used-to-be cut-throat enemy, Patrick Beverley.
In a recent episode of Kevin Hart's Cold as Balls, the Lakers defensive hire talked about his relationship with Brodie. Watch it here.
Also read: "Dwyane Wade Kanye'd Himself for His Princess Day!": When Gabrielle Union Spilled Details About Their $5 Million Wedding
Will Russ and Pat Bev be wearing Purple and Gold by the end of the 2022-23 season?
The Lakers are 14-20 on the season and 1-4 in their last five outings. Anthony Davis wouldn't return at least until mid-January. If they do not make a significant trade to get a scorer they are going to get in trouble.
And the best players they have to offer right now are Westbrook and Beverley, who although started their season quite awfully, are now playing decent enough to make some noise with better-constructed teams.
Rob Pelinka won't get a better opportunity to trade the duo. And no team would probably take both of them while giving up an All-Star in return. Let's see if the Lakers decide to stick with them or find an interested team to load them off.
Also read: "Not A Soul in the NBA Can Guard Stephen Curry": Juan Toscano-Anderson Details the Horrific Experience of Defending an in-form GSW MVP
---