"Pretty compelling evidence that LeBron James is the GOAT": Boston Reporter On Lakers Star Breaking Into Top-5 Assists Maker While Getting Close to Scoring Record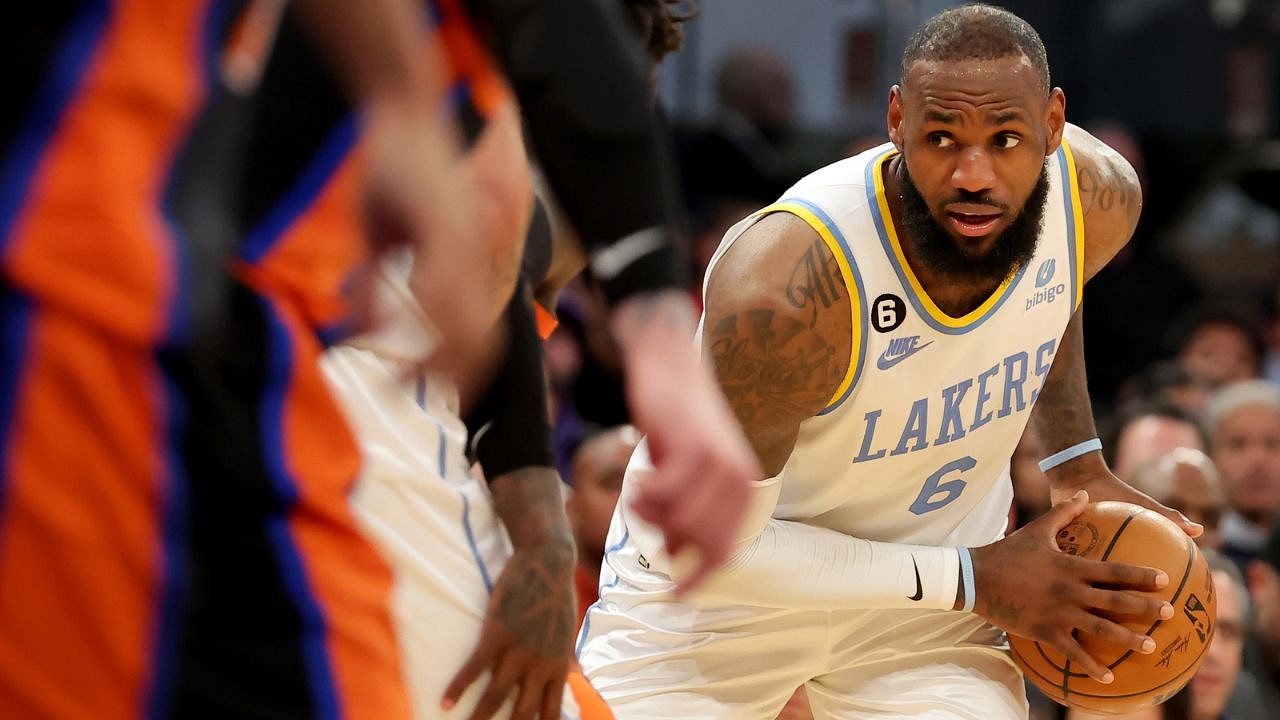 Despite having the toughest ask for a 17-year-old to deliver when 'the Kid from Akron' started back in 2003, LeBron James has excelled in every expectation that made him 'the Chosen One' to take over Michael Jordan as the GOAT for more than 20 years back.
It's incredible how he paced one of the longest and yet, one of the most accomplished careers in all of the major sports and still going strong at 38 years of age playing with the sons of the players he once played with.
And it is why people from all across teams, sports, and even continents far away have been in awe of The King. Even rivalries become insignificant when you think of how his greatness has sustained longer than anybody else in basketball.
Also read: "LeBron James with the historic histrionics!": Skip Bayless and Shannon Sharpe Have Contradicting Opinions Lakers Star's reaction to Non-Call Foul
Boston reporter declares LeBron James the GOAT
One of the top names in Boston media is the recent addition among the casualties of LBJ's awesomeness. Chris Mannix, who is a reporter for Sports Illustrated and an analyst for NBC Sports Boston, recently Tweeted something that's not usual for somebody from Boston.
Now on the verge of taking over Kareem Abdul-Jabbar on the all-time scoring list, James will also finish his career as a top-5 assists provider. Insane! It's why Mannix thinks he's the GOAT.
That LeBron James is likely going to break the NBA's scoring record and crack the top-five in all-time assists (passing Mark Jackson and Steve Nash) in the same week is pretty compelling evidence that James is the GOAT.

— Chris Mannix (@SIChrisMannix) January 31, 2023
You know LeBron's hate for Celtics right? What we are seeing from James has become much bigger than sports. The man might become bigger than the game of basketball itself, like once Mike was.
Also read: "Without LeBron James, Lakers' Offense is Worse Than the Hornets'!": Numbers Unveiled By NBA Twitter Reveal Frustrating Truth for the King
How is James going so strong at this age?
Not just his will, determination, and work ethic to still bring out the best after 20 years in a profession, but the emotion and enthusiasm with which he plays every single night has never been seen in the game.
It cannot be just his wish to become the GOAT. It is several other things that helped him get where he desired to reach, combined with his skill, talent, and determination. And what will keep him going for a few more years is playing with his own sons.
Whatever the ingredients might be, nature isn't creating another LeBron James anytime soon, not in our presence at least, so enjoy him when you can, and forget all the comparisons with your favorite player. And also the GOAT debate, if possible.
Also read: "Jalen Brunson a steal of free agency": $104 Million Bound Knicks Guard Gets Massive Praise From Kevin Garnett
---
Share this article