"Russell Westbrook is all about winning and team play": Bradley Beal praises his Wizards co-star after another monster triple-double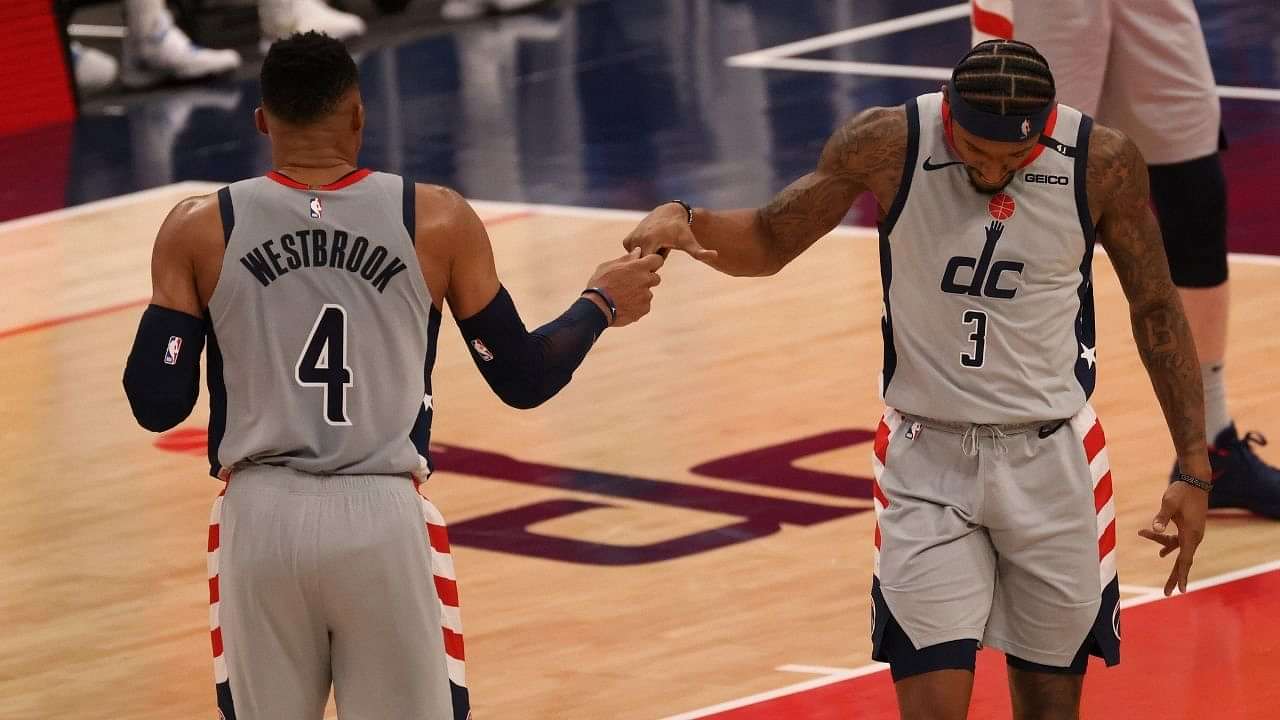 Washington Wizards star Bradley Beal makes an appearance on 'The Jump' and rises to his teammate Russell Westbrook's defense 
The Washington Wizards are one of the hottest teams in the NBA as of now. Prior to them losing a hard-fought 146-143 OT game against the Spurs, the Wizards were on an eight-game win streak.
The main driving force behind the recent run has been the form of Bradley Beal and Russell Westbrook. Bradley Beal has been leading the league in scoring this season. He's averaging 31.4 points, 4.8 rebounds, 4.6 assists, and 1.2 steals per game.
Also Read: "Stephen Curry is the greatest shooter God has ever created": Stephen A Smith reacts to Curry breaking NBA record for most 3s in a calendar month
Russell Westbrook is averaging a triple-double for the season, averaging 21.8 points, 11 rebounds, 11 assists, and 1.3 steals for the season. These two propelled the Wizards from their rough start to a play-in spot.
"Russell Westbrook is all about winning and team play": Bradley Beal
Russell Westbrook is one of the most consistent performers over the course of the last half-decade. He has averaged a 26 point triple-double over the course of the last 5 seasons.  Despite him displaying brilliance night in night out, he is one of the most criticized players in the league.
Bradley Beal made an appearance on one of the recent episodes of 'The Jump'. Beal used this platform to clear up some misconceptions about his teammate. He clarified that the rumors about Westbrook are completely wrong, and said,
"Everybody has this misconception on Russ that he's a bad teammate, doesn't get along with coaches and only cares about himself," Beal said. "When he got here, it's the complete opposite. He loves his teammates. He's all about his teammates, he's all about team, he's all about winning."
Loading embed tweet https://twitter.com/ESPNNBA/status/1387149391060996096?ref_src=twsrc%5Etfw
Also Read: "Kevin Durant didn't leave because of Russell Westbrook": Kendrick Perkins explains why the Nets star teamed up with Stephen Curry and his 73-9 Warriors
Bradley Beal and Westbrook together had a rocky start, but with the way they have been playing, it seems like they can make it to the playoffs easily. It is also nice to see how the two have bonded so well in this short span and how well Russ is mixing with the rest of the team.
---