Science Reveals 284LB Zion Williamson Needs 1.5x the Force Michael Jordan Needs to Make Explosive Dunks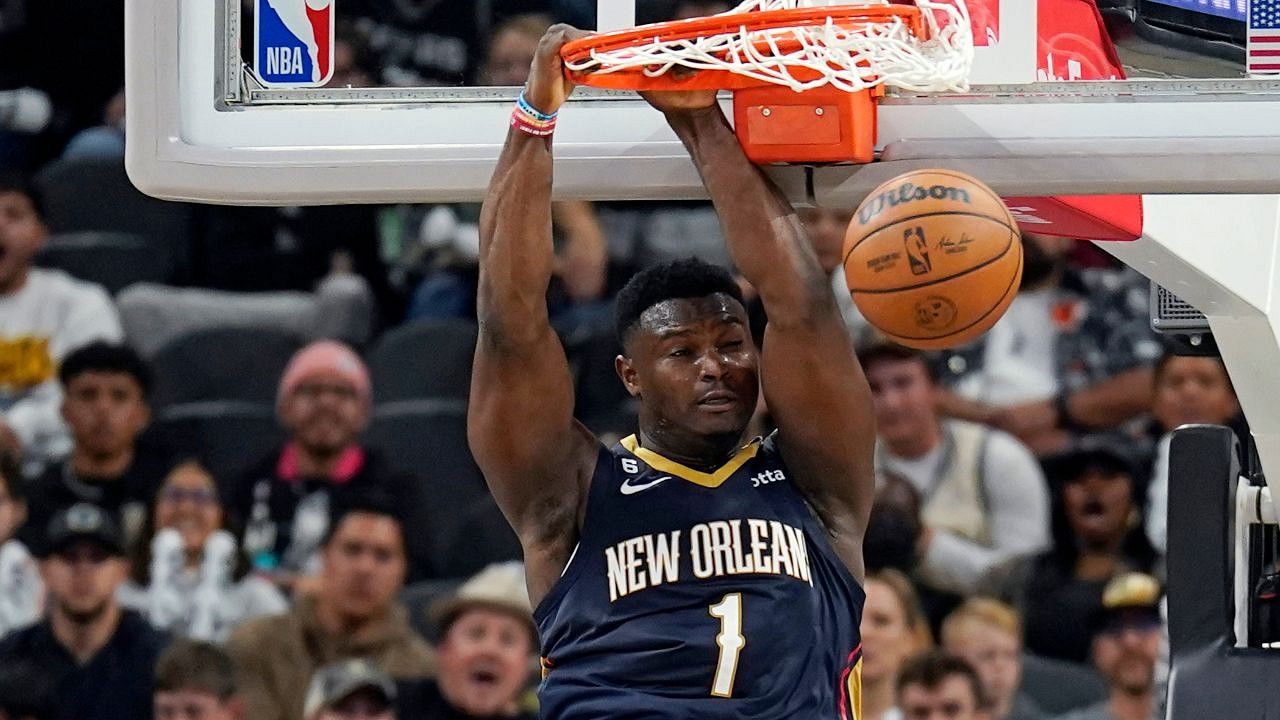 Zion Williamson was the most hyped prospect coming into the NBA since LeBron James in 2003. As everyone expected, the Duke Blue Devil was drafted by the New Orleans Pelicans' 1st pick of the 2018 Draft. And since then, has managed to supersede all the surreal expectations set for him.
In only the first few seasons of his career, Zanos has managed to achieve some incredible feats. And the forward has already managed to establish himself as a superstar in today's league thanks to the massive stature he possesses.
Williamson is a freak of an athlete. Standing at 6-foot-6, the southpaw weighs a staggering 284 pounds. Using this massive size advantage, the 22-year-old dominates the paint on every given night.
Also Read: 76ers Broadcast Trolls Kings After Joel Embiid-less Team Grabs 129-127 Win
Zion Williamson requires almost 900 Newtons of Force more than Michael Jordan did to reach the rim
Despite being quite heavy, the Pelicans star manages to destroy rims with his explosive dunks.
In an ESPN episode from 2 years back, host Sam Borden had a chat with Peter Weyand, a professor of physiology and biomechanics.
During a segment of the episode, it was revealed that Williamson generated a whooping 2,513 Newtons of Force in order to reach the rim. Why? The logic given:
"How well you move in space depends on how much force you put in the ground to move your body weight. So the more mass you have to move, the more fleece you have to put into the ground."
How much force do other notable NBA legends require for them to reach the rim? LeBron James needs 2,111 Newtons, whereas, Michael Jordan needed 1,648 Newtons.
Clearly, 2,513 Newtons of force used by Zion is not normal.
Zion's stats in the 2022-2023 campaign
The Pelicans are one of the best teams in the West. While the likes of CJ McCollum, Jonas Valanciunas, Trey Murphy III, and Nanji Marshall, among others have been phenomenal, Zion has been the best player for NOLA.
Before injuring his right hamstring, the All-Star was averaging 26 points, 7 rebounds, and 4.6 assists per game while shooting 60.8% from the field.
In Zanos' absence, the Louisiana-based organization are failing to stay afloat. Despite McCollum's heroics, Willie Green's boys have gone 3-6.
Having stumbled down in the standings, the fans can't wait for Zion to return to the lineup any sooner.
Also Read: After getting Shaquille O'Neal traded, Mamba Avoided Cordial Relationship with New Teammate
---
Share this article