Shaquille O'Neal or Charles Barkley? NHL Stars Picked Which NBA Legend Could Dominate in Hockey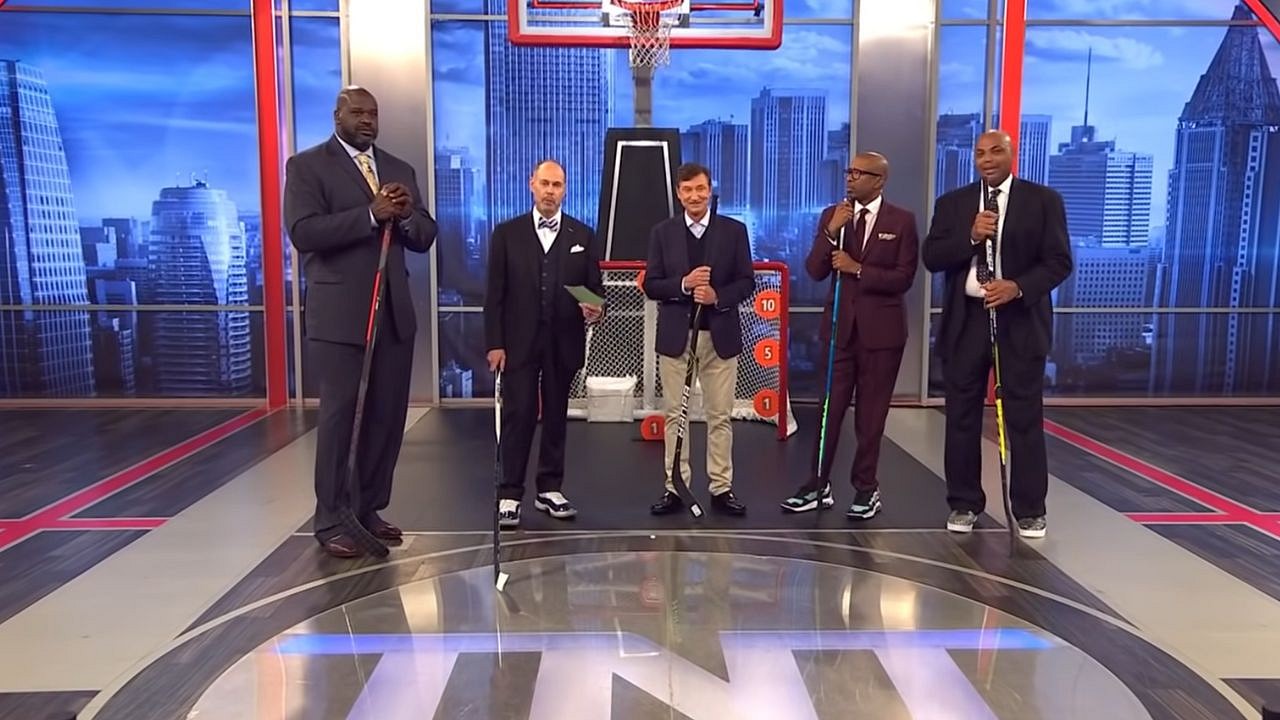 In the NBA, there are a few players that distinguish themselves from the rest. Inside the NBA co-hosts, Shaquille O'Neal and Charles Barkley, both sure do have that effect. Shaquille O'Neal is a 4x NBA Champion, 3x Finals MVP, and 1x MVP. On the other hand, Charles Barkley is a 1x MVP and is known as one of the best forwards of all time.
Shaq is a 7ft 1″ beast who weighs 324 lbs. On the other hand, Chuck is 6ft 6″ and weighs 252 lbs. Both men are big, not only for their heights, but they're big in general as well. In 2021, TNT signed NHL legend Wayne Gretzky as a studio analyst.
When the NBA season started in October, Wayne made an appearance on Inside the NBA. During his time there, the debate about who would be better at hockey: Chuck or Shaq, was put to bed.
Also Read: "LeBron James, You've Been A Clutch Player Your Whole Life": When An ESPN Reporter Made The Lakers Man Blush, Contradicting Skip Bayless' Career
NHL stars pick Shaquille O'Neal over Charles Barkley as a potential hockey star
Shaquille O'Neal is a jack of all trades. The Hall of Famer can be seen doing different things at all times. He has a platinum-selling rap album, an episode of a sitcom that he directed, couple of dance videos, and what not.
When Wayne Gretzky was on Inside the NBA, the studio took things a step further and contacted several NHL stars like Sidney Crosby, Patrick Kane, Nathan MacKinnon, and more stars to take a survey about Shaq and Chuck's future as a hockey player. Shaq won the voting with an overwhelming majority of 7-2.
The guys on the show then proceeded to shoot pucks into a goal. The most surprising part of the episode was how good Ernie Johnson was at shooting the pucks. As Ernie said, he is from New York and knew his way around a hockey stick.
Also Read: "Couldn't nobody guard Shaquille O'Neal": Ty Lue Doesn't Think Even Wilt Chamberlain & Hakeem Olajuwon Would Stop a Prime Diesel
Shaq and Chuck play soccer on TV
Recently, the dynamic duo were playing soccer on the sets of Inside the NBA. With Shaq as the goal keeper, Chuck didn't go easy on the 7ft 1″ big man.
Chuck didn't hold back with Shaq in net 🤣 pic.twitter.com/7jclxGej15

— NBA on TNT (@NBAonTNT) January 17, 2023
Thankfully, Shaq walked away fine and didn't add to his existing knee troubles.
Also Read: LeBron James Draft Suit: What Did He Wear And How Was it Sullied Recently?
---
Share this article