"That's Like Asking Me My Favorite Moment With Bronny!": LeBron James Refused To List Best Moment With Dwyane Wade After Their Final Matchup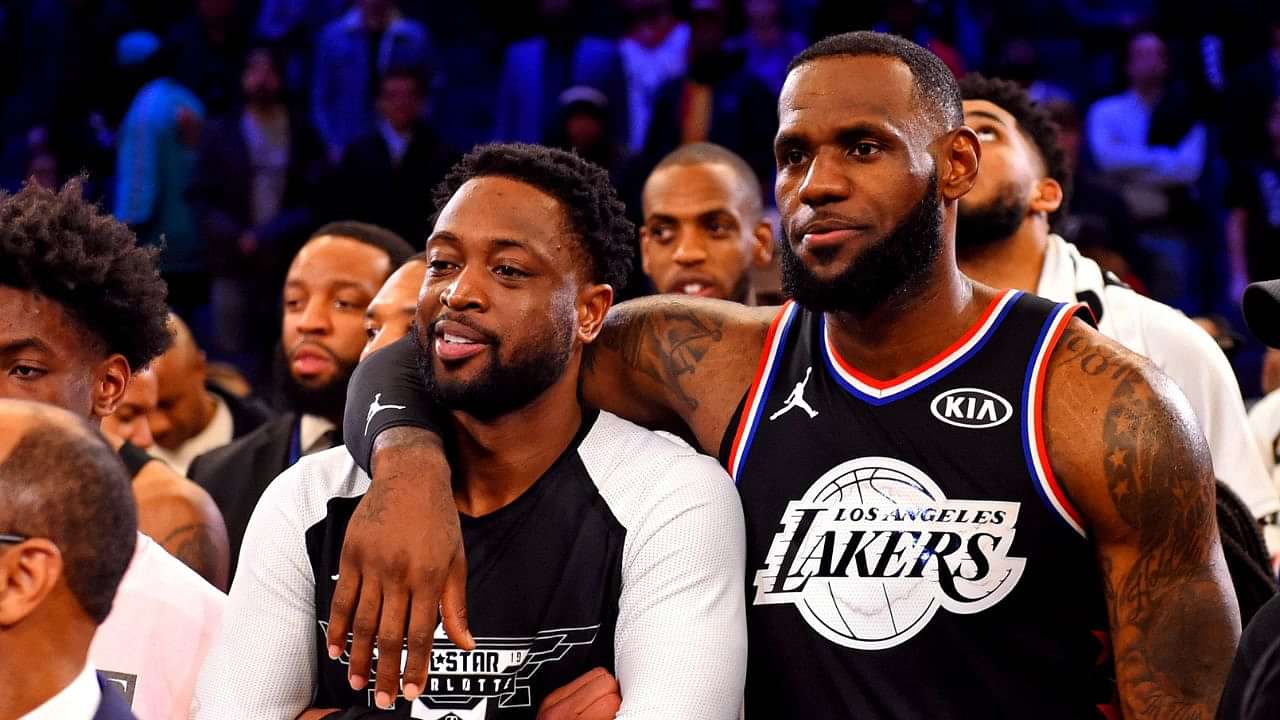 The NBA has had many dynamic duos. From Magic and Kareem to Jordan and Pippen. Dwyane Wade and LeBron James were one such duo that put the league on notice.
LeBron was born and bought up in Akron, Ohio. The Ohio native lived there for over 25 years before he chose to take his 'talents' to Florida. Thus, beginning a friendship that transcended even sports.
What many might find surprising is that LeBron and Wade were not always friends. In many people's eyes, they were rivals for almost a decade before they linked up in Miami.
Both a product of the iconic 2003 draft class, Wade was the first among all his peers to lead his franchise to a title. The city was dubbed Wade County after his legendary 06 Championship run. Possibly the best playoff performance of any player on their rookie contract.
Read Also: "Scottie Pippen, I Want to Throw This Water on You": When Stephen A Smith Went Berserk as Bulls Legend Declared LeBron James Better Than Michael Jordan
LeBron couldn't choose his favorite moment with his best friend Dwyane Wade
Mr. Flash and King James aren't like most of your NBA duos. Most Duos like Michael and Scottie, and Kobe and Shaq weren't friends outside the game. They realized their roles and won together. That isn't the case for James and Wade.
James and Wade went through the best and the worst together. Wade was there when King James went through public humiliation in Cleveland for taking his talents to Long Beach. Many may not know that it was also a dark time in Wade's life.
Battling through an ugly public divorce, Wade and James fought against the public shunning together. And to say they did well would be an understatement. The duo won 2 NBA Championships and two gold medals.
On being asked about his favorite moment together, LeBron said,
"No. That's like asking me my favorite moment with my kids. That's like asking me my favorite moment with my brother and sister. They are just too many. No, it's impossible to have just one".
LeBron James and Dwyane Wade always made each other better
LeBron played his last game against Wade in the 'Purple and Gold'. As the hands of time were turned back, fans were treated to two James-Wade matchups at the end of the game. In the post-game presser, LeBron addressed the situation, "We always push each other, and we always got the best out of each other."
Former Heat Assistant coach David Fizdale confirmed the duo's attitude towards each other. David, while describing their off-season runs, told Brian Windhorst that "LeBron and Wade were trying to kill each other. They were going at each other."
Though Wade is now retired and King James inches closer to the scoring record, we as fans will always reminisce about the time that LeBron, Wade, and The Miami heat played basketball at a level we may never see again. A superteam for the ages.
Also Read: Dwyane Wade and Ex-Wife, Siovaughn Funches Begin Trial With New Evidence Over Daughter Zaya Wade's Transition
---