"The Sequel We Deserved": NBA Twitter Reacts to Kenny Smith Shoving 7-Foot Shaquille O'Neal Into a Christmas Tree Yet Again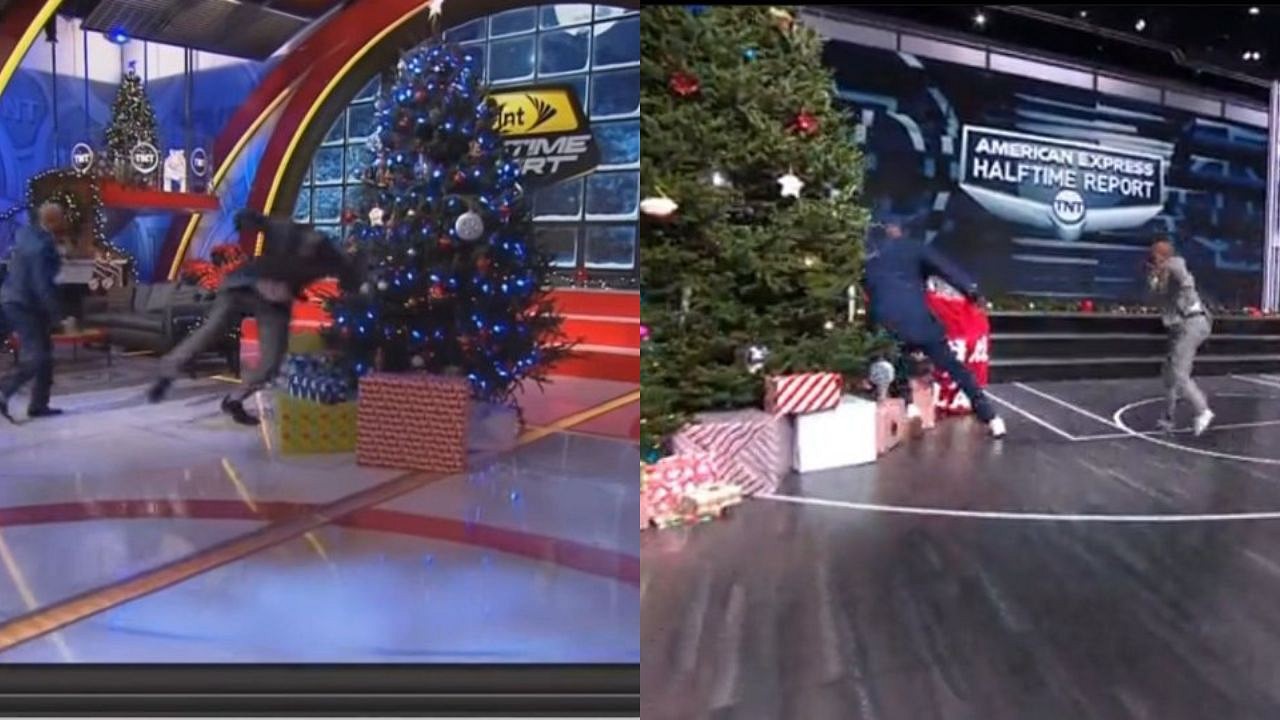 With Christmas celebrations kicking off on sets of TNT's Inside the NBA, panelists Kenny Smith and Shaquille O'Neal recreated the rib-tickling moment of the Big Diesel being pushed into the X'mas tree as the two veterans raced towards the board.
The producers at TNT sure know how to make memorable highlights, creating hilarious antics and sketches. However, this time around, they managed to recreate one of the most memorable scenes from a 2014 Christmas episode. Yes, we are talking about The Jet shoving the Big Diesel into an X'mas tree.
Reminds me of this 7 years ago. Good times pic.twitter.com/atavhPFWtF

— tokio (@yungtok_) December 7, 2022
While Shaq may have exaggerated the fall last time, the case seemed different this time, with Smith being much more aggressive in his shove as the two former champions raced toward the board. The former 7-foot center lay in between all the goodies.
KENNY LAUNCHED SHAQ INTO THE TREE 🎄💀 pic.twitter.com/WBltT8jflx

— NBA on TNT (@NBAonTNT) December 7, 2022
"The Big Christmas Tree" 🎄🤣 @SHAQ pic.twitter.com/oy9zXNPojj

— NBA on TNT (@NBAonTNT) December 7, 2022
"That was bad right there," said Johnson on Smith pushing Shaq into the X'mas tree.
"This means war Kenny," warned a glittery Shaq.
Also read: "Shaq threatened to Will Smith Kenny Smith": When Big Diesel wasn't amused by The Jet's humor
The incident had Twitter erupt with hilarious reactions, drawing parallels to the 2014 episode.
NBA Twitter reacts to Kenny Smith and Shaquille O'Neal recreating the iconic shove.
You are telling me this isnt the first time Shaq has fell into a christmas tree??? 🤣🤣🤣

— Shawn Burrier (@ShawnBurrier1) December 7, 2022
The sequel we all deserved! pic.twitter.com/Uooeer0DGT

— Candyandy10 (@amcandy23) December 7, 2022
Shaq has been ruled out (load management) for the rest of tonight NBA on TNT broadcast, per @WojESPN.

— Tomers Burner! (@tomersburner) December 7, 2022
— Gabe Nadolski (@nadolski_factor) December 7, 2022
All these years later and Shaq says the same thing:

"Alright Kenny, this means war, Kenny" 😭😭😭😭

— Matt (@m_capi2) December 7, 2022
Kenny put diesel in the R.I.P pose under the Xmas tree LOL 😂

— Eric Tressler (@DubzZilla13) December 7, 2022
Kenny ain't even try to get there. Went straight for shaq😭

— seb 🇭🇹 (#LetEdriceCook) (@astolenvisa) December 7, 2022
Fortunately, nobody was hurt during the incident. Nevertheless, one will have to wait and see how the Diesel gets his revenge.
Also read: 7-footer Shaquille O'Neal left howling as Kenny Smith embarrassed Guinness record holder at his own game
---
Share this article