"Triple H rings Liberty Bell with Joel Embiid watching": WWE star kicks off Sixers vs Hawks Game 2 as Trae Young lights up Wells Fargo Arena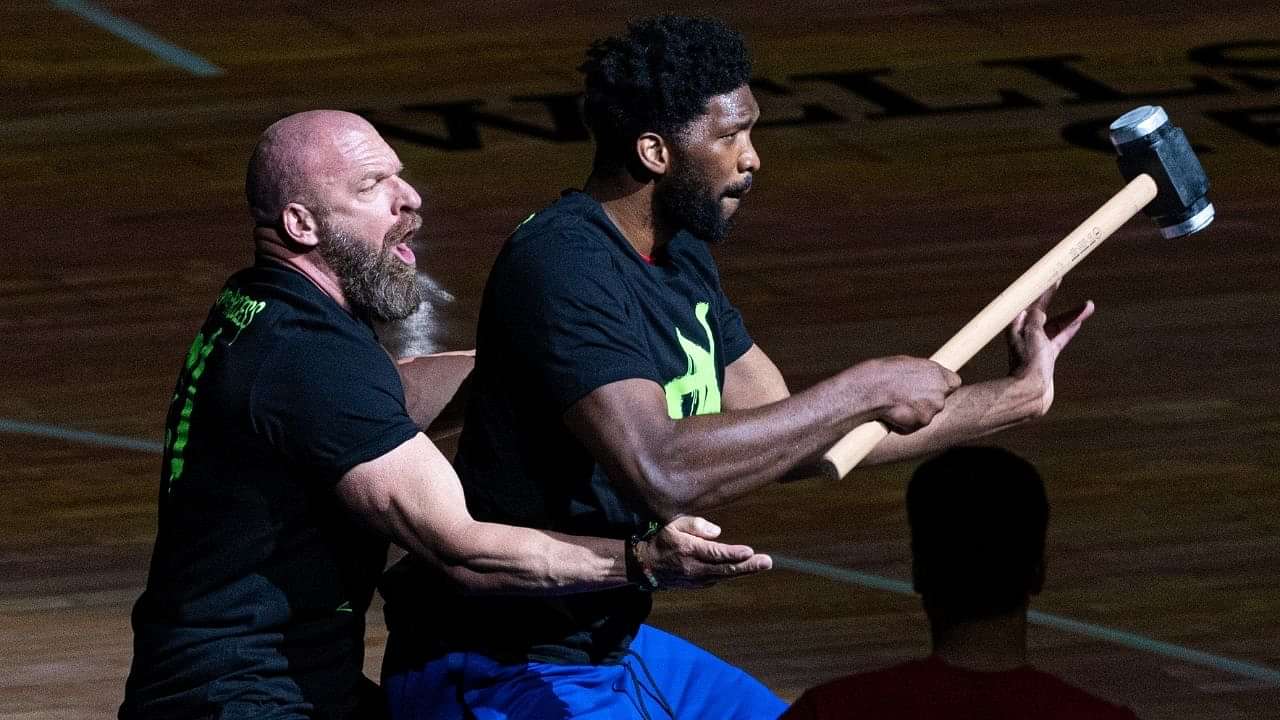 Joel Embiid and the Philadelphia 76ers started their second round of the playoffs in spectacular fashion, aided by Triple H.
However, Trae Young quieted down the rowdy Sixers crowd as Embiid returned to their starting lineup for Game 1. Embiid had 29 points and 8 boards at the time of writing by the 3rd quarter. But he couldn't hold a candle to the young Hawks star's spectacular offensive night.
Young went into the halftime team talk in the away locker room with a 20-point lead to his team's name. He also had 25 points and 7 assists to his name by that point. These stats don't even tell half the story of the game though.
Also Read: "I think they call you people Bronsexuals?": Jalen Rose trolls fans of LeBron James after Lakers get knocked out by Suns
Young has been hitting nylon from all kinds of range right from the start of the game. He got off to a rude hot start in the first quarter, dicing up the Sixers' defense effortlessly as Embiid opted for the drop coverage in his return game in order not to get into injury or foul trouble.
Embiid tried to establish an offensive tempo for Philly by banging down low and hitting some mid-range shots. But his team didn't turn up to the occasion like the Hawks did. They were over 50% from downtown and led the Sixers from range by double digits in makes at the time of writing.
Triple H loves Joel Embiid and the Philadelphia 76ers
The Liberty Bell is rung by a public figure before every big game down in Philly. This custom has seen the likes of Meek Mill creating indelible moments with the fans. Triple H is the latest celebrity to be honored in this fashion after he was given duties for the Sixers game.
The WWE superstar is one of the faces of wrestling entertainment worldwide. He was one of the most popular wrestlers of all time at his peak, and people still look up to his appearances on the wrestling ring in his role as the WWE's executive VP.
Loading embed tweet https://twitter.com/TripleH/status/1401589614301810689?ref_src=twsrc%5Etfw
The WWE legend has been high on Embiid for a while now. He's been hyping the Sixers all through the season, and was ecstatic when they sealed a first-round victory over the Washington Wizards.
Loading embed tweet https://twitter.com/TripleH/status/1398249814706565121?ref_src=twsrc%5Etfw
Loading embed tweet https://twitter.com/TripleH/status/1398828936088465413?ref_src=twsrc%5Etfw
Also Read: "That was some great defense but I'm still the best player in the world": Lakers megastar LeBron James had the last laugh as the Warriors' Juan Toscano-Anderson talked trash to the King
---