WATCH: Dillion Brooks' Straightfaced and Funny Reaction to Draymond Green Getting Called for Offensive Foul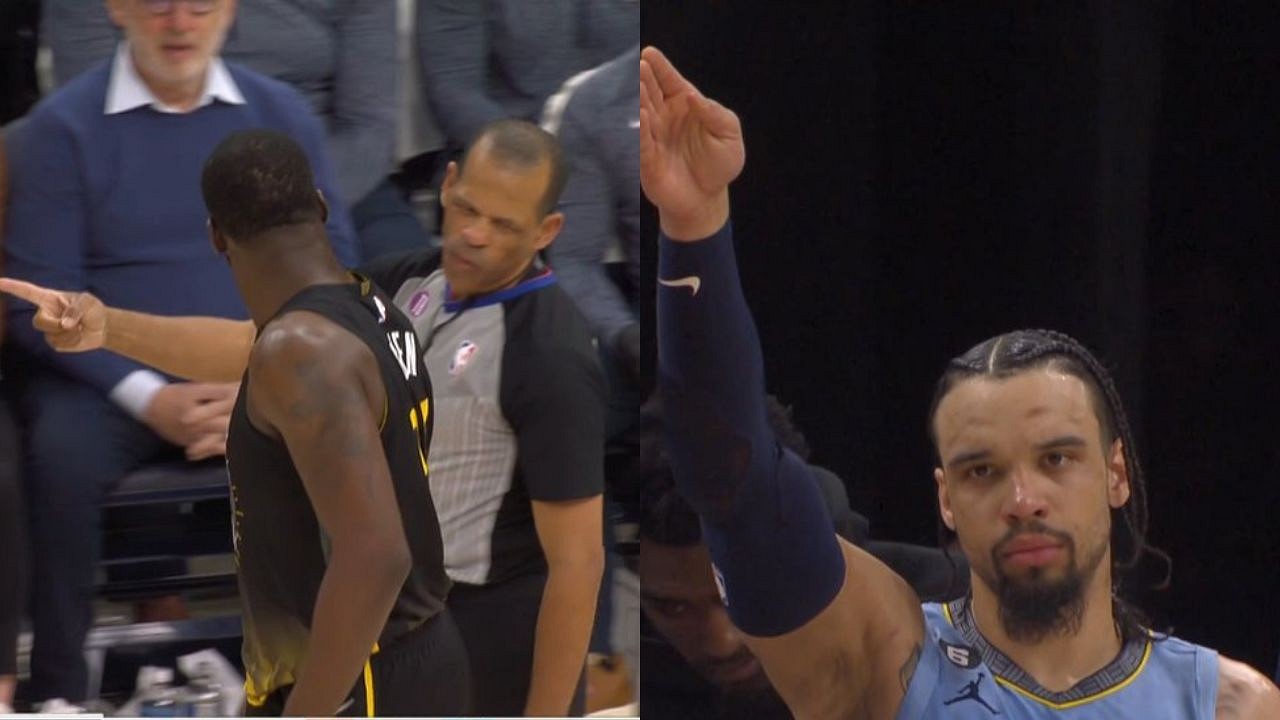 Draymond Green is the master of picking up fouls. Not often have we seen a player so polarizing. He is phenomenally good at defense and yet is terrible at picking up fouls. Just a few days ago he recorded his 16th technical foul, meaning that he will have to serve a one-game suspension the next time he gets a technical foul.
And the Golden State Warriors forward could not have picked up the foul at a worse time. They are currently in the midst of a 5-game road trip in which they have already lost 2 games in a row.
Right now they are facing a Memphis Grizzlies team that has found its feet without Ja Morant. And just now, a few minutes ago, he picked up an offensive foul and of course, his "arch nemesis" Dillion Brooks had to give a hilarious reaction to it all.
WATCH: Dillion Brooks' absolutely hilarious face as Draymond Green is called for an offensive foul.
Draymond Green and Dillion Brooks have been exchanging words back and forth over the last few weeks. Including a response from Green that brought down the hammer on Brooks. The war of words has seen a continuation on Green's podcast.
Dillion, who in our opinion is acting tough doesn't really have much to amount to in his career. But tonight, his reaction has us laughing in splits.
Just take a look at the sequence of the play. You can already tell, there will be some jawing at the end of this game or who knows even during the game!
Dillon Brooks after Draymond's offensive foul.

— Hoop Central (@TheHoopCentral) March 19, 2023
Twitter reacts to Dillion Brooks and Draymond Green's hilarious interaction
Well, if we're being totally fair here, there wasn't much of a reaction from Green to Brooks. He probably didn't even see it. So the play came off of Green setting up an illegal screen.
Draymond Green gets called for the illegal screen and Dillon Brooks approves pic.twitter.com/oKeOOEk4ny

— dave (@nbadaves) March 19, 2023
And even the Grizzlies announcer had to throw shade.
"Draymond Green has been setting moving screens forever."

Grizzles tv announcer lmao

— ‍♂️ (@KenHeLive) March 19, 2023
And for all that is good in the world, we definitely do not want the beef between these two teams to stop any time soon.
The beef between these teams lol https://t.co/b7Vo7kDTcp

— ' (@_Talkin_NBA) March 19, 2023
What do you think? Will tensions boil over at the end of this game? Will Brooks and Green get into it?
---
Share this article