Why is NBA not reacting on Montrezl Harrell's abusive 'white boy Luka Doncic' statement; LeBron James called out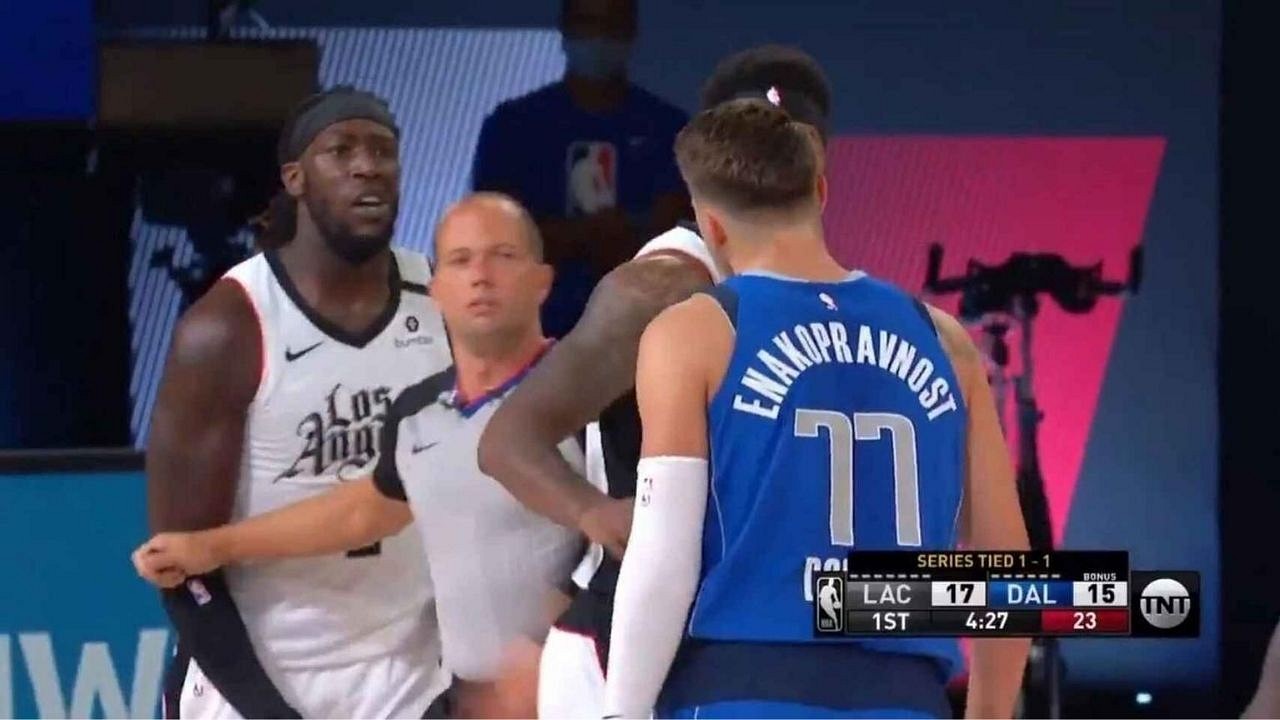 The 'white boy' incident between Luka Doncic and Montrezl Harrell has sparked a controversy, with the NBA and most players choosing to ignore it. 
The bubble restart in Orlando has some special elements in it, from the confined boundaries to social messages on the jerseys, Virtual fans and courts painted with "Black Lives Matter". But the major highlight for the restart is to fight against racial discrimination in America, but it seems like it doesn't work both ways.
Read More: Is Luka Doncic playing today vs Clippers? Mavericks release injury report ahead of Game 4
On Friday night, LA Clippers took on Dallas Mavericks in Game 3 in which Clippers' Montrezl Harrell and Dallas' Luka Doncic got into a heated argument exchanging some abusive comments between the two. Harrell was caught on tape saying "b**h as white boy" to the Slovenian.
"B!tch a$$ white boy"

– Montrezl Harrell to Luka Doncic pic.twitter.com/tlzxIFOerz

— NBA Central (@TheNBACentral) August 22, 2020
Not many of the prominent media houses have picked this up, NBA's big names are also not talking about the same which has raised some ethical concern for the association and the players. Do they only care about the Black community sidelining every other community?
Larry Elder's take on the incident
Not many have talked about the incident but some have, Larry in his twitter post called out Lakers Star LeBron James, Steve Kerr, and Coach Popovich for the missing outrage. All of them have been long vocal about the racial injustice and racial abuse against the Black community but the three have not spoken a single word on the incident.
ATTN: @KingJames, @SteveKerr & Coach Popovich,

Black NBA Player Calls White Player 'Bitch Ass White Boy'

WHERE'S THE OUTRAGE? Will @NBA mandate sensitivity training against "black racism"? What If Dallas Mavericks' Luka Doncic Wore "White Lives Matter"?https://t.co/FUimoSQ1gH

— Larry Elder (@larryelder) August 23, 2020
Larry also pointed out the NBA for taking no action against the player and asked if they would have done the same if Doncic would have commented on Harrell in the same way.
Read More: LeBron James at least save it for next round'- Skip Bayless mocks Damian Lillard and Blazers
Jay Williams Slammed Harrell
Former NBA player and current ESPN host on his twitter account posted a video in support of Doncic, he said that if Luka would have done the same it would be a big deal. He added that if things were that way all the association and the media would have gone crazy against Luka Doncic, people would have asked LeBron and other players for the comments. But no one has taken any clear stand against the incident except few.
Regarding the @dallasmavs @LAClippers game last night & the words we all know that came out of Montrez Harrell's mouth.. pic.twitter.com/pLfZ1ryfll

— Jay Williams (@RealJayWilliams) August 22, 2020
The incident and its follow up shows us that how inclined we are regarding some issues and neglecting others, a black player abuses a white player nothing happens, but if a white player abused a black player, it would have created a chaos in newsrooms.
---
Share this article