Stephen A Smith asks LeBron James the all-important question every fan in the NBA community has on their minds
Despite having a tumultuous 2020-21, LeBron James and the LA Lakers are already looking threatening again.
After getting Russell Westbrook, the franchise filled up on high-value 3-and-D players on minimum contracts. And now, with little to no spacing concerns, the team could be looking at yet another finals run.
Of course, there are still concerns. The age of the team overall has especially perplexed countless NBA fans, with many even counting the team out entirely for just that reason.
Detractors must speak carefully though because it seems that the King was listening, and later gave this response on Twitter. Take a look.
LeBron calls out those doubting the Lakers 👀 pic.twitter.com/V83nXIdJIX

— Bleacher Report (@BleacherReport) August 4, 2021
Soon after though, the Lakers star deleted the tweet. And in response, Stephen A Smith asked the burning question that's on the minds of everyone in the NBA community.
Let's get into it.
Also Read: LaMelo Ball hilariously proposes his early birthday wish to the NBA on Instagram
"I'm still trying to figure out why he deleted it": Stephen A Smith wants to know why LeBron James would take his words back
Given how good the Lakers are looking right now, LeBron James has all the right in the world to be a bit cocky. And in that deleted tweet, the player was just the right amount of that. So, after the star decided to delete the tweet, many within the NBA community, including Stephen A Smith, were baffled as to why he would do it. Peep the ESPN analyst's comment in the screenshot below.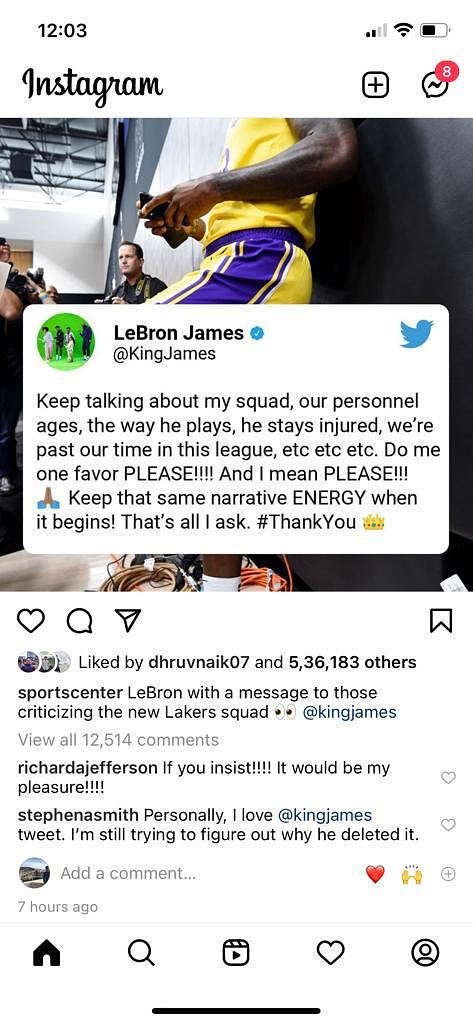 Maybe LeBron James truly is taking back his words. Maybe, he just isn't as confident in his team as many thought he would be. Or maybe he knew exactly what was going to happen, and left that tweet up just long enough for everything to go down as it did.
Why did he do it? Who knows?
At the end of the day, he is a far more cerebral person than most people on this planet. Perhaps he has some mind games planned for the NBA community ahead of this upcoming season.
Will it work though? We guess the only way to know is to wait and watch how it all unfolds.
Also Read: Larry Bird enunciates his true feelings about the Lakers legend as a player and comrade