"You're Making Russell Westbrook the Butt of Your Jokes!": Kevin Durant Defended Former OKC Teammate Against Lakers Fans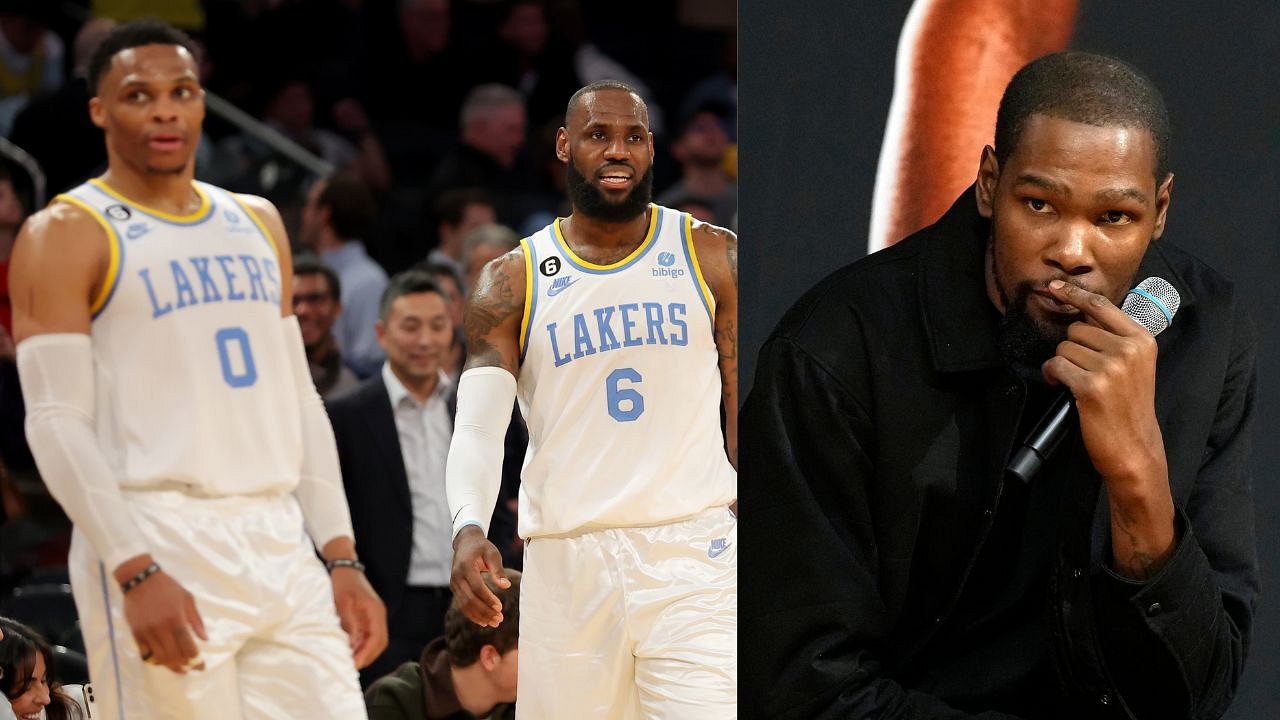 The NBA is not just a sporting league. For many of us, it's a part of our life, with us getting closely attached to our teams. Their failure or success often determines how our day goes. While most of us accept the results and hope for better the next game, others can't quite accept that. Russell Westbrook was one of the stars who had to face many rowdy fans.
The Los Angeles Lakers acquired Russell Westbrook from the Washington Wizards in 2021. The team traded away a few important pieces to get him. However, things did not work out between Brodie and the Lakers. His style of play wasn't really compatible with LeBron James, and as expected, Westbrook was the one who had to take the back seat.
Due to his diminished role, his productivity was affected, but the fans did not care. They started pinning the blame on him. Things got so bad that Kevin Durant also addressed the same on his podcast.
Kevin Durant defended Russell Westbrook from the trolls
Kevin Durant and Russell Westbrook were teammates on the Oklahoma City Thunder from 2008 to 2016. During that time, the two achieved a lot together and were known as one of the best duos in the NBA. After Durant's exit from OKC, things got a little heated between them, but I'm guessing time has healed the wounds.
Earlier in October, KD spoke up for Russ. He talked about how playing in Los Angeles isn't easy, especially when you have LeBron James as a teammate.
.@KDTrey5 on the criticism Russell Westbrook has been receiving:

"It's like now you're making him the butt of your jokes. … The dialog around our game is just so toxic at this point. I get criticism [on the court], but it's starting to turn into something else right now." pic.twitter.com/jRd8bs5eFS

— Boardroom (@boardroom) October 18, 2022
It was great to see Durant stand up for his former running mate, and why wouldn't he? According to many NBA players, Russ is one of the best teammates. To see his name get slandered like this, it was imperative that people stand up and speak for him.
How is Russ doing with the Clippers?
Even after all the criticism, the Lakers couldn't trade Russ over the offseason. They played him off the bench this season till they found a trade for him at the deadline. Russ averaged 15.9 points, 6.2 rebounds, 7.5 assists, and a steal during that time. He made a strong case for himself as 6th man of the Year.
However, after getting traded to the Jazz, Russ and the team agreed on a buy-out, and now he's with the Clippers. Getting a starting role back, Westbrook has averaged 13.5 points, 4.5 rebounds, 7.6 assists, and 1.4 steals per game. While his stats may not display what is happening, he's boosted the Clippers a lot by becoming the primary ball-handler that they were lacking. Currently, they're the 5th seed in the West, and with Russ there, they're hoping to go the distance this year.
---
Share this article