As Patrick Mahomes Turns Batter for His $1,200,000,000 Franchise, Softball Contest Transforms Into Tackle Football During Celebrity Game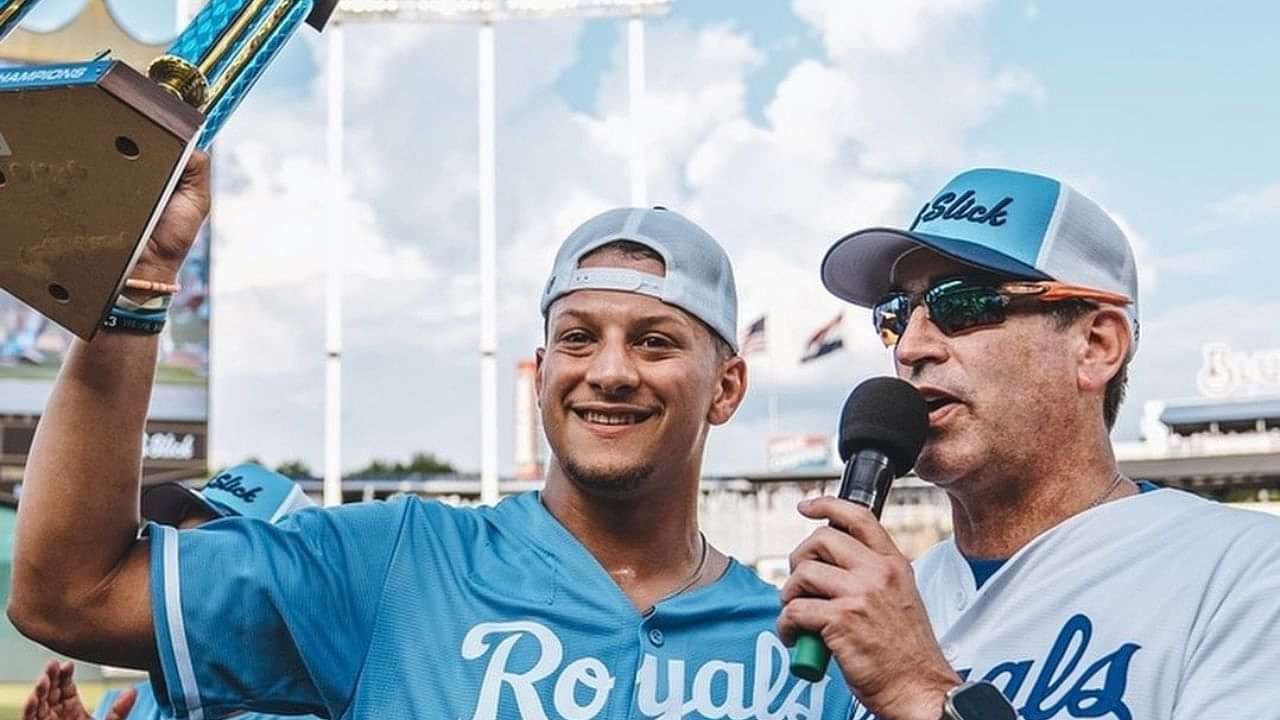 Kansas City Chiefs QB Patrick Mahomes is not a jack of all trades. Rather, he seems to be a master of them all. While the 2x Super Bowl winner admittedly was good at baseball during his childhood, his recent performance at the $1,200,000,000 worth Kansas City Royals' annual 'Big Slick' celebrity softball game showed just how good he is at swinging from the box.
The Chiefs' signal-caller is spending his off-season engaging in various activities. Mahomes recently faced off against NBA star Stephen Curry in a golf battle and was also seen hosting the 'Kelce Jam' music festival in Kansas City. Though at Kauffman Stadium, he had a chance to showcase his baseball skills in front of a massive crowd.
Royals beat the Rockies as Patrick Mahomes leads his team to victory
Friday's 'Big Slick' game saw the Kansas City Royals take on the Colorado Rockies at the Kauffman Stadium in Kansas. Both teams were packed with celebrities and sports stars outside of baseball. However, the Royals had a wild card, in the form of Patrick Mahomes. His previous experiences with baseball came in clutch for his team as they ran circles around their opponents.
Mahomes was prolific wherever he was on the field. He was amazing in the box, managing a home run for his team. Perhaps the more interesting part of his game was when he was out on the field. The Rockies decided to quickly get a runner from third to home. However, they probably did not expect Mahomes to jump in and spoil their party.
Loading embed tweet https://twitter.com/MLB/status/1664772356538085376?ref_src=twsrc%5Etfw
Loading embed tweet https://twitter.com/Royals/status/1664774360622682113?ref_src=twsrc%5Etfw
During the attempt to get to home base, the runner spotted Mahomes charging toward him with the ball in hand. In an attempt to evade him, the runner ran away from the plate and towards his teammates, slipping and falling in the process. The Rockies' players then suddenly decided that the best way to face a football player was by playing football, and tried to tackle Mahomes to the ground.
Unfortunately for the Rockies, the plan did not work. Mahomes managed to escape and chase down the runner for an out. Playing against a proper athlete did not bode well for the Rockies. What's more, Mahomes even decided to bring his fancy magic tricks to the game, with a no-look, behind-the-back throw taking the crowd by storm.
The Big Slick game has raised a lot of money since its inception in 2010
Though there is usually just one winner after every game, this game was different. Everyone who participated in this game was a winner, as the Big Slick Foundation raised another massive amount to donate to Children's Mercy Hospital, in an attempt to eradicate pediatric cancer. Over the last 13 years, the foundation has managed to raise over $17 million in charity, a formidable sum for a great cause.
Patrick Mahomes can be proud that he is a part of this great venture. The Kansas City hero already has a massive footprint in the city's history. Added to that, it seems he is slowly establishing himself in the sporting owners' list as well, with a minority stake in the Royals, and the Kansas City Current women's soccer team.
Added to that, Mahomes has yet another chance to make history with the city. Fresh off a Super Bowl win, the Chiefs are still the favorites to win this year's ring, and Mahomes will be hoping to make that dream a reality. This season could become the turning point of his career, as many predict he will soon take over Tom Brady's Super Bowl record. The question is, how soon can he do it?
---