Can COVID Vaccine Destroy Aaron Rodgers' Trade to the Jets? Star QB's Anti-Vax Stance Might Come Back to Bite Him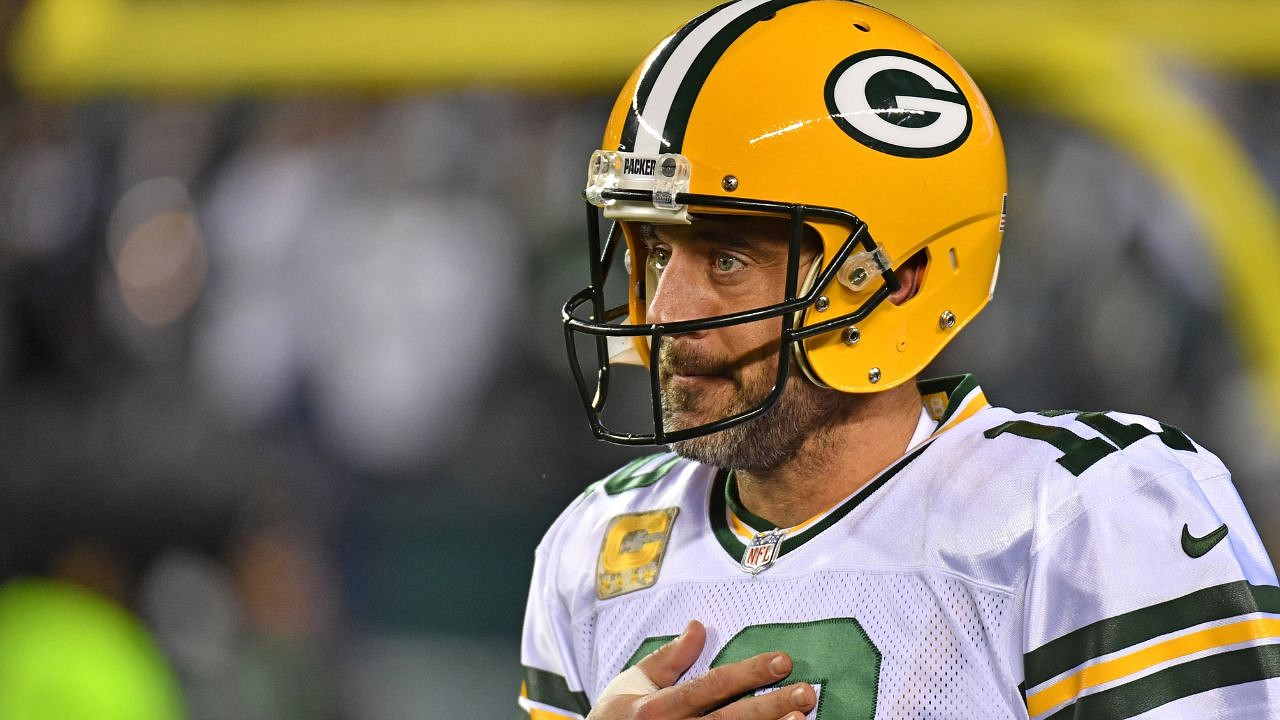 Everything regarding the Green Bay Packers QB is out in the open! The future Hall of Famer appeared on what was the most successful episode of the Pat McAfee Show. Aaron Rodgers was his talkative self and revealed precious information about his future. For the first time, the back-to-back MVP-winning QB addressed the long-standing question. While Rodgers is ready to join the Jets squad, a problem can keep him from going through with the deal.
We all know that A-Rod has a unique personality. The former Super Bowl winner engages in conversations wholeheartedly. He is well-read (who can miss his book recommendations on the Pat McAfee Show) and has a knack for conspiracy theories. For one, conspiracy theories require research. But once he used his research skills for controversial purposes.
Also read: "We Never Reported That": Diana Russini Finally Responds to Aaron Rodgers Who Called Her Out on "Wishlist" Debacle
Who can forget when Aaron Rodgers was an anti-vaxxer? Is he still one?
It was during the 2020 and 2021 seasons that fans got to know more about his anti-establishment mindset. Fans especially noticed this during the vaccination debacle. As per his research, he was allergic to one ingredient in the vaccine. It got the GB Packers QB in a lot of trouble for his defiance of getting a vaccine. He then confessed that he did so in order to deflect the media because he was trying natural methods to immunize himself.
I am convinced Aaron Rodgers just met with Woody Johnson (of J&J) just to talk about the vaccine and has no interest in actually going to the Jets.

— Billy (@Billyhottakes) March 13, 2023
Along with that, Rodgers had gone on rants where he denounced big pharmaceutical companies, President Joe Biden, and the CDC. One may wonder how this will affect his new deal with the New York Jets. Well, the franchise is owned by Woody Johnson and Christopher Johnson of Johnson & Johnson. They are one of the manufacturers of the COVID-19 vaccines.
Did the QB's views affect his deal?
One would think that a billionaire would take to heart what Rodgers had said about the vaccines his company produced. However, that did not happen. In fact, the owners, top front office executives, and coaches flew out to meet with the ten-time Pro Bowl winner. There were speculations that the meeting went on for eleven hours. But the star QB revealed that the meeting started at 2 p.m. and ended around 6 p.m. Hence, it only lasted for around four hours.
"Nathaniel Hackett has meant as much to me as any coach I've ever had and he happens to be the OC for the Jets" ~ @AaronRodgers12#PMSLive pic.twitter.com/PWchJX7In6

— Pat McAfee (@PatMcAfeeShow) March 15, 2023
It was a productive meeting, in his opinion. The only thing that remains now is the final and official announcement from both the teams and the star QB.
Also read: "Let That Sink in": Orlando Brown Jr, Upon Signing a $64 Million Deal With the Bengals, Burns His Critics Down Who Wrote Him Off After Terrible Combine Performance
---
Share this article