DJ Moore's Emotional Tribute to the Panthers Upon Beginning a New Chapter With the Bears Leaves NFL World Teary-Eyed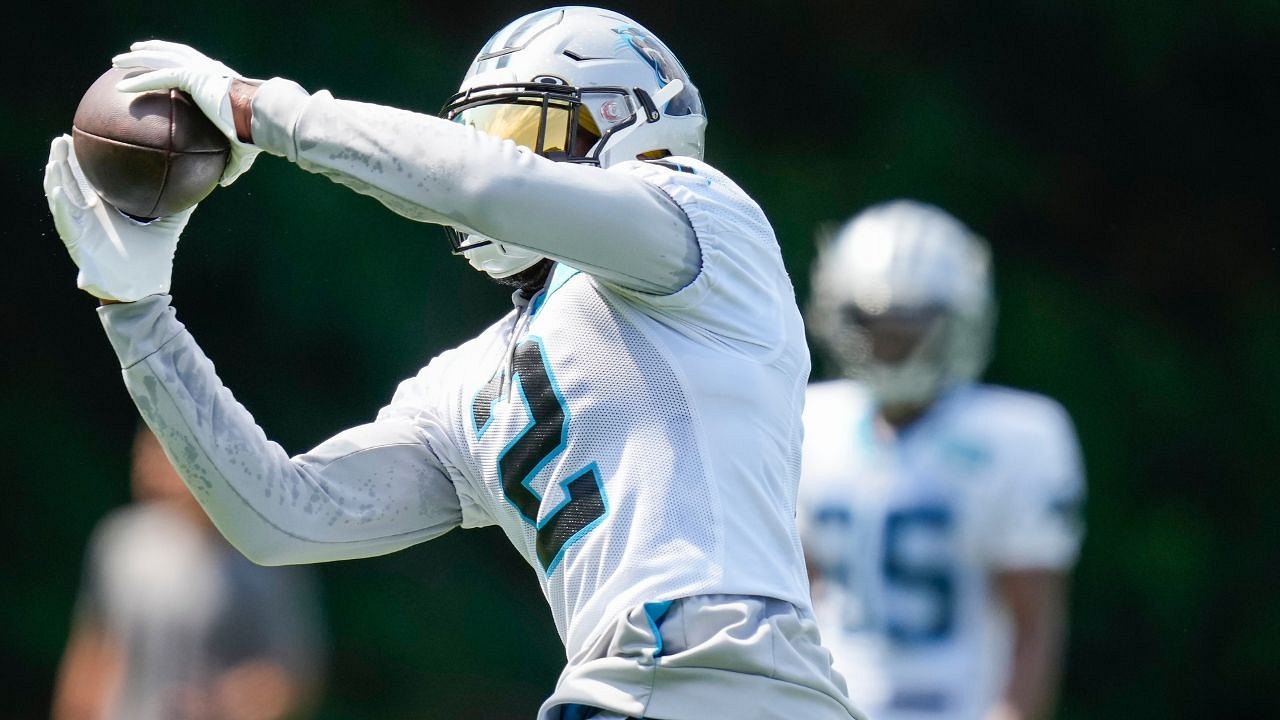 As it often happens during the offseason, several NFL stars have started finding new homes for themselves. One such player is the 25-year-old wide receiver, DJ Moore. The Panthers received the No. 1 pick in 2023 from the Bears in exchange for wide receiver DJ Moore and four additional draft picks. After the deal was done, Moore wrote a heartfelt post for the Panthers. The post evoked sentimental reactions from NFL fans.
As per Adam Schefter of ESPN, the Bears will receive Panthers' first-round pick at No. 9, a late second-round pick, a 2024 first-round pick, and a 2025 second-round pick. 
Also read: "Professional Contrarian": Stephen A Smith Betrays Former Co-Host Skip Bayless by Referring to Him as 'Anti Conventional Wisdom'
Fans react to DJ Moore's emotional post
Moore is a star player from the University of Maryland. The Panthers drafted him in the first round of the 2018 NFL Draft. He became the fourth-leading receiver in the franchise's history. The young gun amassed 5,201 yards, and 21 touchdowns off 364 receptions during his five years with the team. 
Therefore, since he spent remarkable years with the Panthers, it was only fitting if he also wrote an impactful tribute. Several fans thanked the wideout for his contribution to the Carolina-based franchise. However, they thought that if the Panthers had a powerful QB, Moore would have churned out even better numbers. Carolina struggled to finish 7-10 last season. They need a decent quarterback. They used Baker Mayfield, PJ Walker, and Sam Darnold last season but no one really got going.
Thanks for everything you gave to the organization. It was great to watch you play. If only the Panthers could've given you a decent QB, you might've averaged 2,000 yards per season. Best of luck in CHI.

— SalesMan (@95KeepPounding) March 12, 2023
Love you DJ! Wish you nothing but the best in Chicago! Ball out brother💫

— C3 Chad Morales (@chadrmorales) March 12, 2023
The Bears fans are excited to watch the recent addition to the team play.
Welcome to Chicago, really looking forward to see what kind of wide receiver records you can set for this franchise!

— Pete (@Pete_Martuneac) March 12, 2023
A fan hailed him as a legend.
You're going to be a Bears legend before it's all said and done, bro!

— Conor Wheeler (@ConorWheeler_1) March 12, 2023
We already love you!!

— Let's go Bears (@letsgochibears) March 12, 2023
The fans want to see the newest member throw the pigskin right across the field. It will be interesting to see Moore and the team's starting QB, Justin Fields, work together to win games.
DJ Moore with J fields is gone so fun to watch ✌🏿

— Ty Hill (@cheetah) March 10, 2023
D.J Moore's updated salary
Moore has a $19.965 million base salary for the 2023 season. The Bears will probably pay him $15.850 million for the 2024 season and $14.85 million for the 2025 season. The 2018 first-round pick, who missed only two games last season, is being considered as a huge bargain buy for the Bears.
The Chicago-based franchise have been absolutely horrendous in the recent past and while they have got Moore at a very good price, they would have to manage him well, otherwise, even for the experienced WR, it will be tough to guide his new team to important wins.
Also read: $22 Million QB Baker Mayfield, Who Loved Driving a Modest Chevrolet Bolt, Once Made Fun of Teammate KhaDarel Hodge's 'Affordable' Ride
---
Share this article