Do New Teammates Tyreek Hill and Jalen Ramsey Still Have Bad Blood?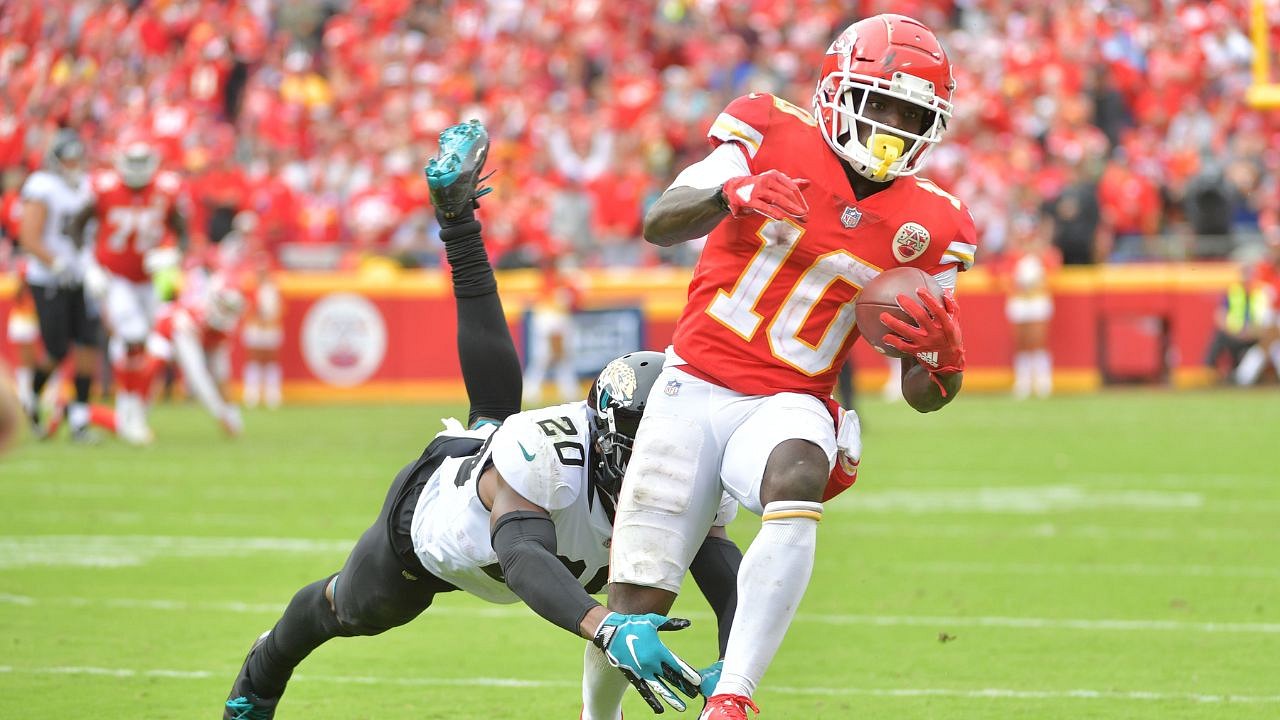 This off-season, many players are finding their new homes. One such player traded to a new team was the Super Bowl-winning cornerback, Jalen Ramsey. The Los Angeles Rams traded the All-Pro to the Miami Dolphins in exchange for a third-round pick and TE Hunter Long. While the move is a bombastic one for many reasons, it can also rekindle old drama between him and Miami's star WR, Tyreek Hill.
The 29-year-old wide receiver, who also played for the Kansas City Chiefs, had jokes and one-liners upon his new teammate's arrival. However, the two will not start their relationship on a clean slate.
Also read: "Aaron Rodgers, What's He Gonna Do?": Packers QB's Pal Pat McAfee Seems as Clueless as Everyone Else Regarding Aaron's NFL Future
Jalen Ramsey once took a scathing dig at the 7-time Pro Bowler
Hill and Ramsey dominated the football space in 2018. It was during that year that the Chiefs and the Jaguars went up against each other in Week 5. Fans were excited to watch the two teams work against each other. Before the game, the then-Jacksonville CB spoke to reporters. He talked about the four-time First-team All-Pro and called him a "return specialist" for Kansas City.
As per Ramsey, the Super Bowl-winning WR was used on special teams. Despite that, he was an efficient player who made it all the way to the Pro Bowl as a return specialist. Ultimately, Hill and the K.C. Chiefs showed what they were made of and won against the Jags by scoring 30-14. However, the story does not end here. The two also shared a tense moment when they went face-to-face with each other last month.
What happened between the star players that might've caused a rivalry between them?
Ramsey celebrated as he began a new chapter in his professional career. And when Tyreek Hill got wind of the big news, he sent out a tweet where he warned his new teammate to not do what he did during the practice of the Pro Bowl flag game.
 

View this post on Instagram

 
During the game, the star CB hit the Second-team All-Pro out of bounds in order to score a touchdown. It looks like this moment got engraved in Hill's mind. Hence, he warned his new teammate against doing that.
Tyreek Hill vs. Jalen Ramsey in practice will be must-watch 🍿 pic.twitter.com/L70i3CtgoQ

— NFL on ESPN (@ESPNNFL) March 12, 2023
We can all agree that their banter was friendly and that there will bloom a new kind of friendship between them since they will now play for the same team. Additionally, looking at their tweets, it seems like they are on their way to building a long-standing relationship.
Also read: 2X Super Bowl Champion Peyton Manning Credits This NFL Legend for His Oscar-Worthy Acting While Executing Fake Spikes
---
Share this article