"I Could Play Football. I can Be A Wideout At Least": Kevin Durant Entertains The Idea Of Playing In The NFL Someday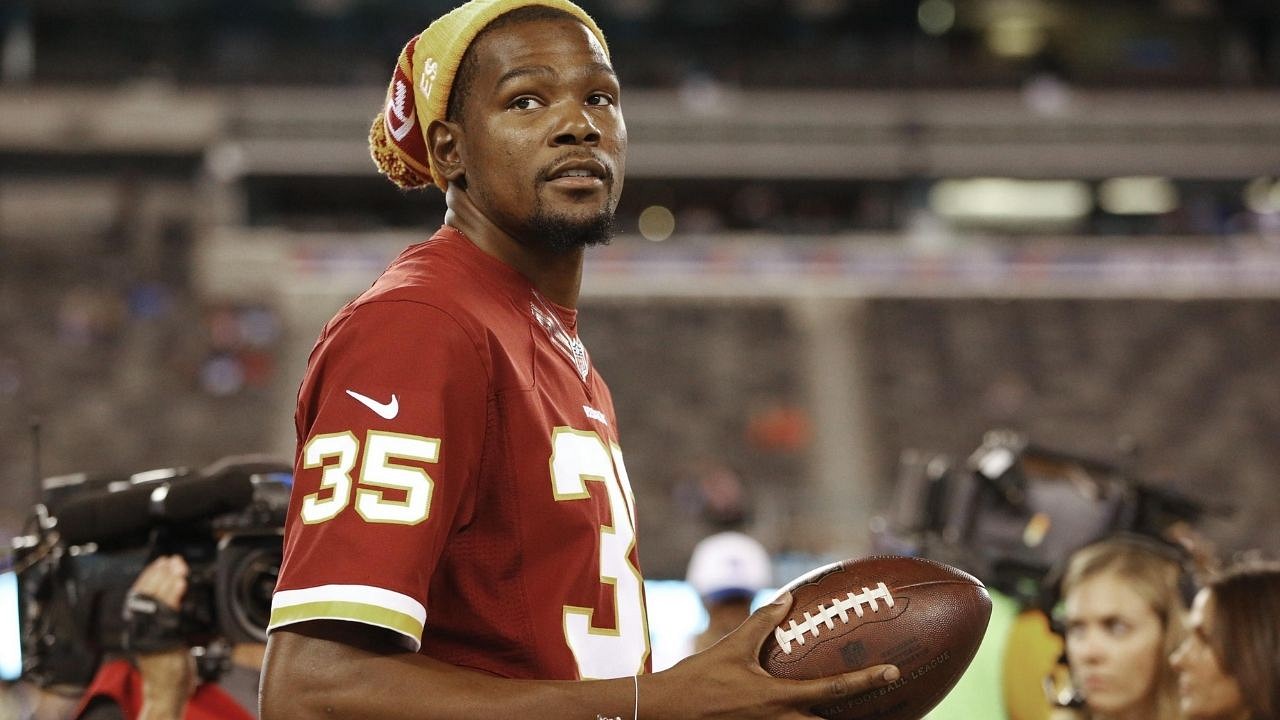 Kevin Durant is one of the best basketball players in the world, but if he had to choose a second sport, Durant would definitely go football.
Durant has an extremely gifted bag of tricks for his frame in the NBA. His nickname 'The Slim Reaper' is apt for how he's built. Durant stands at a tall height of 6'9″ or 6'10", but he weighs only 240 pounds.
For reference, LeBron, who's two inches shorter than Durant, weighs 242 pounds. In the NFL, his weight may be even more of a problem. DK Metcalf for example stands at 6'4″, a whole five or six inches shorter than Durant, but he weighs nearly the same at 230 pounds.
Nevertheless, Durant is confident his body frame could translate to the NFL. He doesn't need to be the biggest guy out there, just the fastest running some go-routes.
You throwing deep to Easy Money? 🤔

(via @boardroom) pic.twitter.com/ul6qy81Hk4

— B/R Gridiron (@brgridiron) June 25, 2021
Also Read: Aaron Rodgers Opt Out: Packers QB Could Hold Team Hostage & Still Make $18M
Could Kevin Durant Make It In The NFL As A Wide Receiver?
If we discount Durant's complete lack of knowledge about the NFL, playing as a receiver, and complete unawareness about the physical and mental strength needed for a football game, and purely look at his physicals, could he make it in the NFL?
Well, there definitely is a chance. His height definitely gives him an edge over many of the starting wide receivers in the NFL today.
The tallest wide receiver in the NFL might be someone like Mike Evans who's about 6'5″ or 6'6″. Durant would tower over cornerbacks and safeties, making him an ideal target on deep throws. Just throw it up there, and who knows, Durant might just be able to pull it in.
However, his strength on the other might have to improve. Durant is particularly known for being the most muscular or strongest NBA player, and that's something that could hurt him in the NFL. He'd have to be strong enough to avoid jams on the line of scrimmage by cornerbacks and also be able to outmuscle defenders to catch tighter throws.
Given his lanky frame, it might be tough for Durant to do that. Of course, as mentioned earlier, Durant is in no way fit to be in the NFL. He has to learn the game and all its ins and outs before you can even discuss how he'd fit in physically.
Also Read: Tennessee Titans Training Camp 2021: Start Date, Location, Roster Battles, and Fan Policy
---