"I Don't Regret Anything I've Said": Oregon Coach Dan Lanning Holds His Ground On Deion Sanders' Colorado Buffs Despite 3-0 Start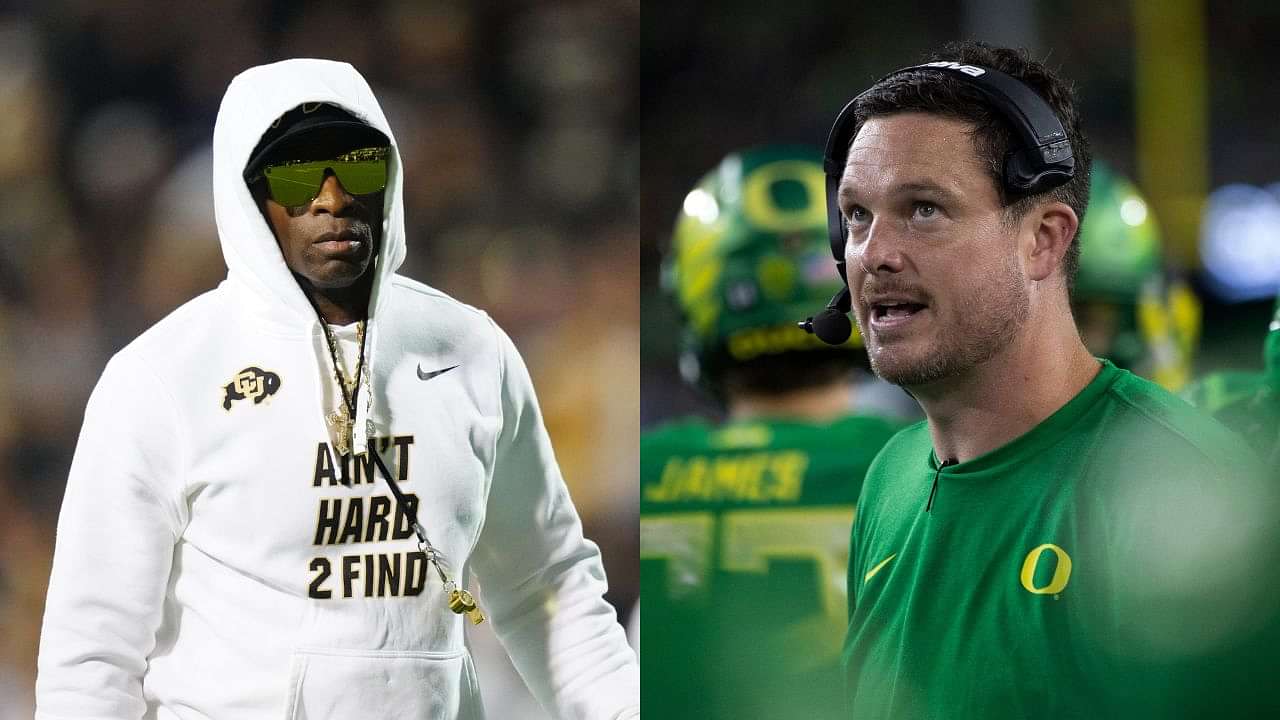 As Deion Sanders heads the Buffs to Week 3 it is clear that he makes his players seek motivation from negative comments made by their opponents. Looks like they don't have to look too far to hype up their next game. As Oregon coach Dan Lanning spoke up once again backing his previous statement on Colorado not achieving anything in Pac-12.
As per The Athletic.com, coach Lanning isn't trying to make things personal with Deion Sanders but his opinion on the Buffs still stands. Oregon currently occupies the third place in Pac-12 just below Colorado with a 3-0 record. Clearly, they are doing as well as Shedeur's team, minus the Prime Effect.
Dan Lanning Reiterates On His Harsh Statement On Deion Sanders' Colorado Buffs
Lanning during his preseason media day with Oregon was asked about his take on Colorado leaving Pac-12 for Big-12. "Not a big reaction," Lanning responded. "I'm trying to remember what they won to affect this conference. I don't remember. Do you remember them winning anything? I don't remember them winning anything."
It did not get that much attention then, as the season was yet to start and the college football world was yet to see the wrath of Colorado. But now that the Prime Effect is in its full swing, Deion was asked about it on the day of his matchup against Colorado State. "We can't get to that right now," Deion Sanders said emphasizing that his focus was on defeating Jay Norvell first.
Loading embed tweet https://twitter.com/BrennaGreene_/status/1686096783066423305?ref_src=twsrc%5Etfw
By now it is apparent that saying anything against Deion Sanders will only be an invitation for a circus on the game day. Keeping that in mind, Lanning reiterated his take made a few weeks ago.
"I don't regret anything I've said," Lanning said at his news conference Monday evening. "At the end of the day, I wasn't talking about Deion's team, I was talking about the past and future for our team. But if that serves as material for them, great. I don't think it's going to have any bearing on the game or the success of the game." That said, it is yet to be seen if Oregon has dodged a bullet or dove in front of it.
Coach Prime To Face an Undefeated Oregon
The Buffs have done a phenomenal job in keeping their streak alive by taking things "personally" and making their opponents eat their words. The next hurdle in their track is the undefeated Oregon Ducks which also seems to be a promising team just like Colorado State.
Loading embed tweet https://twitter.com/PatMcAfeeShow/status/1702719167785271713?ref_src=twsrc%5Etfw
Shedeur's team is to go on the road next week and it is expected to be another starring showdown between two great forces of Pac-12. Although Colorado might not have won anything significant in Pac-12 but things don't seem usual this time. Deion Sanders' team appears to be on a path to creating a legacy.
---