Peyton Manning & Tom Brady's Emotional Message Makes Cardinals Hero J.J Watt Cry Uncontrollably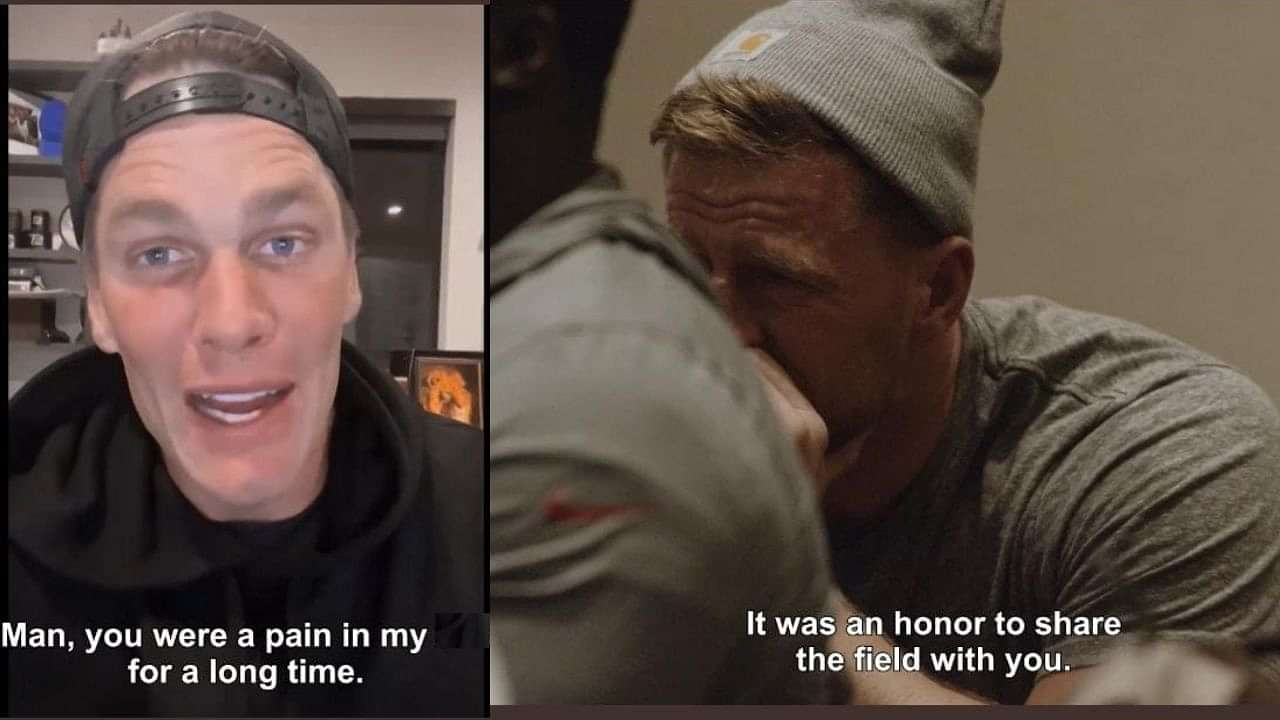 Emotions were running high in the Arizona Cardinals camp last Sunday. Not because they lost their regular-season finale to the San Francisco 49ers. Because of their legendary defensive man, J.J. Watt, who was playing the last game of his career. While Watt did get a bit emotional after the entire stadium gave him a standing ovation, it seems the waterworks were already flowing since the day before.
After the usual defense meeting, the defensive coordinator Vance Joseph shared a video that the Cardinals media team had put together. And within the first few seconds, things started getting watery. NFL later shared the moment on their Twitter, allowing fans to watch and enjoy the moment.
https://twitter.com/NFL/status/1612956552402702337?ref_src=twsrc%5Etfw%7Ctwcamp%5Etweetembed%7Ctwterm%5E1612956552402702337%7Ctwgr%5E913b496ec1ce5cc7a7421c45325b30959bf3d312%7Ctwcon%5Es1_c10&ref_url=https%3A%2F%2Fwww.foxnews.com%2Fsports%2Fj-j-watt-cant-hold-back-tears-watching-touching-congratulatory-video
The video starts with his brother and fellow defensive player of the year T.J. Watt. "Brother, J.J., I just want to say congratulations on retirement," he says. "You and your resiliency throughout all the ups and downs. You ending up in the NFL and you being Defensive Player of the Year and you having all the success that you had, showed me that it's possible."
It doesn't stop there either, for what comes after T.J. Watt, is a star-studded lineup that includes one at least a few more people he'll be joining the Hall of Fame with.
The next on the list is the Green Bay Packers star man, Aaron Rodgers. His message was short and simple: "See you in Canton". Right after him, Hall of Famer Peyton Manning congratulated Watt on his incredible career. Then comes Dallas Cowboys QB, Dak Prescott, who calls him an "incredible player". The sharp readers would have noticed the pattern: these are all QBs, who he has faced and gotten the better off.
Also Read: "I Got a Family & Kids, But…": Matthew Stafford Gives Major Update On His Future With The Rams
J.J. Watt gets emotional as NFL greats give a moving tribute on his retirement
Which is exactly what the next player on the list says. Tampa Bay Buccaneers Tom Brady's message was hilarious but the naked truth. He says, "Man, you were a pain in my a—for a long time. It was an honor to share the field with you". That message sums up Watt's career: being a pain in the back for every QB who dares take the field against him. Quite a way to be remembered, it has to be said.
J.J. Watt's other brother and Pittsburgh Steelers full back, Derek Watt, also made an appearance in the video, with his children. If that wasn't enough to get the waterworks flowing in full swing, his parents also make a detailed appearance. They talk about how Watt broke each and every expectation they had for his future.
"J.J., before you were born, we had really big dreams for you and high hopes, but, boy, you kind of blew those out of the water on your own," his mother, Connie, says. "We are so happy for you. It's been just a complete joy watching you all through the years."
His father, John Watt, also had a few words to say about the soon to be Hall of Famer. He says, "We got to be a big part of it for your first journey back in the day when I was your coach. And it's been a pleasure to watch you ever since. Kind of sad to see it come to your last game, but you have so many great things ahead of you that I'm looking forward to what the future brings for you, Kealia, and Koa."
The cherry on the cake was his wife, Kealia Watt, and son, Koa Watt, making an appearance."It has been such an honor to watch you work you're a—off these past years and do whatever you needed to do to be the best," she says. "You've been so generous and kind and loving to everybody around you, and you never forgot who you are. I know Koa will be so proud to be your son."
Watt later took to Instgram to thank his team for putting together such an incredible gift for him. Probably should've kept thos tissues handy, right?
Also Read: "Still Chasing That Clout, Huh": Model Emily Ratajkowski Receives Heavy Backlash From NFL Fans After Quoting an Age-Old Article About Racist Concussion Protocols
---