Jets Superfan Rich Eisen Is Nerve Wracked Even on Vacation as the Aaron Rodgers Trade Stands in a Stalemate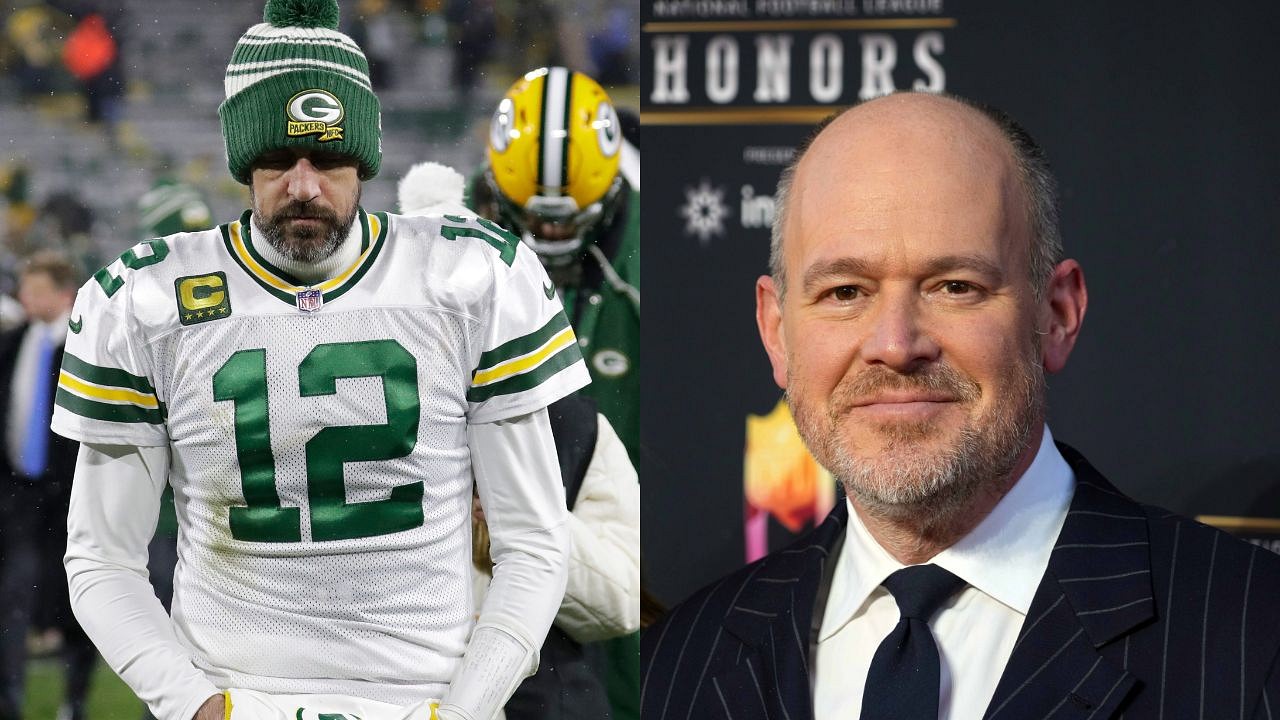 Aaron Rodgers is still in Green Bay. This sentence has been haunting the Jets and their fanbase for quite a while now. Even after the 4x MVP expressed his desire to play in New York, the Packers are holding out, trying to get the best deal out of the Jets' desperation. This situation seems to be taking a toll on Jets fans, especially superfan and NFL analyst Rich Eise, who can't relax even on vacation!
Rodgers' split with the Packers was something almost everyone predicted after their dismal season last time around. However, Rodgers had signed an extension contract that should have ideally kept him in Green Bay. Since he's not a free agent, the Jets need to have the packers' consent to bring him to New York. The Packers, though they don't want to keep Rodgers, are not letting him go that easy.
Rich Eisen is tensed about Aaron Rodgers still not signing with the Jets
Longtime Jets superfan and host of his show, Rich Eisen is supposed to be on a mini vacation in Hawai'i right about now. However, it seems the thought of Rodgers still being a Packer is nagging him a bit too much. So much so, he decided to call up his wife, who was covering for him on the show and express his frustrations about the whole ordeal. On air!
"It's all good. I'm having a good time, everything's wonderful. And I'm glad that you guys are holding down the floor," he said to his wife and his co-host. "I'll be back Monday when Aaron Rodgers is still a member of the Green Bay Packers. That'll be great. And we'll spend the whole five days waiting for something to happen that probably won't happen until the draft. So it's all good."
His wife, Suzy Schuster, felt compelled to jump in with a joke about the entire fiasco. "Is that a new Christopher Guest movie 'Waiting For Rogers'?", she quipped. Eisen replied, "Absolutely! Everybody has stools in Green Bay. We're sitting down on them, waiting for this thing to happen. And it's not gonna for a while it looks like the Packers are going to make everybody sweat this thing out."
Also Read: New Management Soon? : Dan Snyder Cleans Out Commanders Facility Ahead Of Potential Sale
The Jets are not ready to accept the Packers' heavy demands for Rodgers
While Rodgers himself has said that he intends to play for the Jets, he hasn't been able to sign with them yet. All because the Packers still he's worth a lot to them. The Packers are asking for the Jets' first-round pick, along with protection for 2025 if Rodgers decides to stick around till then. The Jets, however desperate they may be to get Rodgers, still feel this is an unfair ask.
While it is certain that Rodgers will end up in New York, the Packers seem to be the ones who decide when that will happen. Popular opinion is that they'll wait till draft day, to try and make things difficult for the Jets. The Jets, on the other hand, are eager to get him into their facility as early as possible. Only time will tell how this debacle ends.
---
Share this article