Justin Fields Wittingly Flipped the Bird to a Reporter After Loss to the Lions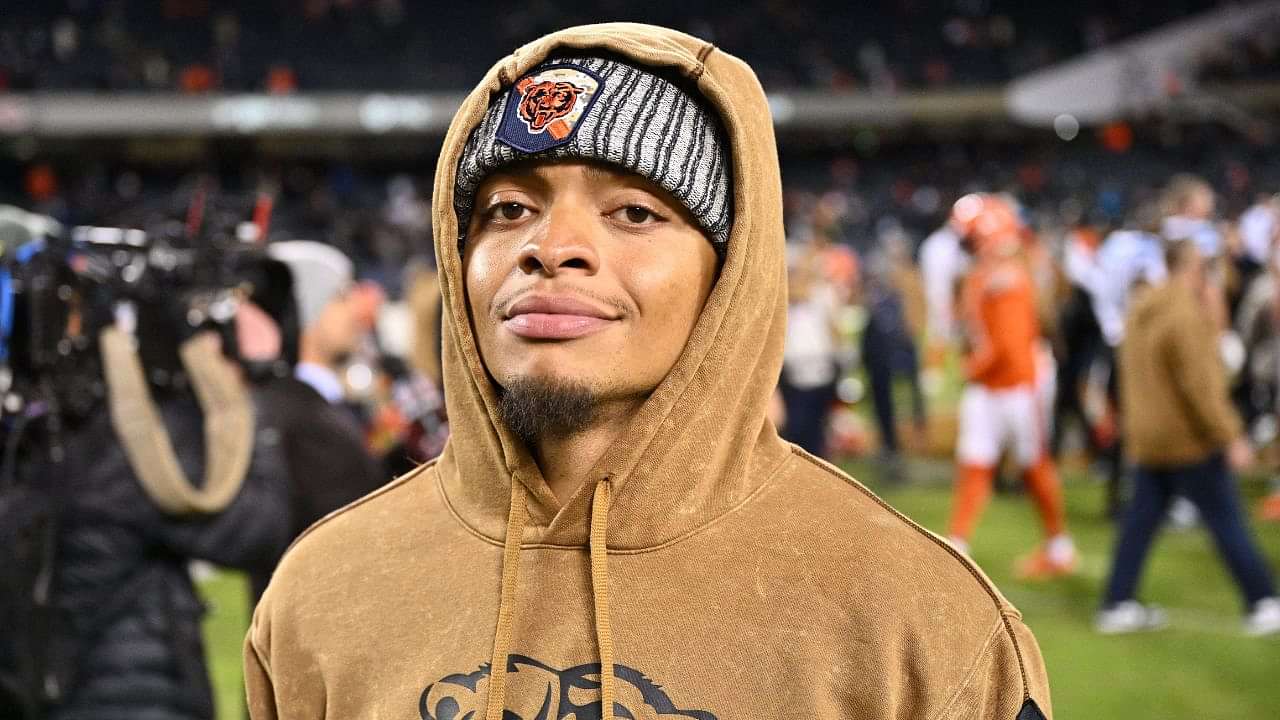 Chicago Bears QB Justin Fields returned this week to play against the Detroit Lions on Sunday after being out for nearly a month because of a thumb injury. He was determined to win and maintain their team's playoff hopes, but following the Week 11 game, their record stands at 3-8. However, even after giving his best, the Lions stole the show in the last quarter to win the game 31-26.
At the beginning of the game, Fields dominated by rushing for 104 yards in 18 carries, while Lions QB Jared Goff suffered three interceptions. The Bears were leading with a 26-14 score in the fourth quarter and were really close to clinching the victory over the Lions. However, their defense allowed two late touchdowns and a forced fumble in a 31-26 defeat. Fields ended the game by completing 16 of 22 for 169 yards and one touchdown.
Loading embed tweet https://twitter.com/dave_bfr/status/1726316498648711489?ref_src=twsrc%5Etfw
During the second quarter, when the game was tied at 7-7, something caught fans' attention. A camera spotted blood on Justin Fields' throwing hand's middle finger. It's unclear how he got this minor injury, but the team's head athletic trainer, Andre Tucker, was later seen tending to the QB's injured finger during the game.
Justin Fields Mistakenly Flips Off the Press
During the post-game press conference, a reporter asked Justin Fields about his finger injury from the game. Field's response made the entire room laugh, as he accidentally pointed to his middle finger to show the injury. Realizing his mistake, he quickly clarified that he didn't mean to flip them off, changing his hand gesture. He said,
"Yes my middle finger, I don't wanna flick you all off, but my middle finger just started bleeding"
Loading embed tweet https://twitter.com/MySportsUpdate/status/1726407378340393245?ref_src=twsrc%5Etfw
Following the video going viral, football fans reacted in hilarious ways while praising Fields for his quick and humorous response. A football fan commented,
Loading embed tweet https://twitter.com/bojackpick/status/1726408087450296381?ref_src=twsrc%5Etfw
Another stated,
Loading embed tweet https://twitter.com/MLG_Mahal/status/1726409982973726927?ref_src=twsrc%5Etfw
A fan poked fun at the Bears' coaching staff.
Loading embed tweet https://twitter.com/Megadirte/status/1726426148652098034?ref_src=twsrc%5Etfw
Even though Fields' response brought some light-hearted humor during the press conference, the star QB also showed his frustration about losing the game. He stated that, despite playing against a strong team, he believed they should have won. He also praised Jared Goff's ability to avoid turnovers and highlighted their defense's success in creating takeaways.
---