"NFL Isn't Too Violent": President Joe Biden Speaks On The Dangers of Playing Football Post Damar Hamlin Incident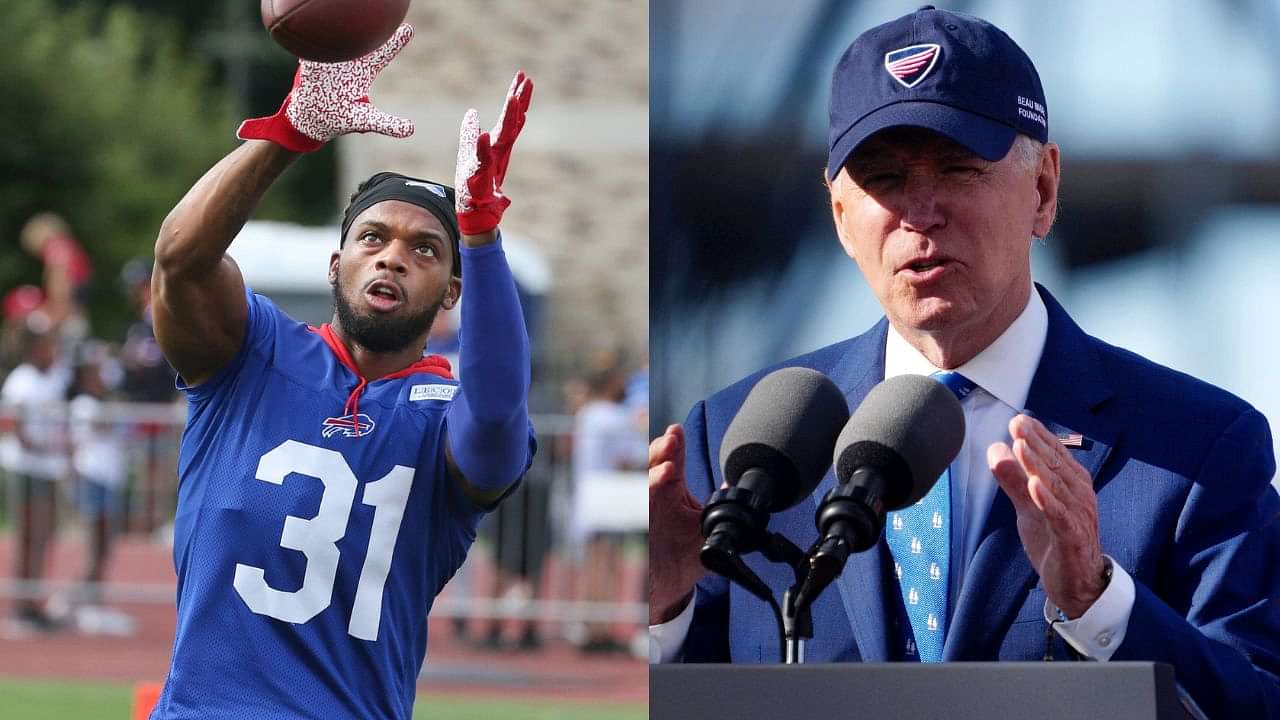 President Joe Biden weighed in on the Bills safety Damar Hamlin's devastating cardiac arrest during Buffalo's Monday Night Football game against the Bengals. Since Damar Hamlin's terrifying collapse during the Bills-Bengals game last Monday night, violence in the NFL has been a topic of discussion. So much so that President Joe Biden addressed the situation on Wednesday evening.
Loading embed tweet https://twitter.com/MySportsUpdate/status/1610754590424633347?ref_src=twsrc%5Etfw
After making a tackle about nine minutes into a game against the Cincinnati Bengals, Hamlin went into cardiac arrest and was taken to the hospital. Following the nationally televised incident, the game was called off.
President Joe Biden said he spoke with the parents of Buffalo Bills safety Damar Hamlin, who collapsed during a game on Monday and is currently in critical condition. "I spoke with his mother and father extensively," Biden told reporters at the White House on Wednesday when asked if he had a message for the injured NFL player.
Also Read: Shannon Sharpe Abandons Co-Host Skip Bayless on Sets of 'Undisputed' in The Aftermath of "Insensitive Damar Hamlin" Tweet
 President Joe Biden speaks to Damar Hamlin's family after MNF incident
According to the US President, the NFL has not become "too violent," as some have claimed since Hamlin's injury. "I think it's a good idea to improve helmets and concussion protocols. But, as you are aware, it is risky," he stated.
Loading embed tweet https://twitter.com/RiegerReport/status/1610728354142978048?ref_src=twsrc%5Etfw
Biden told reporters, "I don't know how you avoid [dangerous hits]. I believe that focusing intensely on concussion protocols and helmets makes a lot of sense. But it's hazardous. You must simply acknowledge it".
In addition, Biden informed the media that he spoke "at length" on the phone with Hamlin's parents while he was still hospitalized at the University of Cincinnati Medical Center. The NFL announced that the Bills' game against Cincinnati, which was postponed due to the injury, will not be made up this week.
In high school, Biden played football for Archmere Academy in Claymont, Del., where he graduated in 1961. This is not the first time an American president has spoken out against football violence.
President Theodore Roosevelt pressed administrators from Harvard, Yale, and Princeton to clean up the game in October 1905, amid growing concerns about its safety. The forward pass and the formation of what is now the NCAA were among the rule changes that resulted.
Hamlin remains in the intensive care unit and has shown "signs of improvement," according to a tweet from the Bills. According to a White House official, Biden spoke with the player's parents on Wednesday.
Also Read: "Ridiculous & Insensitive": NFL Finally Breaks Silence on 'Allegedly' Giving Teams 5 Minutes to Warm Up Post Damar Hamlin's Collapse
---