Patrick Mahomes No-Look Pass: Watch Kansas City Chiefs Quarterback Make Ridiculous Throw During Kansas City Chiefs Training Camp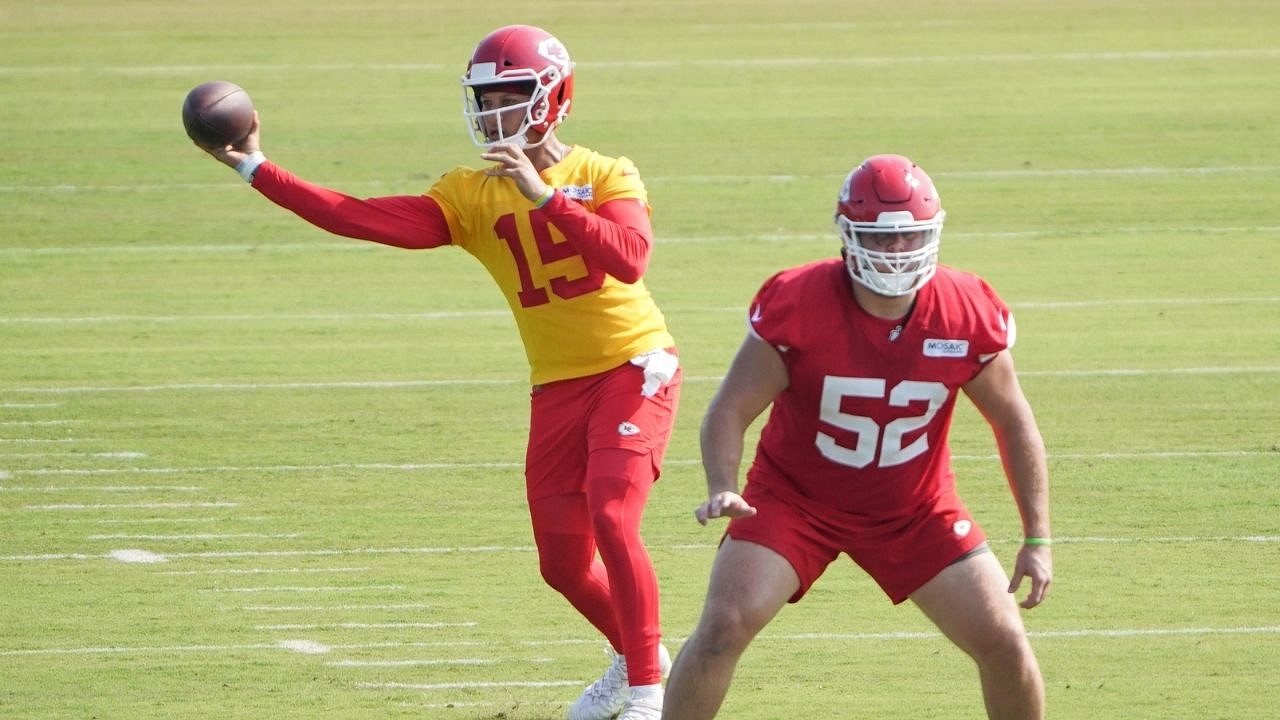 Patrick Mahomes doesn't really seem to be treating training camp like a practice session, dropping some ridiculous passes that only he can make.
Throughout his recent years with the Chiefs, Mahoms has had a knack of putting in some tight throws to his receivers when other quarterbacks may struggle to find the proper window.
There is no throw Mahomes can't make. His rocket of an arm combined with his skill to throw the ball in some truly unique ways makes him one of the most gifted quarterbacks in the league.
Even if he's throwing incomplete passes, Mahomes finds some way to make a highlight play out of nothing as he showed during Super Bowl 55.
How does Patrick Mahomes even throw this ball remotely on target? Insane. #SuperBowl pic.twitter.com/zR4EBTReRd

— Joey Hayden (@_joeyhayden) February 8, 2021
Also Read: "Give Tyreek Hill His 99 Rating!": Patrick Mahomes Is Furious His Chiefs Teammate Was Excluded From The Madden 22 99 Club
Patrick Mahomes No-Look Pass: Watch Mahomes Deliver An Incredible No-Look Pass In Training Camp
Whether it's the Super Bowl, the regular season, or even training camp, Mahomes isn't going to stop being the flashy player that he's known to be.
Just watch him deliver this masterpiece of a pass:
.@PatrickMahomes is out here making the no-look pass look easy 🤯 pic.twitter.com/AEzZy6R8LY

— Kansas City Chiefs (@Chiefs) July 28, 2021
If you think that's not a no-look pass, just take a look at this freeze-frame of the play:
C'mon people. Look where his eyes are, look where the ball is. It's not that he's not looking at someone. He's not looking where he's throwing the ball. Hence the no-look pass. pic.twitter.com/I2gioWusvv

— Travis Culp (@culpie02) July 28, 2021
Mahomes completely froze the defender and delivered a dime right on target to his receiver. Just Mahomes things. The Chiefs are going to look to make it back to the Super Bowl and win this time to avenge last season's loss, and you can be sure that Mahomes will be delivering throws like this all throughout the year.
Also Read: Madden 22 Tight End Ratings: EA Sports Announces Top 10 Rated TEs in Madden NFL 22
---
Share this article