Philadelphia Eagles Starting QB: Nick Sirianni is "just not there yet" on naming Jalen Hurts the starting QB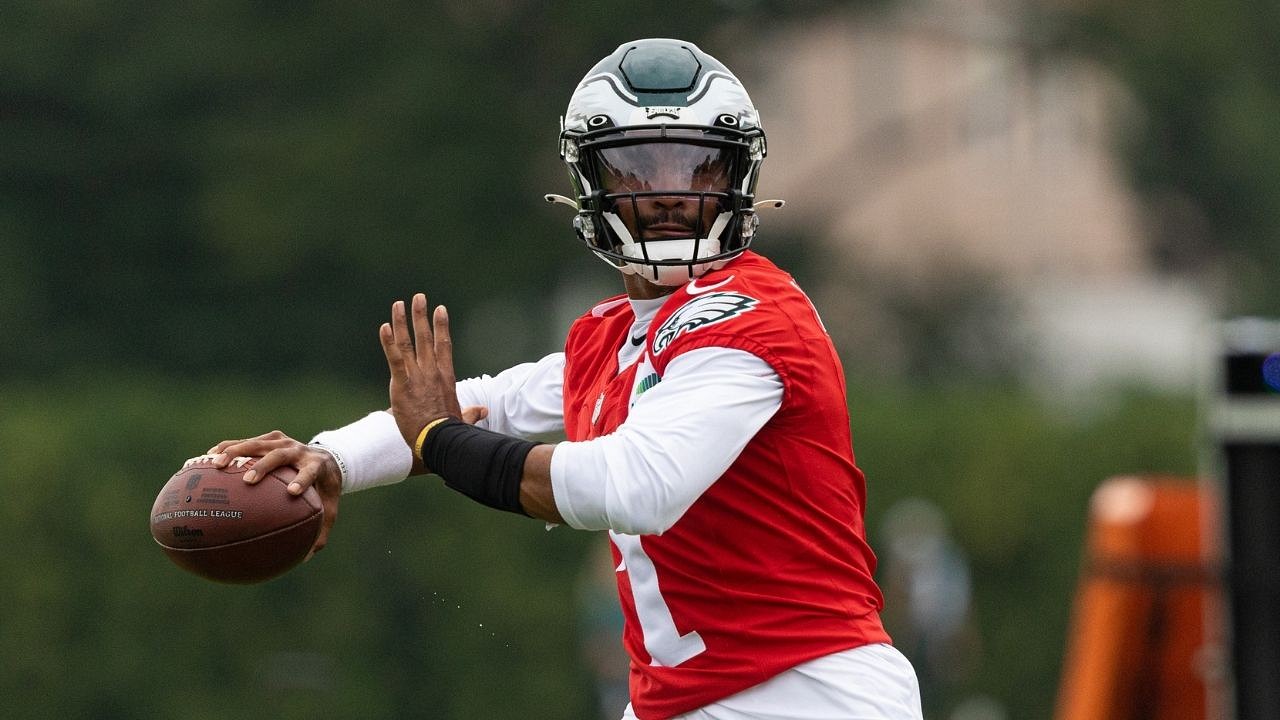 Philadelphia Eagles Starting QB: The Philadelphia Eagles traded away Carson Wentz, making most people assume that Jalen Hurts would be QB1 for 2021. But HC Nick Sirianni is not making anything official
Jalen Hurts was drafted by the Philadelphia Eagles in the 2nd round of the 2020 NFL draft. He started 4 games in 2020, going 1-3 while having both great and horrid moments. Hurts completed 52% of his passes for 1,061 yards with 6 touchdowns and 4 interceptions. However, he torched defenses on the ground, rushing for 354 yards and 3 scores.
Jalen Hurts has a longer/better 2020 highlight reel in four games than Carson Wentz had all season… pic.twitter.com/IeqVIzHcsE

— Kendall Beck (@keckbirdgang) February 19, 2021

Jalen Hurts definitely didn't cement his starting spot in the 4 games that he played. But he did have moments of brilliance that warrant him at least another season at the helm. And since the sample size is small, the Eagles are definitely banking on Hurts' upside coming through in season 2.
Despite being the best option on the roster, Nick Sirianni is not naming Hurts the starter yet. And with Deshaun Watson rumors running ablaze, this could be a sign.
Nick Sirianni is not convinced Jalen Hurts is Eagles starting QB material yet
Sirianni hopes to see continued improvement from Hurts before any official decision is made.
"Yeah, there's just no … there's just no rush thereon having do to that," the rookie head coach said. "Again, we just want him to continue to impress and show what he has. And we're just not there yet."
With training camp underway, the continuing uncertainty about Hurts is an issue. The Watson situation remains a factor. That was clear Thursday when Sirianni was asked if he had to keep Hurts relaxed amid any suggestions of the Eagles obtaining a new quarterback.
"We talk as a group about how you get better every single day," Sirianni said. "And this is my conversation with Jalen. This would be my conversation with all the players: How do you get better every single day? And we talk about our core values, our 'connect,' our 'compete,' our accountability, our football-IQ department, our fundamentals. And then, 'What are the distractions that don't allow you to get better every day?' The distractions are different for everybody. They are different for everybody."
Nick Sirianni was asked about whether he talks to Jalen Hurts about all the QB rumors. Said he talks to all players about making sure distractions don't impact their game #Eagles pic.twitter.com/HVM2ECA9tL

— Eliot Shorr-Parks (@EliotShorrParks) August 5, 2021

"Everybody's distractions are different. Everybody is going through something different. The message is clear with everybody: What are we doing to get better every day and what are we willing to eliminate from our life that is not allowing us to accomplish that goal?'"
The Eagles should be able to get a cleaner evaluation on Hurts this year. The Eagles' offensive line should be healthier and they drafted a receiver in the first round (one who has played with Hurts before). But he might not have the opportunity if Sirianni is unimpressed.
Also Read: "We're still a family when we come in this building." Derek Carr Explains Raiders Locker Room Dynamic After Carl Nassib Publicly Came Out as Gay
---