San Francisco 49ers QB: Kyle Shanahan says "I don't know if any rookie can beat out" Jimmy Garoppolo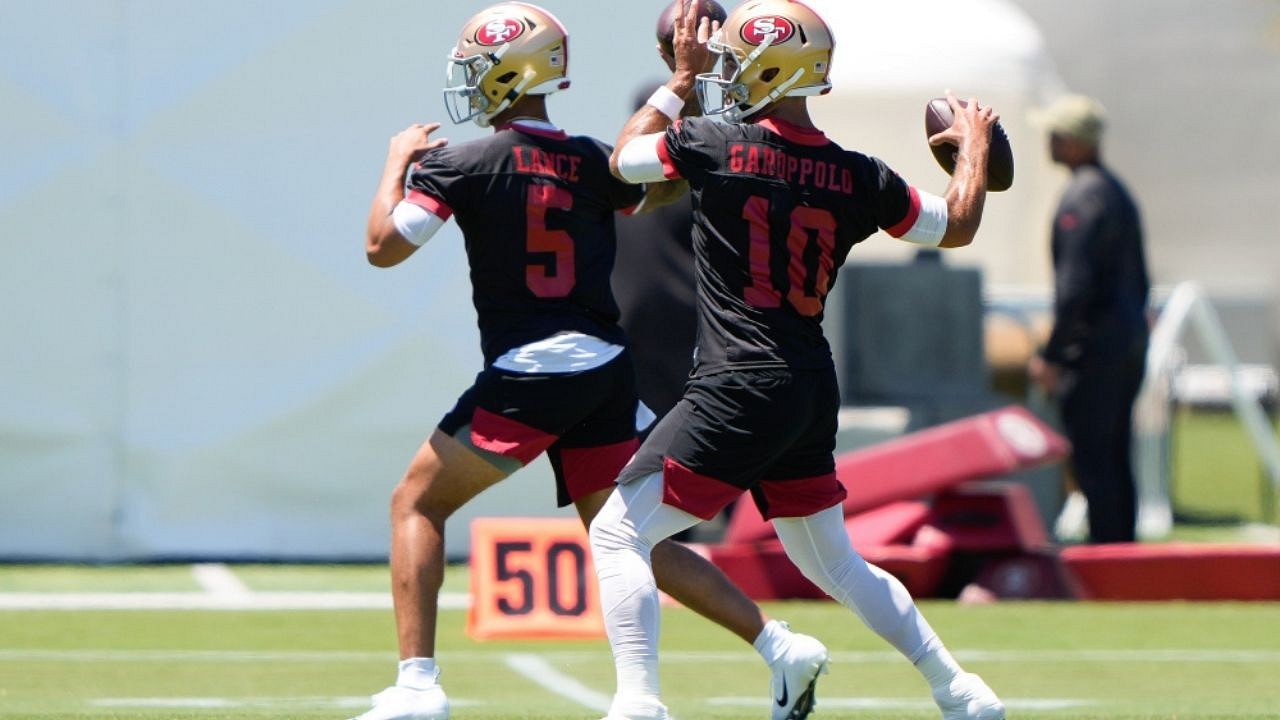 1 year after their Super Bowl appearance, the San Francisco 49ers drafted NDSU QB, Trey Lance with the 3rd overall pick in the 2021 draft. But despite the hype, HC Kyle Shanahan is setting the record straight that Jimmy Garoppolo is their starter for 2021.
The San Francisco 49ers essentially gave up their future to draft a QB in this year's NFL Draft, a move that sent shockwaves through the league. They traded 3 first-round picks and a third-rounder to the Miami Dolphins in exchange for the 3rd pick on the Draft board. And Jimmy G's future in San Francisco has been in question ever since.
Filed to ESPN: Dolphins trading No. 3 overall pick to the San Francisco 49ers for the No. 12 pick, a 2021 third-round pick (SF's comp pick for Robert Saleh hiring) and first-round picks in 2022 and 2023, per sources.

Blockbuster deal with massive ramifications for years to come. pic.twitter.com/nRLMUaWGo5

— Adam Schefter (@AdamSchefter) March 26, 2021
San Francisco, you ready? #ForeverFaithful from here on out @49ers 🙌Check out my #PaniniInstant trading card here #WhoDoYouCollect #RatedRookie #NFLDraft https://t.co/39VZgQN7Or pic.twitter.com/8aJ5Ubddq2

— Trey Lance (@treylance09) April 30, 2021

Garoppolo was great in 2019, but with another injury-ravaged season in 2020, his durability has been in question by many. He started only 6 games in 2020, throwing for 7 scores and 5 interceptions. The 49ers went 3-3 in that span which was a disappointment in comparison to their 13-3 record in 2019.
But despite that, Kyle Shanahan is making it clear Jimmy Garoppolo is their starter.
Kyle Shanahan says no rookie can beat out Jimmy Garoppolo at his best.
Shanahan told Peter King for Football Morning in America that he can't say precisely when Lance will be the 49ers' starter, but he does think Garoppolo at his best will be able to beat out Lance or any rookie.
"In this business, if you're trying to plan out the next six months and say, 'Where's it going?' that's a mistake," Shanahan said. "You can't do it. What I told Jimmy right when we made the trade is, 'I don't know any rookie who can come and beat you out if you're playing at his best self.'
"I didn't necessarily think he was there last year at training camp. Then he had the injuries and stuff. But right now I see him playing well out here. If he can continue to go that way, that's great for Trey. That's great for our team. Then Trey can wait till he's at his best self, which doesn't happen overnight."
The new addition of Trey Lance doesn't change Jimmy G's starting spot. The 49ers organisation has also been transparent about not wanting to trade Jimmy G. This leaves the door open for a rookie to learn under the veteran in the initial part of the campaign and eventually take over as the starter.
Also Read: "When you focus on the past, that's your ego": Giannis Antetokounmpo Inspired Justin Fields' Starter Timeline According To Matt Nagy
---
Share this article