Tampa Bay Buccaneers Training Camp 2021: Start Date, Location, Roster Battles, and Fan Policy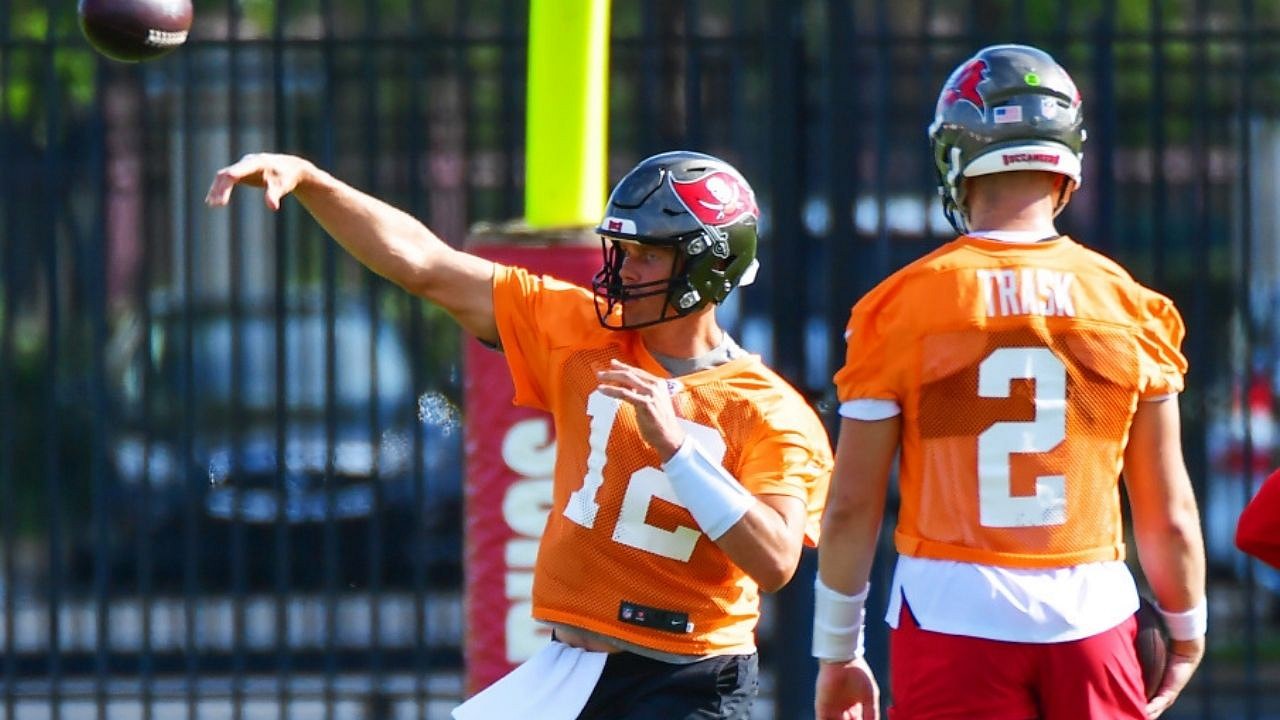 After a season that saw them add a 2nd Super Bowl ring to their record books, the Tampa Bay Buccaneers have a crucial training camp if they want to remain on top. When does it start, where will it be held, and are fans allowed to attend.
With phase 3 of the 2021 NFL offseason set to wrap up on June 18th, teams are already looking forward to training camp. It is by far the most grueling and pivotal part of a team's preparations.
Training camps often include busy days for players and coaches, sometimes with 2 practices a day, weight training, team meetings, and film sessions.
Per the league's Collective Bargaining Agreement (CBA), no contact is permitted during the first 3 days of camp. Days 4 and 5 will see players at full speed in light equipment called "spiders and shells", day 6 is a mandatory day off, and finally fully-padded practices start on the 7th day.
Along with the strenuous schedule, full-speed practices mean that both contact and non-contact injuries are very common. Regardless, training camp is mandatory for all players, unlike OTAs which are voluntary. If a player doesn't show up, they risk getting cut by their team.
When Does Training Camp Start for the Tampa Bay Buccaneers?
For the first time in NFL history, there will be a unified start for training camp. 29 franchises will kick off their training camps on Tuesday, July 27th.
But the Cowboys and Steelers, who will play in the preseason Hall of Fame game, are allowed to begin training camp as early as July 21st. The Buccaneers will also be allowed to start training camp 3 days earlier on the 24th, as they play the season opener against Dallas on a Thursday night.
The #Cowboys and #Steelers can report as early as July 21 because of the hall of fame game. The #Bucs can report July 24 because of a Thursday opener. Players from the other 29 teams are required to report July 27, per the CBA.

— Tom Pelissero (@TomPelissero) May 25, 2021
Where is the Bucs Training Camp Being Held?
Normally, NFL teams are permitted to hold training camp at outside facilities to improve accessibility for fans, However last year, due to the uncertainty caused by the COVID pandemic, teams were instructed to conduct camp at their own training facilities.
The practices will take place at AdventHealth Training Center at One Buccaneer Place.
Tampa Bay Buccaneers Training Camp Roster: Key Position Battles to Watch
As usual, teams will start camp with 90-man rosters. They must cut down to 85 players by August 17th and to 80 by August 24th, before settling on a final 53-man roster by August 31st.
The Bucs retained all 22 starters from their Super Bowl run for 2021, so the team doesn't have a lot of holes to fill, at least up front. But there still are some battles we could see.
The Backup QB Battle will be interesting to follow. The Bucs drafted promising talent Kyle Trask out of Florida who has tremendous upside. And HC Bruce Arians is impressed with what he has seen so far.
"Mentally-wise, he's not far behind what Andrew did in the same offense, and what Andrew did that (rookie) year (2012) is unbelievable," Arians said of Trask. "I'm not saying he's Andrew Luck, but mentally he's still really sharp."
But veteran Blaine Gabbert is most likely to get the starting gig should Brady be out. Gabbert was a top 10 pick in 2011, and has been a solid back-up QB throughout his career.
Gabbert has also spent a whole year more than Trask in Arians' offense. Trask and fellow roster QB Ryan Griffin worked mostly with rookies on one field during the June minicamp while Gabbert and Brady worked with the front-liners on another.
The starting running back job should also see some competition. Ronald Jones II had a solid 2020 season and led the rush attack. But Leonard Fournette will be on his heels to take over should he not play well. Fournette was a stud in the postseason and with a year in Arians' system, he could really make a push to take over.
Will Fans Be Allowed to Attend Buccaneers Training Camp?
The NFL is planning to have fans at all training camps, with fan events scheduled to start on July 31st. The NFL and the NFLPA continue to negotiate parameters for fan interactions.
Per the memo of the NFL and NFLPA's agreement, "Fans will be permitted to attend Training Camp, provided that they are more than 20 feet away from Tier 1 staff, including players, at all times, and adhere to physical distancing requirements. Fans will not be permitted to interact with players at any time."
The Tampa Bay Buccaneers announced Thursday some fans will be allowed to attend training camp practices this year. But those fans will have to be season pass members, luxury suite owners, Stadium Club members, premium seat holders, and sponsors.
Also Read: Philadelphia Eagles Training Camp 2021: Start Date, Location, Roster Battles, and Fan Policy
---
Share this article