"Out Of Frustration Tom Brady Punts The Football To The Other Field": Bucs QB Is Livid At Team's Lack Of Energy At Tampa Bay Buccaneers Training Camp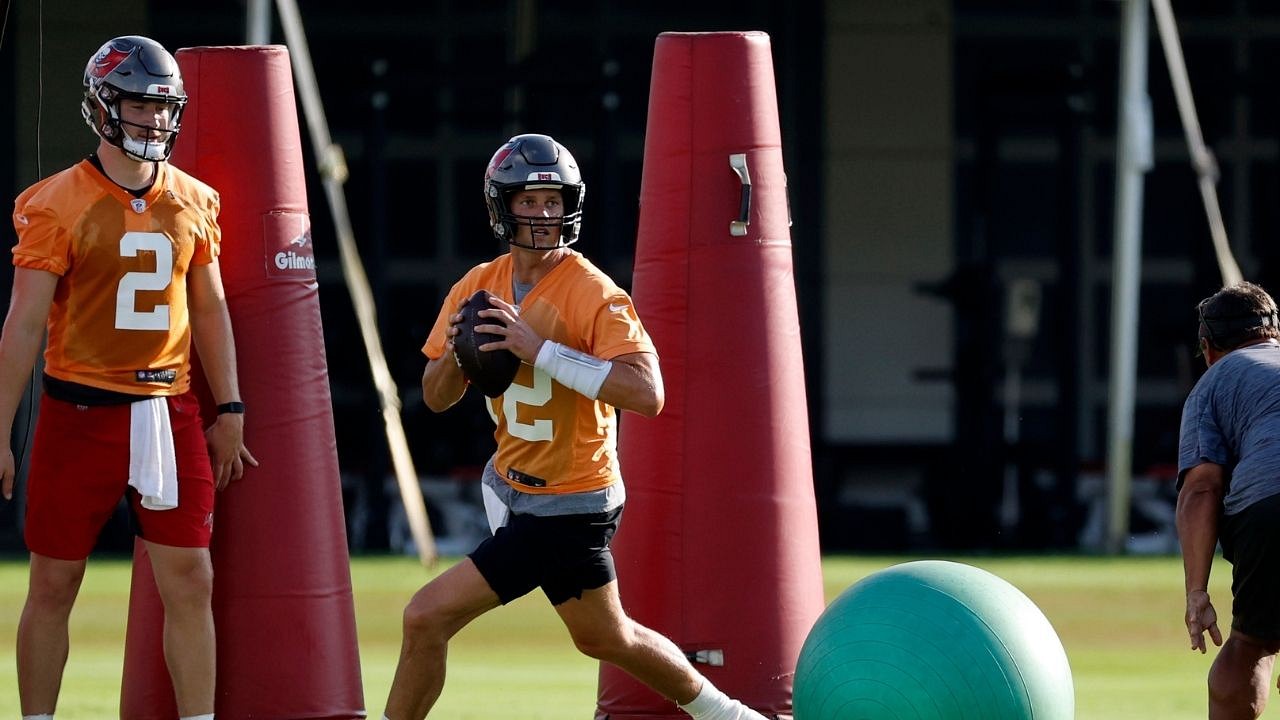 Tom Brady is no stranger to expressing his emotions however he feels like, and so when things went bad at training camp, he had to let his frustration loose.
The Buccaneers quarterback is hoping to lead his team back to another Super Bowl victory after Tampa Bay retained all 22 starters during the offseason.
However, the road back isn't easy, and the Bucs quarterback is finding that out during training camp. The team is sure to hit a few bumps and snags during practice, but just because they aren't playing an actual game doesn't mean that Brady is going to be any less vocal about what's going wrong.
After completions to Miller, Evans and Bernard, 2 min drive stops with a sack and a couple incompletions. Tom Brady slams his helmet. "Gotta make a (bleeping) play when you're tired fellas."

— Rick Stroud (@NFLSTROUD) August 1, 2021
Also Read: "Gotta make a f**king play when you're tired fellas.": Tom Brady Cusses Out Teammates After Incompletion at Training Camp
Tom Brady Punts The Football Out Of Frustration During Practice
Have you ever seen a quarterback punt the ball? Probably not. The instances are incredibly rare and only happen during blowouts or other random scenarios.
Well, as rare as they may be, Brady can attest his names to at least two punts in his NFL career. The first one came during a game against the Miami Dolphins early in his career:
Tom Brady's first career punt: 2003 against Miami. pic.twitter.com/cVyy06NiOq

— Bernd Buchmasser (@BerndBuchmasser) July 18, 2019
The second one came during a playoff game against the Denver Broncos:
Tom Brady's second career punt: 2012 against Denver. pic.twitter.com/XfyEU4RamD

— Bernd Buchmasser (@BerndBuchmasser) July 18, 2019
It now looks like Brady has a third punt to his name. This one didn't take place in a game like the others, and it was more indicative of Brady's outrage at the Buccaneers for not being better during practice.
Bucs Tom Brady would've been sacked in 11 on 11 and out of apparent frustration punts the football to the other field. Perfect spiral. Guessing 35-40 yards.

— Rick Stroud (@NFLSTROUD) August 1, 2021
Brady is one of the most competitive NFL players you'll ever see, and so him punting the ball away is really in line with his character. The Buccaneers should feel happy that they're getting time during training camp to sort all their miscues out.
Last year, without training camp, Brady and the Bucs offense stumbled out of the gates. Brady was known more for throwing pick-sixes than showing up big in games. Of course, that all changed down the stretch, but the Buccaneers would like to get settled into their offense earlier this year.
Also Read: "Antonio Brown Was Frustrated He And Tom Brady Weren't On The Same Page": Bucs WR Is Fired Up During Tampa Bay Buccaneers Training Camp
---
Share this article