"Tom Brady Makes A Nice Shot To Antonio Brown": Bucs Stars Work Out Their Differences In Much Better Practice During Buccaneers Training Camp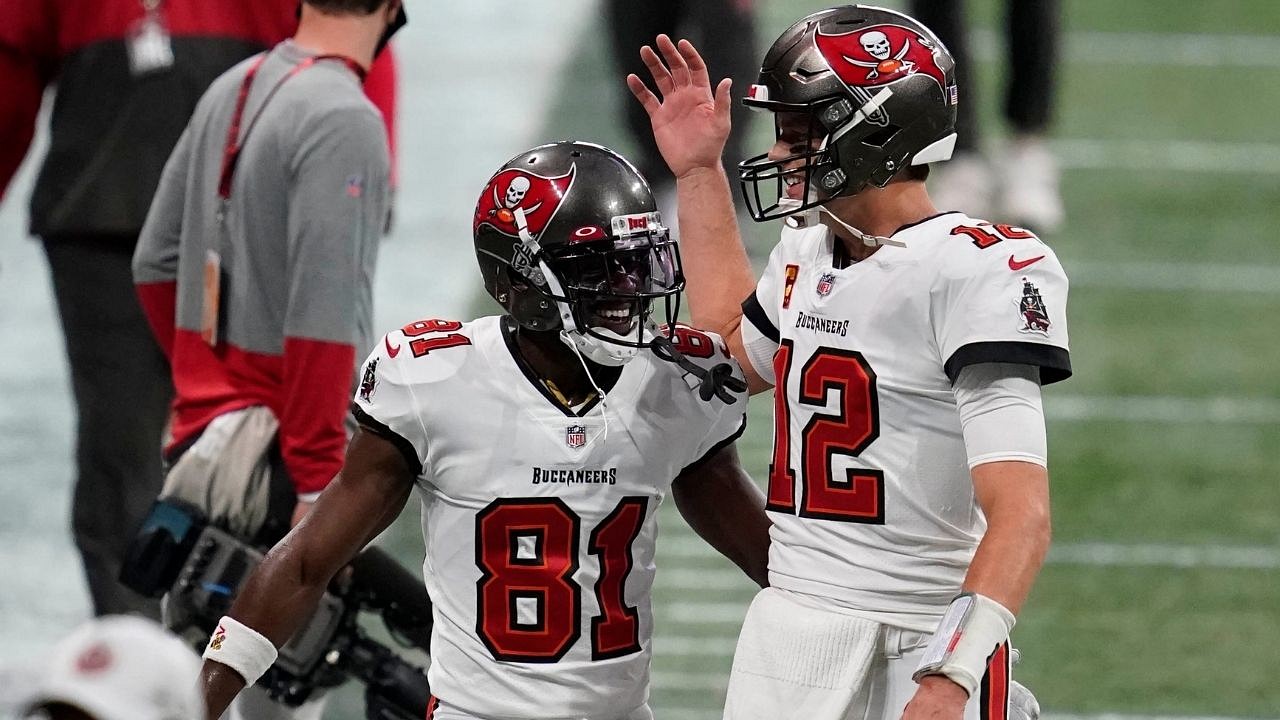 Tom Brady and Antonio Brown have had an interesting training camp so far with both being frustrated, but it seems they've worked out the issues.
Earlier in the week, there were reports that Antonio Brown was frustrated that him and Brady weren't on the same page and because of that he was fired up throughout training camp.
Antonio Brown appeared to be frustrated that he and Tom Brady weren't on the same page on an earlier route. They talked it through.

— JennaLaineESPN (@JennaLaineESPN) July 31, 2021
Other than that, Brady also voiced his frustrations during incompletions on drives, even punting the ball once because he was that angry.
Bucs Tom Brady would've been sacked in 11 on 11 and out of apparent frustration punts the football to the other field. Perfect spiral. Guessing 35-40 yards.

— Rick Stroud (@NFLSTROUD) August 1, 2021
Also Read: "Gotta make a f**king play when you're tired fellas.": Tom Brady Cusses Out Teammates After Incompletion at Training Camp
Tom Brady And Antonio Brown Form A Connection During Practice Today
Brady has a plethora of receivers to throw to in Mike Evans, Chris Godwin, and Rob Gronkowski, but his most intriguing target may be Antonio Brown.
The embattled receiver would find a great role within the Tampa Bay offseason last year after signing midway through the season. Averaging his stats out for a 16 game season, Brown would have had nearly 1,000 receiving yards.
Now that Brown has a full lot of training camp practices ahead of him, he could see a return to his prime days. Brown will also be competing in his first full regular season since 2018.
That could mean that him and Brady could settle into a groove much earlier than last year. With the team retaining all 22 starters, there's a lot of continuity for the Buccaneers to follow up on. Having a strong practice session will definitely build that up.
The duo have found a way to come back from the frustrations of previous practice days, with Brady hitting Brown in stride for a long touchdown.
Nice shot from Tom Brady to Antonio Brown over the middle. Brown runs the distance. He's having a lively camp.

— Rick Stroud (@NFLSTROUD) August 2, 2021
Also Read: "Out Of Frustration Tom Brady Punts The Football To The Other Field": Bucs QB Is Livid At Team's Lack Of Energy At Tampa Bay Buccaneers Training Camp
---
Share this article