Tom Brady and Rob Gronkowski Spread Joy as They Meet Fans as Part of the QB's Off-Field Venture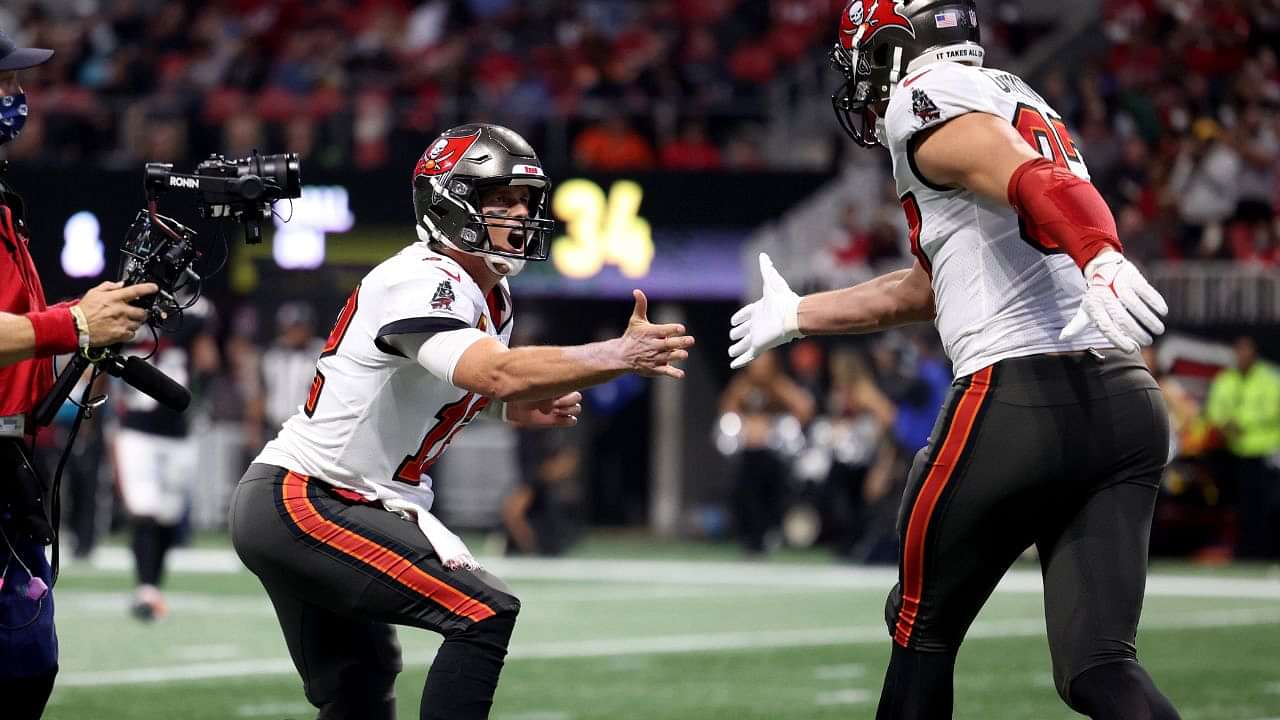 On February 1, the former quarterback of the Tampa Bay Buccaneers announced his retirement. Since that time, Tom Brady has made the most of his time. These days, Tampa Tom is frequently spotted spending time with his kids. In addition, the 15-time Pro Bowler showed his goods in a "thirst trap." But lately, as part of his business commitment, he and his friend and former teammate Rob Gronkowski spent some time with their cherished football fans.
Apart from football, Brady had focused on other businesses. He founded TB12 Sports in 2016, which inspires budding athletes to live their lives to the fullest with the help of a nutritious diet. The company also helps them achieve their fitness goals through its well-tested fitness regime. Not only that, the future Hall of Fame shot-caller launched a global, multi-platform content company called 199 Productions. In addition to that, the NFL GOAT launched a venture in 2021. He co-founded Atograph.io. It helps users create and sell digital collections.
Tom Brady and Robbie G brighten up their fans' faces
His company allows users to buy and sell merchandise from their favorite athletes. The three-time First-team All-Pro, being an athlete on his own, introduced a signature experience program called 'The Huddle.' It enables supporters to take part in a private collaboration with the QB, go to invite-only IRL events, and get unique merchandise—both digital and tangible—made just for this group. Hence, it was time for the five-time Super Bowl MVP to meet his beloved fans. The star tight end, Gronkowski, also joined him.
Loading embed instagram https://www.instagram.com/p/CqBH7DWuXd8/?utm_source=ig_embed&utm_campaign=loading
Fans looked happy as the legendary QB threw pigskin and chatted with them. Many fans commented that they wanted him to announce that he was ending his retirement: "announce you're coming back." Even though fans desperately want their favorite QB to make a comeback so that he wins his eighth Super Bowl ring, Brady shut down their expectations in the most adorable way.
Brady is busy paying attention to his feline friends
A lot of buzz has surrounded the former QB these days. Rumors started spiraling that Tom Brady will make a comeback as a Miami Dolphins QB. NFL insider, Dov Kleiman, uploaded a tweet that said that Brady could return to the field.
As exciting as it was for fans, he ended all their hopes when replied to the tweet saying, "Anyone who thinks I have time to come back to the NFL has never adopted a 2 month old kitten for their daughter."
It looks like the 45-year-old has finally hung up his cleats and will not look back at his time as the superstar quarterback in the league.
---