"Trey Lance looks a little bit better than a rookie quarterback": George Kittle is impressed with 49ers rookie QB Trey Lance.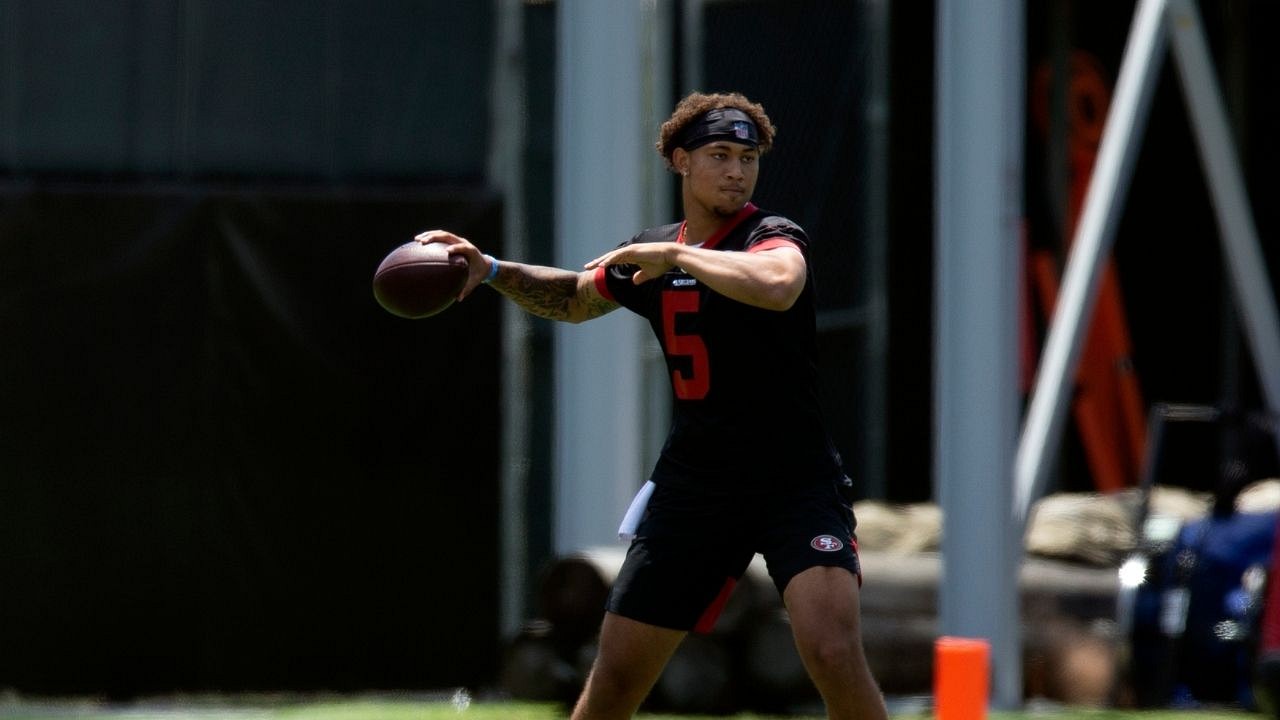 The San Francisco 49ers finally put all speculation to bed when they drafted their QB of the future in Trey Lance with the 3rd overall pick. The team will have all their stars return after a disappointing injury riddle season, including All-Pro TE George Kittle. And Kittle seems very impressed with the rookie.
San Francisco, you ready? #ForeverFaithful from here on out @49ers 🙌Check out my #PaniniInstant trading card here #WhoDoYouCollect #RatedRookie #NFLDraft https://t.co/39VZgQN7Or pic.twitter.com/8aJ5Ubddq2

— Trey Lance (@treylance09) April 30, 2021
The San Francisco 49ers started their OTA's week, and Trey Lance made quite an impression on the team. The 49ers still have QB Jimmy Garoppollo on the roster, so it doesn't seem likely that Lance would get a lot of first-team reps. We might not even see the NDSU alum have any starting time in the 2021 season.
But Lance might be making a case to win playing time after having an impressive first day at the 49ers OTA.
George Kittle says he can't wait to see more of Trey Lance
Lance participated in rookie minicamp with the 49ers earlier this month and had his first two organized team activity (OTA) sessions with the team on Monday and Tuesday. The team's tight end George Kittle spoke to reporters on Tuesday about what he's seen from Lance.
"He looks a little bit better than a rookie quarterback," Kittle said. "He's out there, he's slinging it. I was really excited yesterday — he made an awesome throw on a play-action. He found my rookie (tight end) Josh Pederson on a far corner is what we call it on a rollout, which is like the last guy you throw it to on the play. The fact that he found him in his first-ever rollout pretty cool. Just seeing him out there and trying to figure it out."
"He looks a little bit better than a rookie quarterback."
TE- George Kittle impression on rookie QB Trey Lance#49ers || #49GM pic.twitter.com/vOjhTHs7GT

— 49ers Gold Mine (@49ersGoldMine) May 26, 2021
Kittle added that Lance's ability to make that play despite being still being early in HC Shanahan's complex offensive system is a great sign.
"If you can pick up this offence as a rookie and be able to analyze it and throw it to the right guy and at the same time overcome coaching to make a play, it's impressive," Kittle said. "I just can't wait to see what these next couple OTAs days give Trey and allow him to continue to move forward."
George Kittle will hope to return and play a full 17 game season after playing only 8 games in 2020. And while Lance will probably not make the starting spot this season, he might get some playing time late in games to make an impression. So it should be very interesting to follow the 49ers in 2021
Also Read: "We're always interested in improving our team": Kyle Shanahan reacts to Julio Jones trade rumours
---