"We're always interested in improving our team": Kyle Shanahan reacts to Julio Jones trade rumours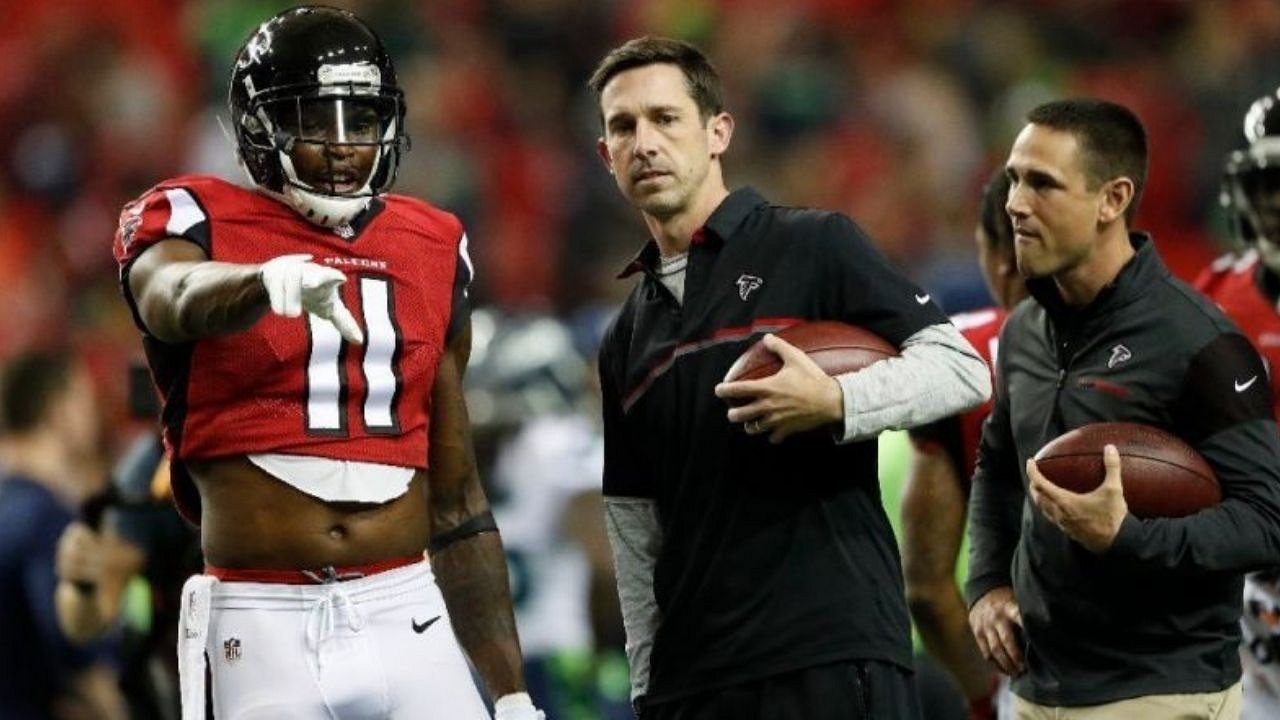 After a disappointing injury-riddled season, the San Francisco 49ers will hope to return to NFC supremacy in 2021. And HC Kyle Shanahan will be stoked to have all his star players returning from injury. However, with Julio Jones on his way out of Atlanta, Shanahan could also be reuniting with his former star wideout.
Julio Jones publicly announced that he wants to play for a team where he can win now. And with the roster that the 49ers boast on both sides of the ball, they could be just the team that Julio Jones is looking for.
Julio Jones' thoughts on the Falcons and Cowboys. pic.twitter.com/Y9tQDnw2dO

— shannon sharpe (@ShannonSharpe) May 24, 2021
If the Atlanta Falcons do trade Julio Jones to the 49ers, he'd be paired alongside a loaded receiving core. The former 6th overall pick could see himself with fellow first-round pick Brandon Aiyuk and star wideout Deebo Samuel.
Kyle Shanahan isn't shutting the door on Julio Jones to the 49ers
Shanahan, who was the offensive coordinator in Atlanta during the 2015 and 2016 seasons, spoke highly of Jones on Tuesday and said he's always looking for ways to get better, even though he can't specifically say anything about the chances of adding Jones in a trade.
Give Julio Jones back to Kyle Shanahan pic.twitter.com/6DWAchs1SZ

— PFF (@PFF) May 25, 2021
"You know I'm not legally allowed to talk about players on other teams, so I can't answer that exactly the way you want me to," Shanahan said Tuesday. "Anyone I've coached in the past that I have relationships with, especially a great dude like Julio, obviously I have a ton of respect for. But yeah, we're always interested in improving our team. We'll never just say, 'Hey, we're done. We can't improve our team.' You always try to make that happen."
Kyle Shanahan was asked if the 49ers will be able to pull off a trade for the future Hall of Famer. The team shipped away two future first-round picks in March to move up in the draft to select quarterback Trey Lance, which would leave it shorthanded if by chance another team decided to give up the first-round pick the Falcons have reportedly sought in exchange for Jones.
"Yeah, it makes it harder when you've already given up some stuff to make some moves and things like that," Shanahan said. "Everything's got to fit in and it's got to make sense. But yeah, I would never say we're just done."
Will Julio Jones reunite with Kyle Shanahan?

San Francisco is the betting favorite to land the star WR. 👀 pic.twitter.com/68RlMlVbLI

— NBC Sports EDGE Betting (@NBCSportsBet) May 24, 2021
Jones may be in the latter part of his career, but the Alabama alum is still good enough to be a star wide receiver in the league. The 7-time Pro Bowler has already played for Kyle Shanahan so he should fit in perfectly into the system. Thus it should be very interesting to see if the 49ers will be able to bring in Julio Jones.
Also Read: Julio Jones to Titans : A.J Brown posts public pitch to woo Julio Jones into coming to the Tennessee Titans.
---
Share this article