Why Are You Thinking MVPs & Not Super Bowls?": Rob Gronkowski Left Perplexed by Aaron Rodgers' Seemingly Selfish Approach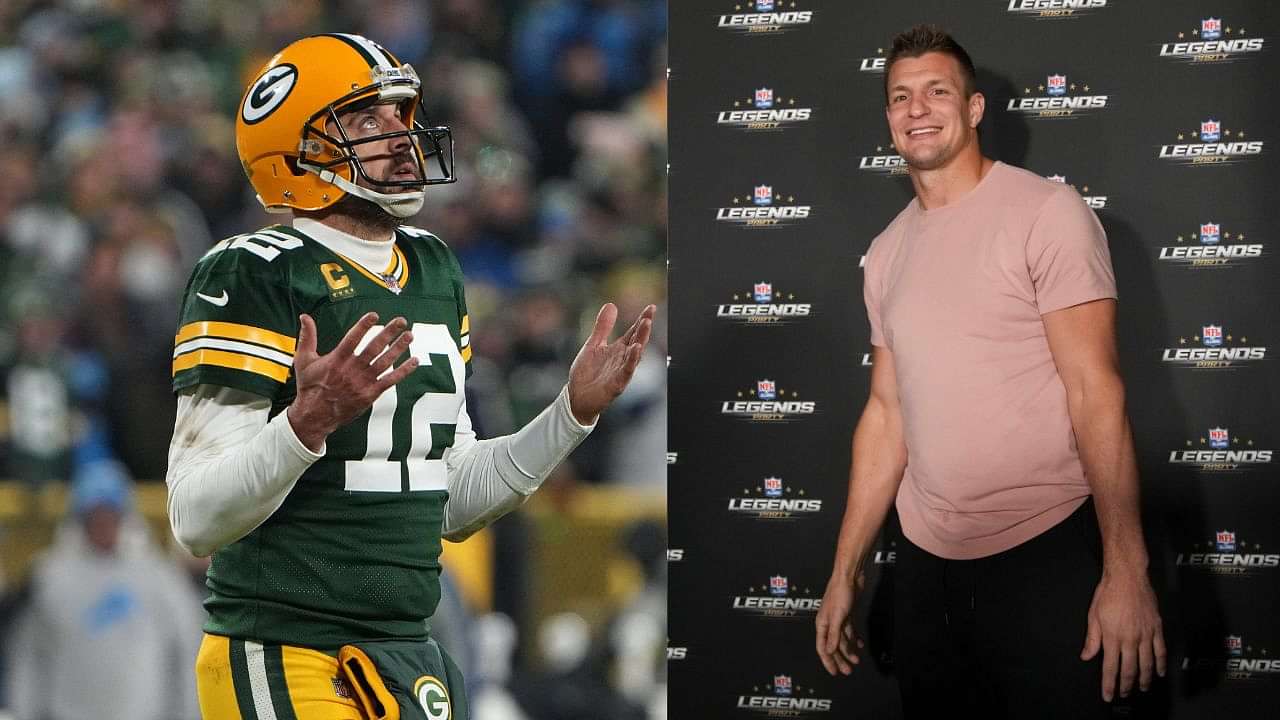 Aaron Rodgers is one of a kind. The man has got loads of talent but he just cannot stay away from controversies. Who can forget his infamous vaccine lie, or his ayahuasca praise, or his love for Atlas Shrugged, or his love for 9/11 conspiracy theories.
The list just goes on and on. However, almost every controversy got overshadowed by Aaron's heroics on the field. The Green Bay superstar stepped into the 2022 season after winning back to back season MVP honors.
However, 2022 season turned out to be a forgettable one for Rodgers. He clearly missed Davante Adams and in many games, Green Bay suffered due to lack of chemistry between their star QB and the young receivers in the unit.
Aaron did eventually gain some winning momentum towards the end of the season but unfortunately, his unit couldn't cross the final hurdle which would have taken them to the playoffs.
Also Read: "You're going nowhere with Aaron Rodgers" : Skip Bayless feels sorry for the Packers as he believes there is no future with the 3x MVP
Rob Gronkowski is not pleased with Aaron Rodgers' MVP comment
The spirited Detroit Lions were able to prevent the Packers from moving into the playoffs. As soon as the game ended, speculations about Aaron retiring from the sport started resurfacing.
There was a stage during the 2022 season when a lot of fans and experts wanted the Packers to bench Rodgers so that young Jordan Love can play a few games. However, by the time the season came to an end, Rodgers was able to prove that he still has a lot left in him.
Loading embed tweet https://twitter.com/NFL_DovKleiman/status/1615764718194393098?ref_src=twsrc%5Etfw
In his recent appearance on the Pat McAfee Show, while taking about his future in the competition, Aaron stated that he can win the MVP again next season. "Can I play at a high level? Yeah, the highest. I think I can win MVP again in the right situation. Is that Green Bay or is that somewhere else? I'm not sure," the star QB had claimed.
However, as it turns out, Rodgers' comments didn't go down well with star Tight End Rob Gronkowski who reckons that Rodgers should be focussing on winning Super Bowls rather than winning league MVP.
"Bro why are you thinking MVP? It should be Super Bowls, winning a Super Bowl is like five times greater than a MVP award," Gronk said on the Up and Adams Show.
"You should never be thinking MVPs," Gronk added. It will be interesting to see if Aaron responds to Gronk's take during his next appearance on the Pat McAfee Show.
Also Read: "They created a monster": Cardinals veteran slams Kyler Murray for his inadequate performance post $230 million contract extension
---