The Oklahoma City Spurs?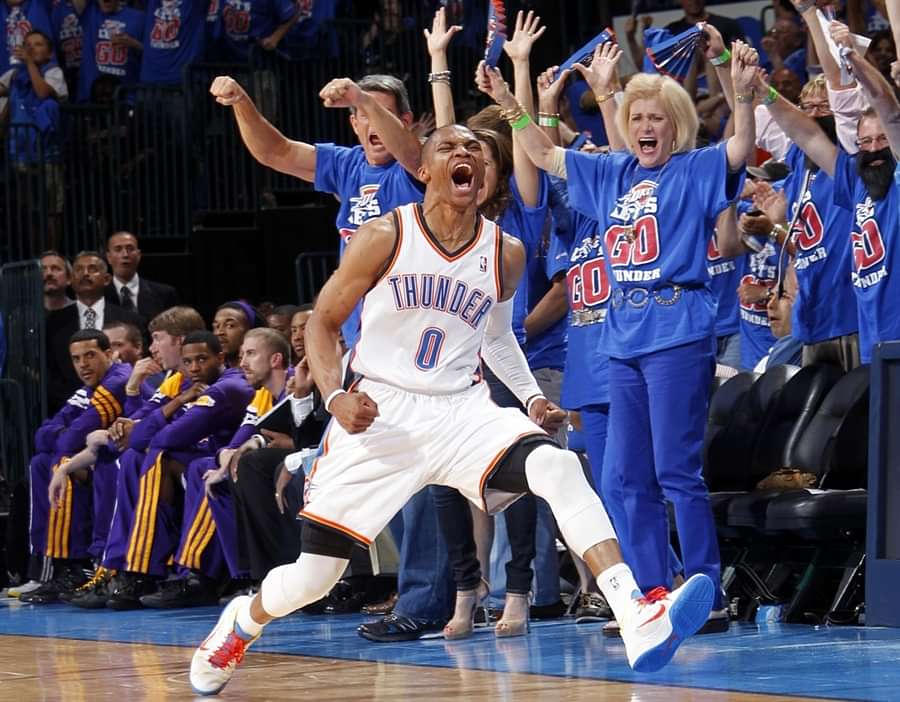 Only the most ardent Thunder fan, like yours truly, would have ever believed this series would go the way it has after the massacre in Game 1. I don't know the numbers but I'm pretty sure there can't be many instances where the team which was blown out then went on to win the series quite comfortably. If I didn't know better, I would have used the term 6-game sweep. But what the hell does that even mean.
I had the Thunder picked to win this matchup on purely athletic terms. I was sure they would make the age factor count, running up and down led by the mini-nuclear reactor that is #0 Russell Westbrook. While Kevin Durant continued to get back to his MVP days, it was Westbrook who showed the Spurs what they were missing, an athletic powerhouse marshalling the offense. Of course this is OKC and hence there is only so much marshalling you can do until the ball lands in the hands of KD. But remarkably, as if awakened by that Game 1, the OKC combo of Batman and Other Batman showed immense trust in their teammates.
No one profited more from it than Dion Waiters. The Syracuse guard, who has been under the scanner since his move from Cleveland finally showed up to play and did a lot of damage off the bench. His defense and shooting touch were both back as he put his regular season struggles behind him and made sure the OKC bench was never a liability.
Though I wasn't a big fan of Billy Donovan's selection as head coach, with the adjustments he made after game 1, he has changed my opinion. Changing the lineup to include Enes Kanter and my Kiwi superstar Steven Adams on the floor at the same time, Donovan laid the gauntlet down for Pop, and he failed to respond to it. Board after board, offensive and defensive, was gobbled up by the big men and the Spurs could only look in horror. Defensive boards are one of the most significant statistics that determine who will win and the OKC bigs made sure they were up on this column. Having a PG who believes he is a big also helps as Westbrook gobbled up rebound after rebound, charging back to the other end, keeping possessions alive. In one particular sequence, in the pivotal Game 5, he jumped vertically over David West, came down with the rebound, ran as only he can, dropped Patty Mills on his back, and was back defending his man in all of 10 seconds. In my book, he was the real MVP this series.
But I was also mightily perplexed by what I saw from the Spurs in terms of being them. At almost every point in the series, they abandoned their passing game and made it a Kawhi/LaMarcus iso possession. That's a play straight from the Thunder manuscript. Only the bench seemed interested in passing the ball around and for some very strange reason, Pop didn't do much to change this trend within the series.
All in all though, one of the best series I've seen OKC play. Not only did they dispatch a team with a 67-15 record, they beat them handily (Six game sweep anyone, anyone, anyone? NO? Ok). Here's hoping I get to analyze the Thunder victory over the Warriors in a week's time.
---