Olivier Giroud or Alexander Lacazette- Statistical analysis on who Wenger should play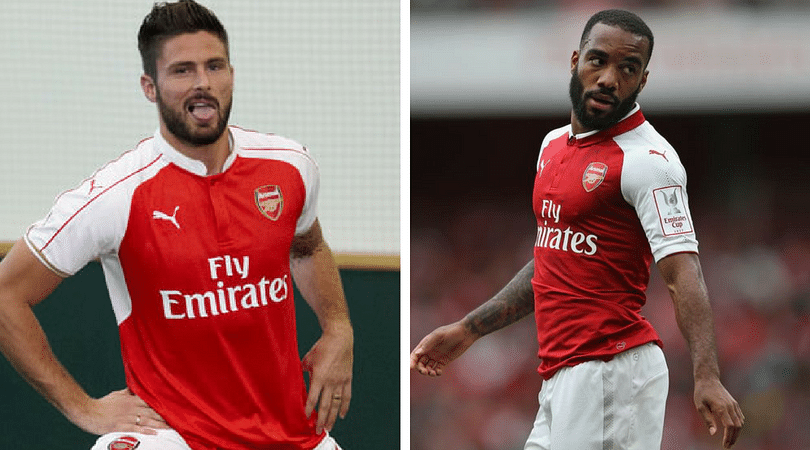 Olivier Giroud has 70 goals in 167 appearances in the Premier League. He has scored 10+ goals for 5 consecutive seasons now, his highest return being 16 goals in 2013/14 and 2015/16.
Alexandre Lacazette scored 24 goals in the previous season with Lyon in the Ligue 1. At Arsenal, he has already notched up a goal with his second touch in his debut game.
Lacazette is the record signing for Arsenal as a first-choice striker having been linked to the club for a few seasons. Giroud is the incumbent number 9 at the International Level with France and a proven performer for the North London Club. He was instrumental in scoring quite a few goals coming off the bench in the previous season for the Gunners.
While both are strong finishers, Lacazette is more driving and agile while Giroud is more static and brilliant in the air. Both can link up with each other were Arsenal to play two up-front. But they won't.
Here is a comparison of the two French Forwards.
Not considering the ongoing season, Giroud has 69 league goals. His Goals/90 has increased with his overall playing time falling.
Lacazette has scored 100 Ligue 1 goals since his debut in 2009/10. He has reached 20 goals in a season 3 times. His Goals/90 is more variable as compared to Giroud, although he has been used as a wide player as well as a striker with Lyon.
On comparison of last 5 seasons (since Giroud made his debut for Arsenal), both players have averaged 0.62 goals/90.
Giroud's Shots/90 has decreased whereas Lacazette's Shots/90 has increase. However, Giroud has a better average in the last five seasons, as compared to his French compatriot. Lacazette only surpassed Giroud in the most recent season of League Football.
Each striker takes around 80% of their shots from inside the penalty area. Both players are clearly penalty box forwards, rarely shooting from the deep. Each has scored 0.03 goals per 90 from outside the box in the last five seasons.
In spite of all the similarities in the numbers above, there is a stark difference in their methods
As per the numbers, Giroud is clearly a strong contender in the air, winning four times the aerial duels as Lacazette in the last five seasons of league football per 90 mins. On the other hand, Lacazette has completed four times the dribbles as Giroud per 90 mins in the same duration.
Lacazette can carry the ball, link with others and should fit in the Arsenal's preferred style of play, whereas Giroud remains a very effective option, should the Gunners need to attack from crosses more.
As a forward, your major contribution is goals but from an overall viewpoint, play in the final third is also crucial. Creativity should be a key component to break down solid defences in the Premier League. Here is a comparison on that front.
There is hardly anything to choose between the two forwards! Both players have similar key passes/90 in the last five seasons. However, Giroud is ahead in how many assists he manages per 90, only by a whisker.
There is not much to choose between the two strikers. One is not a replacement of the other in absolute sense. It totally depends on the equation of the match, on the need of the match and on Arsene Wenger's plans.
In both these players, Arsenal have very strikers who would work well in tandem. Giroud is the secondary option as per last few matches but with a similar goal threat as seen against the opening match against Leicester. Lacazette is clearly the first choice for Wenger based on his ability to carry the ball, link play and score but, should he stutter, his international colleague will be ready and able to fill the gaps.
---