PlayStation 5 release date and price revealed : How much is the Playstation 5?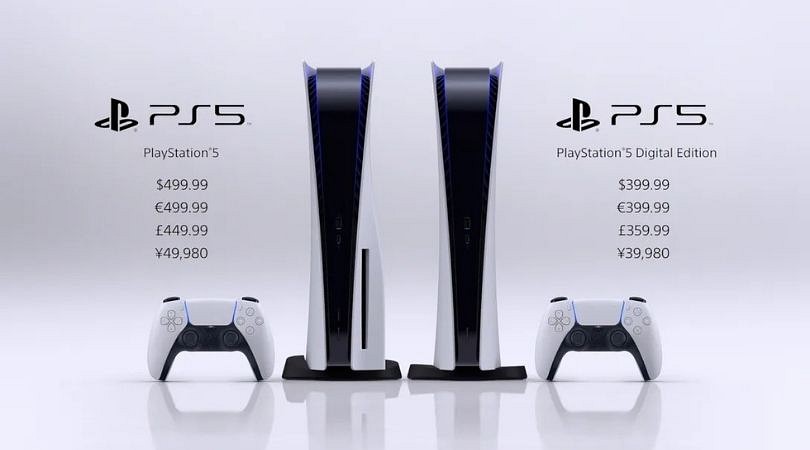 PlayStation 5 release date and price revealed: The wait is finally over. In a live telecast Sony revealed the release date and prices of PlayStation5.
Sony also confirmed a digital edition of the PlayStation5, which does not have a disk drive. Fans were also treated with more information of PS exclusive game titles and accessories.
The release date –
There's hardly any time left as PS5 is set for a November release date. It launches in select markets on November 12th. With a world-wide release for November 19th, this puts the PS5 at a later release date than Microsoft's 10 November launch date.
PlayStation5 prices –
PS5 Digital Edition will be available for a retail price of $399.99 USD and PS5 with an Ultra HD Blu-ray disc drive will be available for $499.99 USD. Select Retailers are also going to begin with pre-orders starting today.
PlayStation Specs revealed –
Sony on their blog added – "Both PS5 models use the same custom processor with integrated CPU and GPU for high-fidelity visuals, including 4K graphics and ray-tracing support, as well as the same ultra-high-speed SSD with integrated I/O for lightning-fast loading. PS5's 3D audio and the DualSense Wireless Controller will also provide the same heightened sense of immersion on all PS5s."
New Game titles announced for PS5 –
Games like Marvel's Spider-Man: Miles Morales, Call of Duty Black Ops: Cold War, and Demon's Souls will launch alongside the console. In the showcase Sony announced the following new titles –
Devil May Cry 5 Special Edition (Capcom)
Final Fantasy XVI (Square Enix)
Five Nights at Freddy's Security Breach (Steel Wool Studios and ScottGames)
Hogwarts Legacy (Warner Bros. Games)
New God of War title (Santa Monica Studios)
Full PS5 release details, including the PlayStation Plus Collection and much more: https://t.co/dMivI3T53x pic.twitter.com/7PaAjjUYvh

— PlayStation (@PlayStation) September 16, 2020
The PS4-Xbox console war has always had fans and critics divided. With PS4 easily selling more than its rival the Xbox One, it remains to be seen who will have the final laugh in the next generation of consoles.
The new PS5 is available from November 12th for a price of $399.99 USD
---