Pullela Gopichand feels India is still way behind China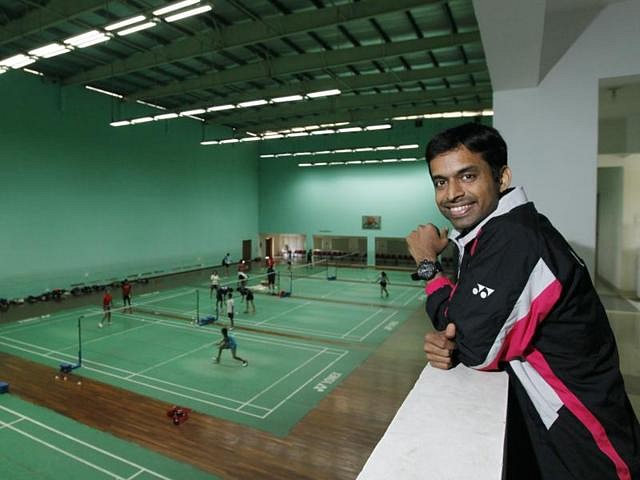 Pullela Gopichand has helped Indian badminton scale new heights. A sport that wasn't popular, a domestic setup that wasn't structured, a game that didn't have enough heroes is now recognised and adored by people all round the country; and Gopichand has had a huge role to play in it.
His vision, his hardwork and his perseverance has given Indians at least 10 people to look upto in the sport of Badminton. The younger generation now has heroes they can adore, revere and replicate; something that is of immense importance for the development of a sport.
While Saina and Sindhu brought about the initial spark, the men have led the way in the past few months. Kidambi Srikant is the talk of the town at the moment, having become just the 5th player to win two back-to-back Super Series Titles.
But Gopichand still feels that there is a long way to go!
"I think we are still far away from China. I don't think it is a fair comparison. We have done well but I would want them to do well in World Championships, Olympics and All England, playing consistently and only then we can say those things," Gopichand told PTI.
"What we need to do is, when every country does well, it has its athletics going up and together they should also have the coaches and support staff going up, and also government structure and policy going up.
"Here, by just our sheer push of energy we have our players going up there but our coaches, support staff, managers they are not of the same level," he added.
Gopichand also feels that the domestic circuit needs to improve, as the tournaments conducted are not of international standards.
"Our tournaments and administration is not world class. We still have domestic tournaments which were built in 1991. So for 25 years we have same domestic structure, same nationals, same major ranking, same thinking," he said.
"When we were state level we were producing the same quality coaches, today even though we are now world class, we are producing same quality." Gopichand added.
"Our structure is not sustainable. We have got a lot of support from government and sports authority of India but organisationally we haven't grown enough to support the system,"
"We haven't done our planning and restructuring, our thinking is not still world class, our thinking doesn't even know what is world class. It is time to address those issues," he concluded.
---
Share this article