Red Bull respond to the Ricciardo-Verstappen 'tow' fiasco in Austria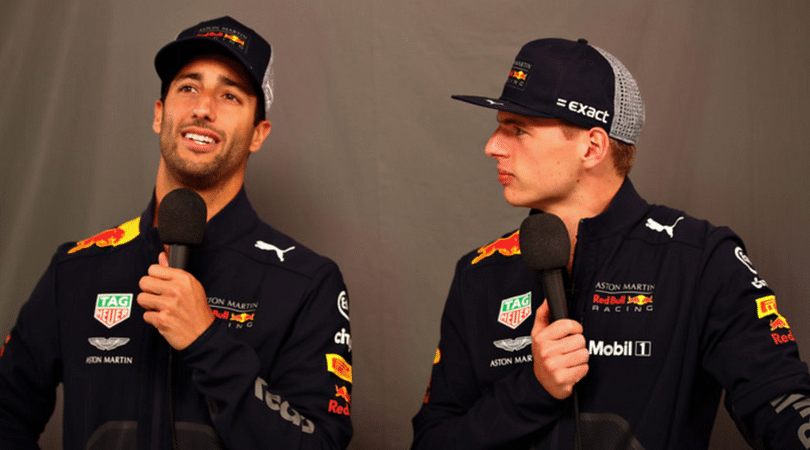 The Red Bull team experienced a rather humiliating tussle between both their drivers during qualifying in Austria.
Ricciardo had been driving in front of Verstappen all through but insisted that Verstappen overtake him during Q3, so as to help him take advantage of the 'tow' here in Austria.
However, Versrtappen was in no mood to oblige and made it very clear that Red Bull needed to follow the 'discipline' that it had initiated and stuck to all this while.
The Red Bull team was taken aback by Ricciardo's suggestion but asked Verstappen to play along anyway. The Dutch driver however refused to overtake Ricciardo, leaving the Aussie a little frustrated as he asked his teammate to play it 'fair'
Horner was obviously quizzed about the entire incident after qualifying had come to an end. He responded by talking about a strict policy that Red Bull had in place, where in Ricciardo and Verstappen alternated between who went out first.
It was Ricciardo's turn this time and Ricciardo should have respected that, according to Horner.
"They [the drivers] know the situation. There is nothing to explain," he said as reported by Sky.
"We have a very simple policy here that has operated for the last seven years that we alternate from weekend to weekend who drives out of the garage first.
"That is the only way to keep it as scrupulously fair from circuit to circuit. So this weekend it was Daniel's time to drive out of the garage first in front of Max, and obviously he felt that Max might be benefiting from that.
"So that is why he obviously started to back up a bit." he added.
"Just overtake him, Max"

"No"

Listen in on the @redbullracing airwaves as confusion reigns during qualifying at the #AustrianGP 🇦🇹 #F1 pic.twitter.com/uQ7NDsrPzA

— Formula 1 (@F1) June 30, 2018
Horner disclosed that even for the debriefs they have an agreed upon pattern.
"The drivers know explicitly every weekend it alternates," Horner said.
"Last weekend it was Max drove out first, and Daniel would have followed him. Next weekend it will be the other way around.
"Even in the debrief, from weekend to weekend, it varies on who talks first. So it is the way to keep it as scrupulously fair as we can." he added.
---