2) HARBHAJAN SINGH – S. SREESANTH (KXIP VS MI 2008)
SlapGate rocked the IPL in its inaugural edition! The ungentlemanly conduct happened between former India pacer S Sreesanth and off-spinner Harbhajan Singh. Sreesanth, playing for Kings XI Punjab at that time, and Harbhajan, representing Mumbai Indians, faced off after the game in an alteraction that left the aggressive pacer in tears. Sreesanth looked inconsolable. It was widely reported that the senior offie slapped the Kerala pacer after he took a dig at the former following Mumbai Indians' loss and made fun of Bhajji. Harbhajan was banned for the rest of the tournament that year, while Sreesanth was let off with a warning after disciplinary proceedings.
1) KIERON POLLARD – MITCHELL STARC (RCB VS MI 2014)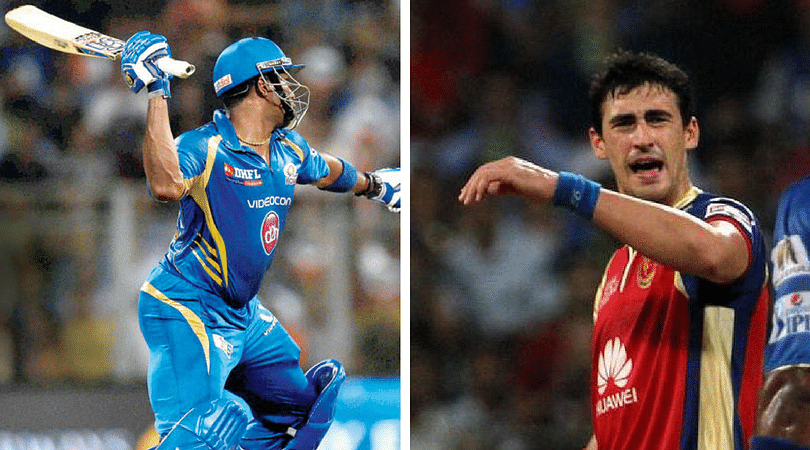 It seems that destructive West Indies all-rounder Kieron Pollard has a special place in his heart for the Australians. This incident happened in the 7th edition of the league when Bangalore pacer Mitchell Starc bowled a bouncer at Mumbai Indians batsman Pollard, who was beaten for pace. Starc went up to the tall West Indian and exchanged a few words even as Pollard waved him off. As Starc ran in to bowl the next ball, Pollard pulled out of the delivery just as the bowler was approaching his jump. Starc did not abort the delivery and instead he followed the batsman and bowled the ball in anger close to Pollard's legs. Pollard responded by throwing his bat at Starc. Both players were visibly angry and continued to exchange words. Both of them were fined. However, it was a horrific site for all cricket-lovers with bats being thrown at opponents. This was extremely unprofessional and disgraceful on the part of these 2 men who are brilliant cricketers otherwise.
Such incidents bring great disrepute to the beautiful game of cricket and must be avoided at all costs. The IPL Fair Play Award is a good means of ensuring that sportsman spirit prevails always.