'Winning Grand Slams Far Away': Rafael Nadal Concedes Novak Djokovic Has Massive Edge in Majors Race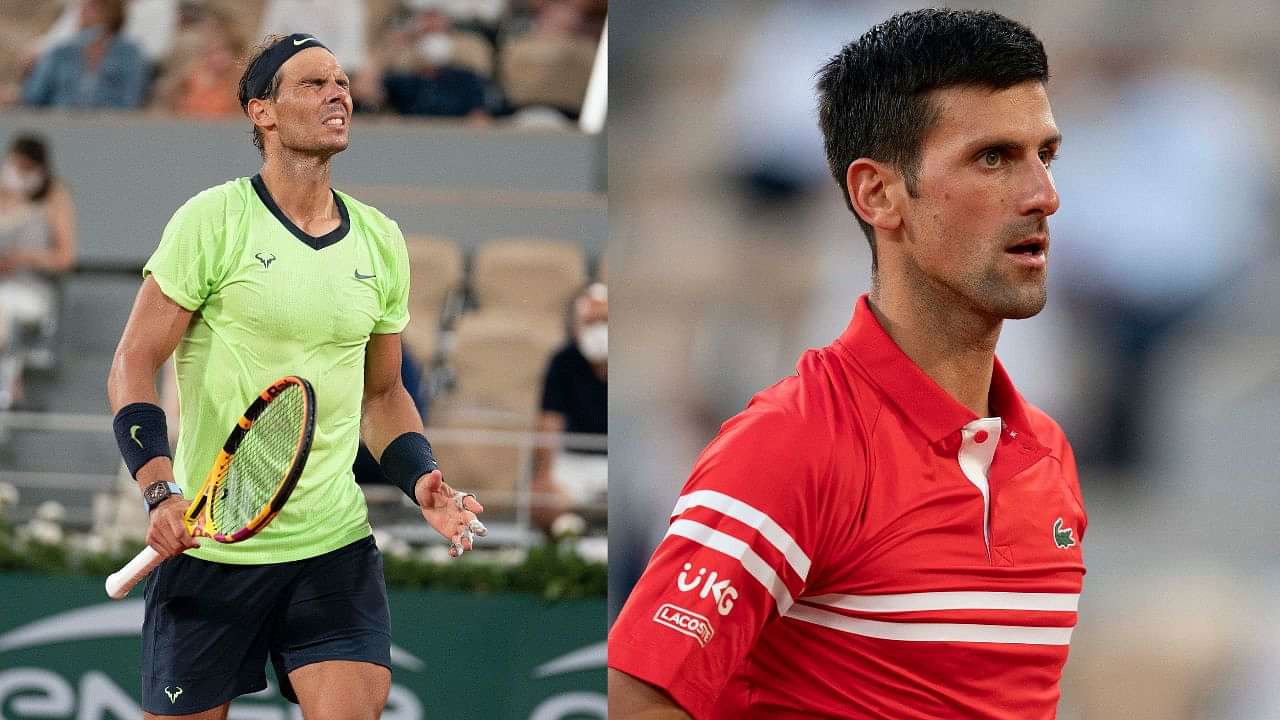 Rafael Nadal recently gave an interview with Spanish media house, Movistar Plus in which he opened up about his anticipated comeback in January 2024. The 22-time Grand Slam champion is extremely realistic. He is more excited about returning to the game after nearly what would be a year's layoff. However, he also made a huge statement on Novak Djokovic.
Recently, Rafael Nadal's ex-coach and uncle, Toni Nadal said that his nephew is on track to recovery. Nadal's Davis Cup captain for Spain and good friend, David Ferrer also mentioned in another interview that he may rather return this year itself since he is determined to return in a grand style. But the question marks are on whether Rafael Nadal is as competitive as before, having turned a year older and being out of the sport for long.
Rafael Nadal surprisingly not focussed on Grand Slams
Rafael Nadal has been renowned for years in the tennis community for his mental strength to come back stronger from injuries on multiple occasions. But the Spanish great is not putting much pressure on himself this time. Nadal does not expect to come back right away and win the Australian Open and French Open 2024.
Notably, Rafael Nadal had missed the second half of 2021 due to multiple injuries. However, against all odds, he sprung to action immediately on his return to win the Australian Open and then the French Open in the first half of 2022. Nadal rose to being World No.1 as well, producing a 20-match winning streak too. He also prevailed in 22 Grand Slam matches that season, losing just 1.
But Rafael Nadal sounded more sombre in the latest interview. He indirectly accepted that he does not have the upper hand over Novak Djokovic in the Grand Slams race anymore. Nadal is now at peace of whatever the outcome. He opined that Djokovic is the one who may be more frustrated than him if he does not have the all-time record.
The Spaniard was quoted as saying –
"I think Djokovic lives it in a more intense way.

"For him, it would have been a greater frustration not to achieve it.

"I want to be back on the court and compete but I'm not expecting/hoping to come back and win Roland Garros and Australia.

"That looks like very far away, even if not impossible."
Loading embed tweet https://twitter.com/josemorgado/status/1703837518351716649?ref_src=twsrc%5Etfw
Nadal again targets Djokovic for Grand Slams obsession
This isn't the first instance in which Rafael Nadal has taken aim at Novak Djokovic's ambitions. Two years ago, when Nadal was ahead of Djokovic in the Grand Slams race, he mentioned the difference between him and the Serb. In an interview with Metro in 2021, he said –
"I enjoy what I am doing. I am happy playing tennis. Of course, I want to win more Slams, yes. No doubt about that.

"But I never get – I mean, Novak is more obsessed about this, more focused. Not in a negative way. No, he's more focused on just these things and it means a lot to him all of this stuff.

"Like he's always saying and talking about these records and well done for him, but it's not my approach to my tennis career. I have a healthy ambition.

"Of course, I am ambitious, if not I would never be in the position I am today but I have probably a different kind of ambition than him, for example.

"I just keep going, keep doing what I'm doing and just try to put myself in a position to keep enjoying the tour and, of course, try to achieve as much as possible.

"I am super satisfied about the career I'm having. Not today, I was super satisfied years ago already but I am not making a step back in motivation because of that. I don't get frustrated if I am losing one tournament, I am trying to approach the thing in a different way."
In response, Djokovic hit back at Nadal and had said –
"Ever since I was a young player, I did not fear voicing my goals: I wanted to be number one and to win Slams. Of course, those goals are growing – when you fulfil one, another one appears. It is my path, and it is unique, just like Rafa's."
---