What if Tennis players were in some other profession!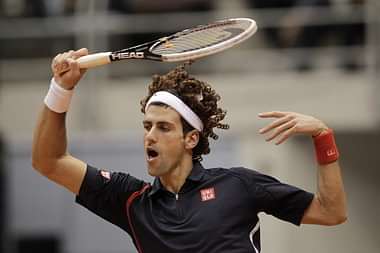 Tennis stars are someone all fans look upto with admiration and respect. They are the ultimate epitomes of grace and poise possessing unmatched skills on the court. The Sportsrush gives them an unique dimension by speculating What if tennis players were in some other profession!
Roger Federer – Artist
Roger Federer is arguably the best tennis player to have graced the tennis court. Possessing impeccable finesse, he has ran over opponents to amass a whopping 17 Grand Slam titles. His forehand and the backhand down the line truly resembles a master artist at work.
Hence, it is no surprise that he would have been an awesome artist, if not a tennis player. His master strokes would have translated beautifully well on the canvas in terms of the elegance. Additionally, Fedex's pleasant demeanor would have suited an artist's persona perfectly.

Maria Sharapova – Fashion Designer
The former world number 1 has shone radiantly on as well as off the field.  Hailed as one of the best players of her generation, she is a 5 time Grand slam winner and also a career Grand Slam winner.
Other than her pursuits on the court, she is well known for being a fashionista and for her world famous photo shoots. Incidentally, her earnings from endorsements far exceed the value of her tournament winnings. Sharapova also has her own tennis apparel line "Nike Maria Sharapova Collection".

Novak Djokovic – Stand-up Comedian
Novak Djokovic has taken the tennis arena by storm this decade. The Serb rested on the top of the ATP rankings for a long haul before being overtaken by Andy Murray. Apart from his tennis acumen, he possesses an amazing skill of mimicry and impersonation.
Also Read : Top Five Tennis Romances in History !
'Djoker' has earned a distinction of being a great comedian, pulling off amazing impersonations of several tennis players. The ones of Nadal and Serena are absolutely hilarious and he treats crowds to an absolute laugh riot. Hence, we didn't have to look far for 'what if tennis players were in some other profession' in his case.

Rafael Nadal – Actor
Long locks, good looks and a chiseled body. What more can you ask from a top hero! Add to it a tennis superman and you get awestruck faces. Rafa is someone who makes you go 'wow' at every mannerism he pulls off especially the 'energetic-fistpump' reaction.
On the court Rafael Nadal is a 14 time Grand Slam winner. He is popularly known as 'The King of Clay' for a whopping 9 time victory at Roland Garros. Just like he demolishes his opponents on the court, it would be interesting how he triumphs over villains in an action movie!

Serena Williams – Politician
Arguably the best woman to have graced the tennis courts, Serena Williams is known for her domination. Moreover, her brand of aggressive tennis set an example for young girls looking to enter into the tennis circuit. Add to that, her controversial comments at the post-match interviews also made her quite famous, or rather infamous.
One instance which shocked the tennis fraternity was her outburst at the line umpire at the 2009 U.S. Open. This trait of dominance filled with sporadic outbursts of anger call for a career in politics.Hence, in case Serena looked past tennis, politics would be a perfect career option for the American.
---