Thank you, Andres Iniesta: A tribute to modern-day midfield great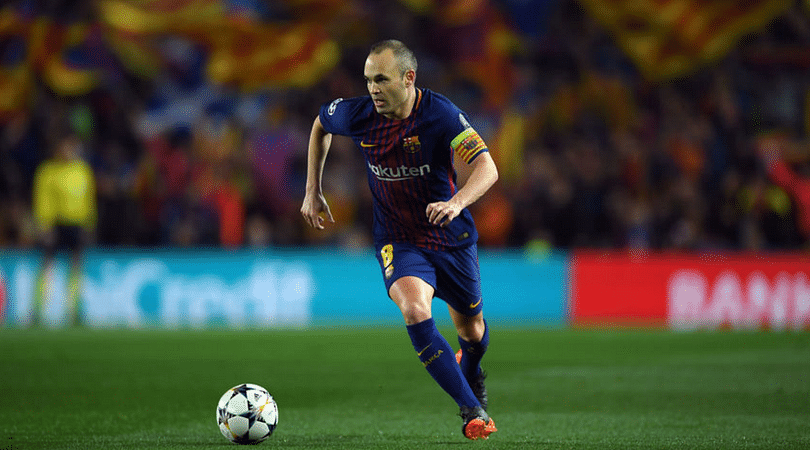 Andres Iniesta leaves FC Barcelona after nearly two decades with the club.  His legacy at the club is one of incredible ability and determination.
A 15-year old boy, shy and quiet, is invited to join the first-team training on a glorious summer day in 1999. He was the captain of Barcelona's U-15 side, who had just returned from winning the Nike Premier Cup. After training, the 28-year old first-team captain Pep Guardiola says, "this kid is going to retire us all."
This was how Andres Iniesta announced himself at FC Barcelona.
Iniesta's legacy at Barcelona is enriched with trophies every professional footballer dreams of lifting. But more than that, Iniesta's prized possession is the love and respect he garners from the footballing world. It is quite evident from the fact that Iniesta has been receiving tributes from all over the world after he announced his departure from FC Barcelona at the end of the season.
"Andres Iniesta doesn't run, he glides," said the late Tito Vilanova, Iniesta's former manager in 2016. His elegant brilliance in the midfield, his various achievements, both personally and with club at the top-level, and his contribution to Spanish football's greatest moment in the 2010 world cup has given him a legendary status in footballing world.
When Andres Iniesta was substituted in the 88th minute in the Copa Del Rey final against Sevilla, he was applauded by both set of fans, almost until the final whistle. The fans united to sing his name, while Iniesta, teary-eyed, silently soaked in the moment. Perhaps, this is the reason his departure impacts not just Barcelona, but the football world at large.
Every time Iniesta steps on to the field, it is deemed a footballing lesson. His vision, acceleration, passing prowess and the ability to dribble the ball from the midfield sets him apart from all the other midfielders of his time.
With Xavi, Andres Iniesta formed one of the most successful midfield duos footballing world had ever seen. The 2008-2012 era saw both the midfielders conquering the middle of the pitch in an most emphatic display of "tiki-taka" football.
"He's a phenomenon. A force of nature: no one plays like him and no one can compare to him," Xavi, Iniesta's ex-teammate and midfield partner wrote about him.
Andres Iniesta, as a boy, never really looked like a player in the midfield. But his technical stature compensates, and by a fair margin, overcompensates his physical lacking. He was spotted and groomed by Louis van Gaal, who had a fairly excellent sense of judgment when it came to youth, thanks to his time at AFC Ajax in Netherlands. Iniesta went on to play under the likes of Frank Rijkaard and established himself as a defining figure in Barcelona's midfield.
Andres Iniesta is one of the most complete footballers in the world. He has many strings to his bow, whether it be sitting deep in the midfield averting offensive threats, creating chances from the middle, picking out the possible goalscorers, or be the right man at the right time, just like he was in the final of the FIFA World Cup 2010. But what were Andres Iniesta biggest strengths as a footballer?
Space creation: Iniesta's spatial reasoning is second to none. Barcelona's current manager, Ernesto Valverde said, "Some create space by moving the ball away. Iniesta does the same, by moving others towards it." He has his fair share of amazing performances in Guardiola's legendary 4-3-3 formation, where he would often team up with Xavi and Fabregas, and sometimes Messi, and simply glide all through the midfield. His movements would start as soon as the chance-creation begin, and he would cleverly cut behind left and right wingers from time to time.
One of the most amazing aspect to Andres Iniesta's gameplay is his alarming continuity at which he delivered such performances.
Passing: His ability to build momentum with short passes and finding the right player at the right moment has been crucial to FC Barcelona's success over the years. Andres Iniesta's average passing rate in La Liga games is 47.1 passes/game, which is almost 20 higher than the league average. In this year's Champions League, the 33-year old Andres Iniesta boasts of 90% passing accuracy.
Acceleration: Iniesta doesn't possess the speed which many professional footballers boast of. In fact, his lack of outright pace is often consolidated with his sudden burst into acceleration at times when the team is sitting deep, or threatening the opponent's defence. Very few can live away with his acceleration ability, which not only enables him to keep away attacking threats, but also allows him to glide away from defenders.
Along with acceleration, his sublime first touch, beautiful control on the ball and an incredible composure on the ball allows him to get away from defenders. Iniesta, most of the times, relies on his technical skills alone to avoid being tackled down by the opponents.
Andres Iniesta has appeared in over 600 games for FC Barcelona throughout his career. In his time at the club, he won 32 trophies, including the domestic double this season.
Dribbling: Andres Iniesta revolutionized the art of midfield. His profess in dribbling differentiated him with many midfielders of his time. About his dribbling abilities, his former teammate and manager Pep Guardiola said, "He sees it all, and he has that gift for dribbling that is so unique to him. Andres opened my eyes to the importance of an inside forward or midfielder being able to dribble too. If he dribbles, if he carries the ball and goes at people, everything flows."
He instilled a culture in the way midfielders operate nowadays. Many midfielders today, like Paul Pogba have worked hard to build a technical stature for themselves.
—
It is going to be strange to see Andres Iniesta donning any other jersey than Barca's blue and red. And considering that Iniesta is still able to deliver performances like the one against Sevilla in the CDR final, one is inclined to think that it is too early to leave. Andres Iniesta has made an appearance in 28 La Liga games this season and has been a pivotal figure in their unbeaten run.
But Iniesta realizes that one should never outstay to the point of mediocrity. The time is perfect for Andres Iniesta to make an honorable exit from the club which made him the player and person he is today.
---
Share this article