Twitter reactions to Monica Puig's historic Gold Medal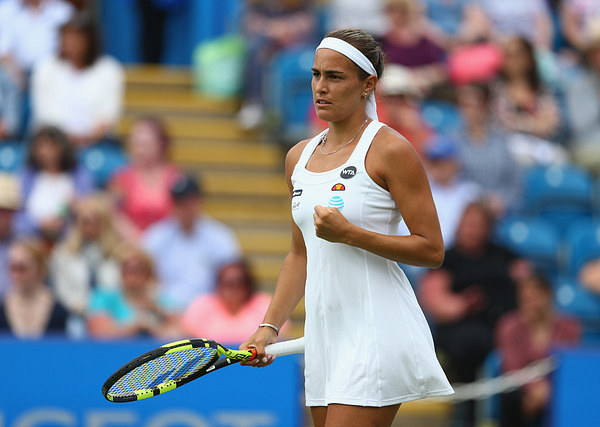 Last night Monica Puig of Puerto Rico surprisingly defeated gold medal favourite Angelique Kerber of Germany and in doing so became the first ever gold medallist from Puerto Rico. Elsewhere Petra Kvitova of Czech Republic defeated American Madison Keys to win the Bronze medal. Here is how Twitter reacted to Monica Puig's historic medal.
CONGRATULATIONS! 👏🏼#oro@MonicaAce93#plata@AngeliqueKerber#bronce@Petra_Kvitova
¡Gran torneo en @rio2016_es! pic.twitter.com/toUMmeWa4L

— Mutua Madrid Open (@MutuaMadridOpen) 14 August 2016
Puerto Rico had won eight medals, but none of them were gold. @MonicaAce93 changed that tonight.https://t.co/ZEkcpXIiW4

— USA TODAY Sports (@USATODAYsports) 14 August 2016
And I am not stunned easily!!!! Congrats to @MonicaAce93 and Coach Todero on a Cinderella story @Rio2016_en

— Chris Evert (@ChrissieEvert) 13 August 2016
Wow @MonicaAce93 what an incredible achievement! Congratulations 👏🏻

— victoria azarenka (@vika7) 14 August 2016
Congratulations @MonicaAce93 on winning Puerto Rico's first ever Gold Medal. Hope it's life changing for you

— Billie Jean King (@BillieJeanKing) 14 August 2016
Monica Puig of Puerto Rico wins the gold in tennis- wow- nobody saw that coming-perhaps not even Monica herself-:)-congrats!!!!

— Martina Navratilova (@Martina) 13 August 2016
@MonicaAce93 congratulations! Brought tears to my eyes… Congrats to @AngeliqueKerber for an other great achievement this year.

— Kim Clijsters (@Clijsterskim) 13 August 2016
MONICA!!!! So happy for you chica @MonicaAce93❤️🏅👑🇵🇷💪🏽🙈 couldn't have happened to a nicer girl! 😘

— Heather Watson (@HeatherWatson92) 13 August 2016
 

The @MonicaAce93 story this week on court along with her winning her country's first Gold has to be one of the Games best. #Goosebumps

— Mahesh Bhupathi (@Maheshbhupathi) 14 August 2016
Congratulations @MonicaAce93 for this amazing achievement🏅✨And congrats to @AngeliqueKerber@Petra_Kvitova🏅🏅🏅👏👏👏History made🌠

— Elena Vesnina (@EVesnina001) 14 August 2016
It is indeed an outstanding achievement and this victory will surely inspire kids in Puerto Rico to take up tennis and make their country proud the way Monica Puig has.
---