UEFA Champions League Final – Key Battles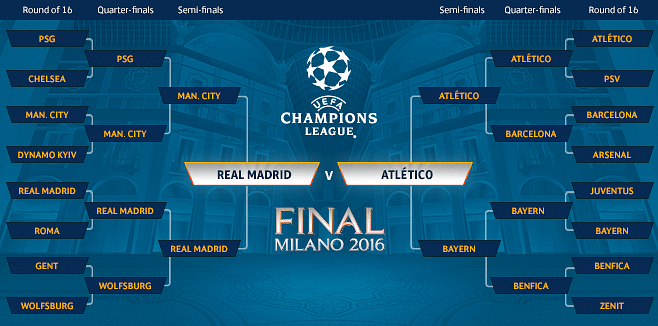 The Champions league final is nearly upon us with the San Siro Stadium in milan all set to host its first European game of the season. It's really sad to say that a stadium home to two of the biggest clubs in Europe has not yet hosted a European game this season, however the night is not about the Milan clubs , It's about the Madrid clubs. Real Madrid will go out to win an unprecedented 11th European cup while Atletico Madrid will look to come out of their neighbor's shadow and win an elusive first European cup. They nearly did that in 2014 only to be denied by Sergio Ramos's injury time header and a complete meltdown in extra time, this is their chance for redemption.
Here are the key battles to look out for,
1. Keylor Navas vs Jan Oblak
In the current era of Cristiano Ronaldo and Lionel Messi's goal scoring exploits , football has become obsessed with numbers ,and in particular the number of goals scored. A goalkeeper often ends up taking the blame for his side's defensive lapses and it is the goalkeeper who his lauded for whenever a team keeps a clean sheet.  At the start of the season if Real Madrid board/fans would have visualised themselves in the Champions League final, Keylor Navas would probably not be in their starting XI. The Costa Rican has done complete justice to Iker Casillas's jersey number and has put in some outstanding performances throughout the season , even though he was about to be replaced by David De Gea .
The young Slovenian goalkeeper Jan Oblak took to centre stage after Thibaut Courtois's departure and has been magnificent in goal. His development with the first team exemplifies Diego Simeone's belief in developing young players.
Both Navas and Oblak were responsible for saving their sides on numerous occasions en route to the final ,and don't be surprised if the final is a low scoring game decided why which goalkeeper is on top.
2. Carvajal vs Juanfran
In the modern game , the Right Backs are no longer limited to sitting deep and defending, they need to make forward runs and cross the ball. This is what Carvajal and Juanfran have done all season and in doing so showed the world how a wing back should play. Both the defences need to contain theses two as they can create quite a nuisance when given a chance to make forward runs.
3. Sergio Ramos vs Diego Godin
The two goal scorers in the 2014 final and both of them the leaders in their respective defenses. It does take a lot to stop Antoine Griezmann and Cristiano Ronaldo, but theses two are completely equipped with the same and adding to that the ability to go on and score from set pieces. Both of them need to be on the top of their game if they are to lift the trophy. Both Ramos and Godin are experienced defenders and carry their fan's expectations to bring home the champions league.
4. Kroos , Modric vs Gabi , Koke
Any game can be easily won or lost in the midfield, but when both the teams have such commanding central midfielders , there is a possibility that they cancel each other out in the centre of the park.  While Kroos and Koke are more forward thinking players often assisting in attacks , Gabi and Mordic like to sit deep and dictate the play often helping out their defenders. This game will most definitely be decided in the midfield and and all four of them need to be on song.
5. Cristiano Ronaldo vs Antoine Griezmann
The two goal machines for their teams. While Ronaldo scored 50+ goals for the sixth consecutive season ,Griezmann popped in an impressive 32 goals scoring many vital ones including the one at the Allianz Arena which saw Atletico through to the final.
It's not really hard to say that Real depend on Ronaldo and when Ronaldo is in full form, his teammates can sit back and enjoy , his hat trick against Wolfsburg in the quarter final second leg is a classic example of how he can carry the team on his back.  If there are to be clear cut goals in this game, these two will definitely be involved.
6. Zidane vs Simione
How can one undermine the contributions of these two managers? While Zidane's appointment really raised certain eyebrows given that Benitez had hardly done anything wrong apart from that Clasico defeat, he has still lived up to the expectations and guided the team to a second final in 3 years.
Real Madrid buy established stars and Atletico make players and ultimately sell them for a bargain price. This has been the case for so long, but Simione has found a way to turn hard working individuals into a team capable of competing for the greatest honour in European football. While simione is a proven winner having won the La Liga, Copa Del Rey and the Europa League with Atletico ,Zidane will be eager to win his first managerial honour.
Possible Lineups
Real Madrid
G – Navas
D: Carvajal ,Pepe, Ramos , Marcelo
M :Kroos, Modric , Casemiro
F: Bale ,Benzema , Ronaldo
Atletico Madrid
G: Oblak
D: Juanfran ,Gimenez ,  Godin , Filipe Luis
M : Saul , Gabi , Koke, Augusto Fernandez
F :Griezmann , Torres
---