Cristiano Ronaldo Mocked for Wearing 'Balenciaga' as He Meets Ex-UFC Star Francis Ngannou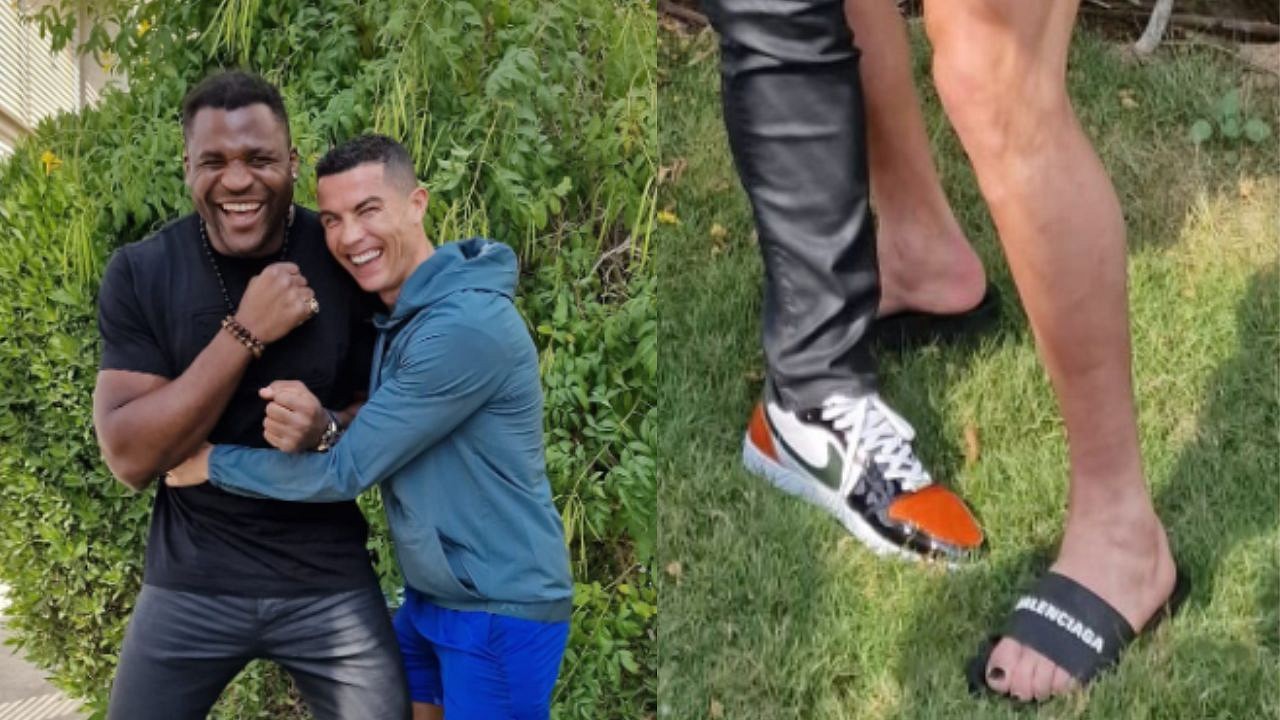 Cristiano Ronaldo, a legendary player in football, is no stranger to controversy. The Portuguese celebrity has frequently made the news for both positive and negative reasons. Before, he received criticism from many supporters for switching unexpectedly from Manchester United to Al-Nassr of Saudi Arabia.
However, after Ronaldo recently stunned PSG, a team that boasts stars like Lionel Messi, Neymar, Mbappe, and more, with his performance, the critical voices were muted. Despite this, the former Manchester United star has recently come under fire from the public for an incident unrelated to sports.
What did the fans criticize Cristiano Ronaldo for?
Francis Ngannou, the former UFC heavyweight champion, recently met the former Real Madrid star, Cristiano Ronaldo. Later, both athletes posted photos from their meeting on social media.
ALSO READ: MMA World Is in Meltdown After Jamahal Hill Becomes New Champion and Glover Teixeira Retires at UFC 283
"Great talking with the in Riyadh today. Very inspirational! @Cristiano," Ngannou wrote on his Twitter account. Ngannou and Ronaldo appear to be having a fantastic time in the photos. Fans, though, weren't paying attention to that. Instead, they made a statement about a non-sport matter.
Great talking with the 🐐 in Riyadh today. Very inspirational! @Cristiano pic.twitter.com/aaMXmc1GUB

— Francis Ngannou (@francis_ngannou) January 21, 2023
As seen in the photos, Ronaldo is sporting a pair of Balenciaga flip-flops, which many found offensive in light of the most recent controversy. Earlier, the well-known apparel line faced harsh criticism from fans for their campaign, which showed kids holding toy animals wearing BDSM accessories.
Check out some comments from fans below:
It's the Balenciaga slippers for me pic.twitter.com/bsFNu2aLf0

— Arthur Musinguzi (@digitaldidan) January 22, 2023
Care to explain @cristiano ????? pic.twitter.com/IuZ3qKEk4V

— Mesrine 🩺👨🏻‍⚕️ (@medsrine) January 21, 2023
— Hippias Jonathan (@HippiasJonathan) January 21, 2023
I thought Balenciaga was canceled 🤔 pic.twitter.com/3q4XT33mu2

— Mr Mosley 🔌 (@SparkPlugG18) January 21, 2023
Ptdrrrrr il a recommencé avec son vernis @ADBZ06

— Redamarović SG🇲🇦🇵🇸🇸🇪🐉 (@RDM18SG) January 21, 2023
Several prominent entities have already criticized the brand for its divisive campaign. Ronaldo has a massive global fan base, so it undoubtedly influences everything he does.
Francis Ngannou and his fallout with UFC
Ronaldo is not the only one who has recently engaged in controversy, though. Francis Ngannou is currently involved in a dispute with the UFC, the top MMA organization in the world.
 

View this post on Instagram

 
In fact, the former heavyweight champion has announced his departure from the promotion after his contract fall-out with the UFC. Apparently, Ngannou rejected a multi-million deal with the promotion.
ALSO READ: "Nothing Dirty at All": Daniel Cormier, Dustin Poirier, Michael Bisping, and More Rally Behind Brandon Moreno After His 'Savage' UFC 283 Victory
The Cameroonian wanted more than just money on his UFC contract. Health insurance and a flexible boxing allowance are some of the things Ngannou demanded from the UFC. However, both parties never came to an agreement. Thus, 'The Predator' vacated the heavyweight title and walked away.
Fortunately, as Ngannou is a prominent name in the sport, he already has many offers lined up with several promotions. Also, Ngannou's star power is now even more evident after his meeting with the world-famous footballer Ronaldo. It remains to be seen now what 'The Predator' chooses next in his career.
What do you guys think Ngannou will do next? What are your thoughts on his meeting with Ronaldo?
---