Tony Ferguson Told to 'Get Over' Khabib Nurmagomedov Three Years After Retirement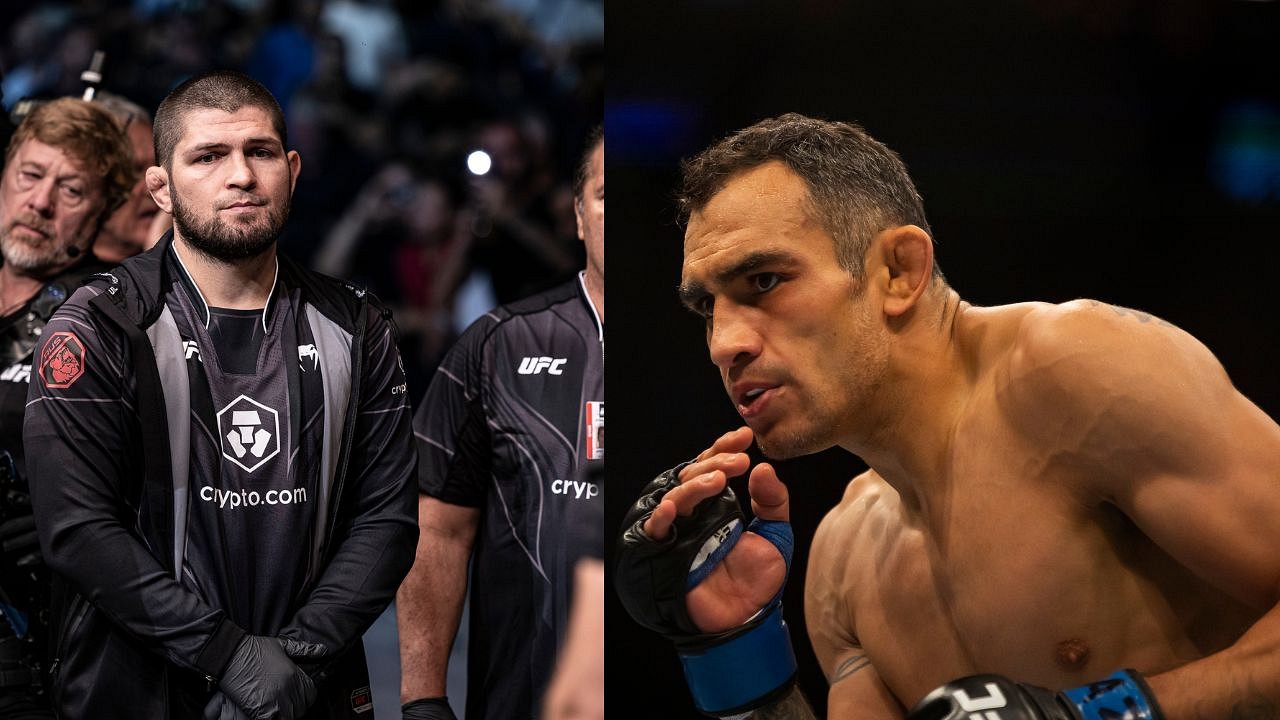 Khabib Nurmagomedov vs. Tony Ferguson is one of those fantasy fights that fight fans didn't get to witness. Although both the lightweight combatants were set for a showdown multiple times, the bout never saw the light of the UFC octagon.
This lightweight bout was seemingly cursed as either of the fighters pulled out of the bout because of injury or some other major reason. However, the animosity between the two never ended, at least for the former interim champion, Tony Ferguson.
'El Cucuy' continues to mock the Russian UFC legend on social media, despite the fight not having a single chance of coming to fruition. However, it seems like Ferguson has been told to stop targeting Nurmagomedov.
ALSO READ: Conor McGregor Weight Class: What Division Will the UFC Superstar Compete In on His Return?
Fans react to Tony Ferguson mocking Khabib Nurmagomedov
As aforementioned, the former interim lightweight champion Ferguson continues to make fun of 'The Eagle' on his social media accounts. While continuing the same 'El Cucuy' recently posted a video animation by himself and Nurmagomedov.
The clip portrayed Nurmagomedov as a pokemon, and Ferguson was trying to catch him. As usual, the caption of the post was hard to understand, as it is with most of Ferguson's posts on Twitter. However, it isn't rocket science to understand that the former interim champion was taking a dig at the UFC Hall of Famer.
"Gotta'🍮Catch🍗Em' All" 🫵😎 Hey Fathead Ya' Done Bein' A Big🥋Punani Yet!?! 🤺💨🍃 What A Maroon *🤦‍♂️Doible🤦‍♂️Triple🤦‍♂️QuadrupleMack🤦‍♂️* If Khabieber Was A Pokémon Which 1 Would He Be # NyucmNyuckNyuck Ofa Atu Crew🍃- Champ 🥇 -CSO- 🇺🇸🏆🇲🇽 @TeamKhabib @AliAbdelaziz00 @# TUF👨‍🍳Times pic.twitter.com/vv6SBWg5CT

— Tony Ferguson (@TonyFergusonXT) January 24, 2023
No matter how hilarious Ferguson's previous posts were, fans weren't having this one. It seemed like many were trying to convince Ferguson to move on from Nurmagomedov in the comments.
Check out some comments from the fans below:
You had a chance now he retired from coaching too, you never seem to chery the opportunities you get

— korokaminari🍥 (@korokaminari) January 24, 2023
Fight makhachev first
He will help you to retire 😂😂

— DON QUIXOTE (@a_ishfa) January 24, 2023
Get over khabib.

— J (@bmadtx) January 24, 2023
Just let it go man…

— Bilal (@mrbilzz) January 24, 2023
It's over Tony…just move on.

— prafful bk (@praffulbk) January 24, 2023
Dude stock in time. Get over khabib.

— J (@bmadtx) January 24, 2023
Nurmagomedov and Ferguson now
Following his last successful lightweight title defense in 2020, Nurmagomedov retired from professional fighting. Despite several huge offers, 'The Eagle' never intended to return to fighting.
ALSO READ: "We All Shouldn't Keep Quiet": UFC Star Khamzat Chimaev Condemns Burning of Quran by Far-Right Politician in Sweden
However, he was training his teammates and friends for their MMA careers. Unfortunately, Nurmagomedov won't continue as a coach anymore, because he wants to spend more time with his family.
On the other hand, Ferguson is still competing in the UFC. Unfortunately, he is going through a rough phase in his UFC career. Ferguson lost two fights last year. In fact, since 2019 he has won no bouts and is on a five-fight skid.
In his previous fight against Nate Diaz at UFC 279, Ferguson looked out of form, given his performance. The lightweight fighter appears to be past his prime. But Ferguson intends to continue.
It would be delightful to see the legend of the sport get back to his winning ways. However, Ferguson has nothing left to prove. No matter whether win-or-lose fans will always love him as the 'Boogeyman' of the lightweight division. Thus, it would be wise for 'El Cucuy' to retire without taking further damage.
What are your thoughts on Ferguson's recent UFC run? What is your reaction to his tweet?
---