Why Was the UFC 282 Main Event Changed From Jiri Prochazka vs Glover Teixeira to Jan Blachowicz vs Magomed Ankalaev?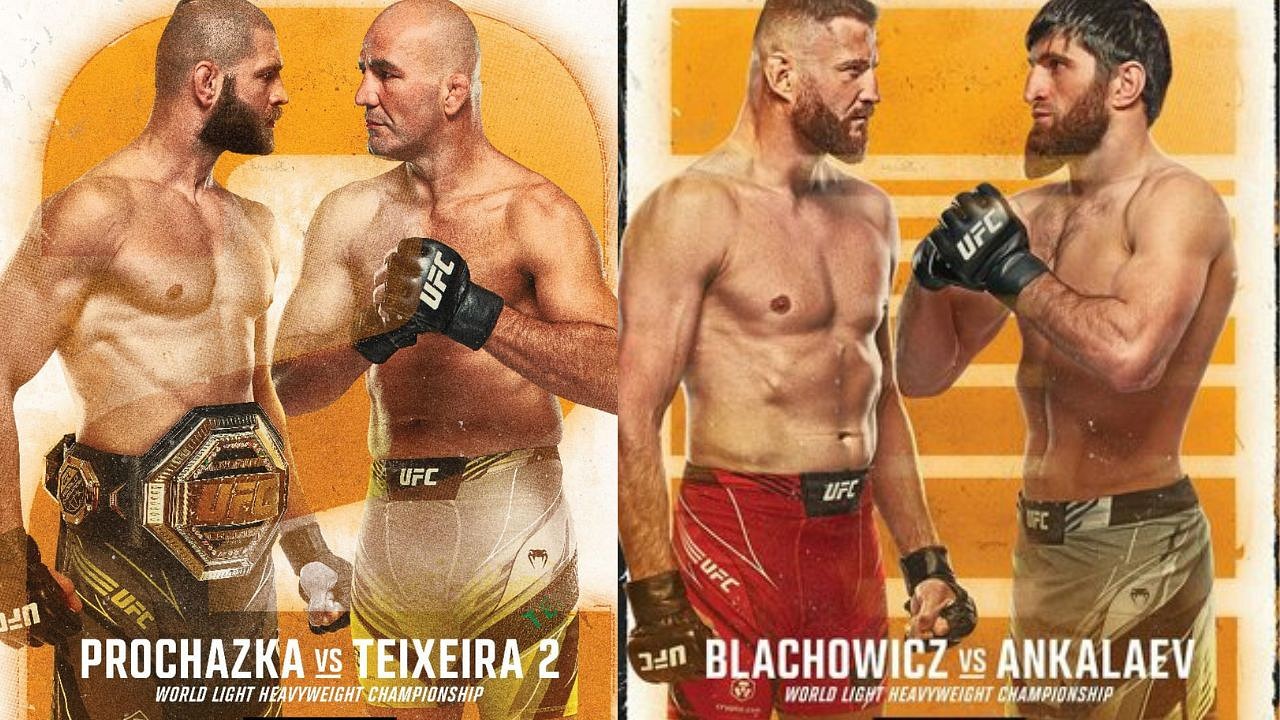 The UFC 282 event headliner was changed two weeks before the event. As we reach Dec 11, let's have a look at what changed to make this happen. This was supposed to be the big blowout event before we closed off 2022. However, an unfortunate incident led to champion Jiri Prochazka getting sidelined with a major injury and halted his immediate career moves of good. We are looking to into what happened and what the UFC is doing it:
Why did UFC Scrap Prochazka vs Teixeira?
UFC 282 was set to feature Jiri Prochazka vs Glover Teixeira and it was set to be their second matchup. The first match was a closely contested bout with Prochazka gaining a victory by submission in the last round. So, fans were really hyped up about this matchup.
This would also have been Prochazka's first title defence but an unfortunate shoulder injury has made him give up his title. ESPN's Brett Okamoto spoke on Prochazka's injury and said he will be out for a year.
"This is the worst shoulder injury the doctors have seen in UFC history," UFC President Dana White told Yahoo Sports. "It's really f*cking bad. His shoulder is very, very bad. He's going to have serious surgery that will require extensive rehab."
As per a statement made by Prochazka on his social media, he will be out of competition for at least six months. He also added an apology for Teixeira and included a mention for the light heavyweight division.
He said, "I will go for the UFC belt as soon as the doctors give me the green light to fight. I'm going to go for the belt and I'm going to get it no matter who currently holds it."
ALSO READ: UFC 282: Jan Blachowicz vs Magomed Ankalaev – Date, Time, Fight Card, Live Stream, Broadcast Channel, and Tickets
What is the New Main Event for UFC 282
Citing Prochazka's indefinite sidelining, the UFC swapped out the main event for Jan Blachowicz vs. Magomed Ankalev. Essentially the card headliner remains the same with the Prochazka-Teixeira fight removed. UFC 282 is scheduled to go live on Dec. 10 at the Las Vegas' T-Mobile Arena.
Blachowicz had captured the LHW title from Dominik Reyes at UFC 253 Sep 26, 2020 but lost it to Glover Teixeira at UFC 267. He won his fight against Aleksandar Rakic at UFC at ESPN at 36 and would have been in line to face the winner from the Prochazka-Teixeira fight.
His opponent Magomedov Ankalaev has a gold medal at the 2020 Muay Thai World Championships and ranks third in the UFC light heavyweight rankings. He made his pro debut in 2014 and his UFC debut in 2018. He also has nine wins in a row and won his last fight against Anthony Smith in July.
Teixeira was offered the Ankalaev fight but did not want to fight anyone other than Prochazka at the time. He told them he needed more time for facing Ankalaev because he has a different style considering he is a southpaw. He also thinks this might be his last chance to fight for the title. So, he wants to prepare himself the best he can.
ALSO READ: UFC Weight Class in Order: What Are the Weight Classes in UFC?
---
Share this article