'I believe that I'm going to be the first one to beat Israel Adesanya': UFC Light Heavyweight Champion Jan Blachowicz Cuts A Confident Figure Ahead Of UFC 259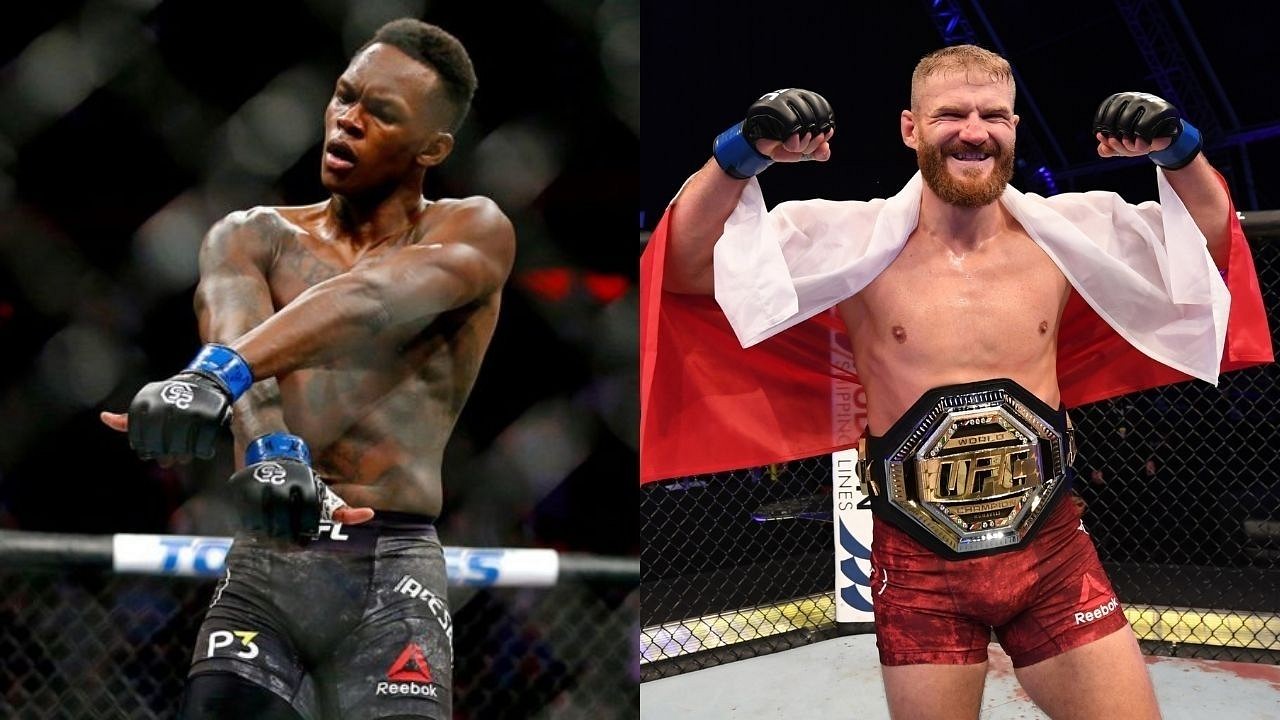 UFC Light Heavyweight champion Jan Blachowicz shares his views on his forthcoming fight with the Middleweight champion Israel Adesanya. The two champions will square off at UFC 259.
With UFC 258 in the books, it is time for the much-awaited UFC 259 Pay-Per-View to make its way. The marquee event is scheduled for March 6 and contains perhaps the biggest card of the recent past. While three titles will be on the line at the event, the headliner bout which is a champion Vs. champion contest is the generator of significant intrigue.
Both Israel Adesanya and Jon Blachowicz got on board for the fight without any hassle, and back in November when the news broke out about the potential matchup being targeted for March PPV, the in-between period seemed neverending. However, the time has passed and now less than three weeks are remaining for the mega show to arrive at the scene.
In the wake of that, several media interactions will be lined up before the event and will become the bearer of a heated or benign build-up between the main event protagonists. In regard to the same, Jan Blachowicz has evidently initiated the stretch.  The Light Heavyweight champion sat for an interview with MMA Fighting and expressed his state of mind before the foremost encounter.
Also Read: Leon Edwards reacts To Colby Covington's "Charity" remark
UFC Light Heavyweight Champion Jan Blochowicz Cuts A Confident Figure
Jan Blachowicz, who became the new king of the 205 division at UFC 253, has been given the daunting task to defend the title against the undefeated Middleweight champion Israel Adesanya. Ahead of the fight, John is apparently aware that the oddsmakers will give Adesanya the favorite's tag but makes it known that the odds never concern him.
"I'm always the underdog and I always win the fight," Blachowicz said. "It's really nice. I'm happy. I could be the underdog every time. Maybe after this fight when I win this fight, I believe I will win this fight, maybe after this fight people will start believing in me, respect me and that's it. But anyways, I don't care about this.
"A funny story, after I beat [Luke] Rockhold, I was also an underdog there and one guy after the fight came to me and said 'thank you my friend, because thanks to you I'm a rich man right now' and I said what happened? He said thanks to me he won $50,000. So it's nice to hear something like that after that. Maybe right after this fight, someone will win big money also."
Also Read: Dutch UFC Fighter Stefan Struve Announces Retirement At Age 32
'It's time for 20-1'
A couple of weeks ago, Israel Adesanya's head coach Eugene Bareman weighed in on the future possibility of Adesanya climbing up the weight ladder to potentially reach the Heavyweight circuit and did imply that the fight with Blachowicz can open the threshold towards that path. Blachowicz tough isn't paying heed to what's happening in the opposition camp.
"I don't care. It's not my business," Blachowicz said. "I focus about me, about my camp, about my preparation, to not get injured. I focus about me. To be ready for everything what he prepares for me.
"I don't care what he's thinking about right now. That he's got respect for me or not. If he thinks about 'when he beats me, he'll go to heavyweight.' I don't care. I just want to be the best shape ever in this fight and beat him. This is everything I've got inside my head."
Blachowicz concluded the topic by acknowledging the skill set that Adesanya possesses but at the same time stated that at UFC 259 he will get the better of him.
"He's a good fighter, a really good fighter. He's a champion," Blachowicz said about Adesanya. "Nobody defeat him. 20-0 also so he is good, he has to be good but it's time for 20-1.
"I believe that I'm going to be the first one to beat him, and I believe I will do it."
Click Here For More UFC News
---
Share this article